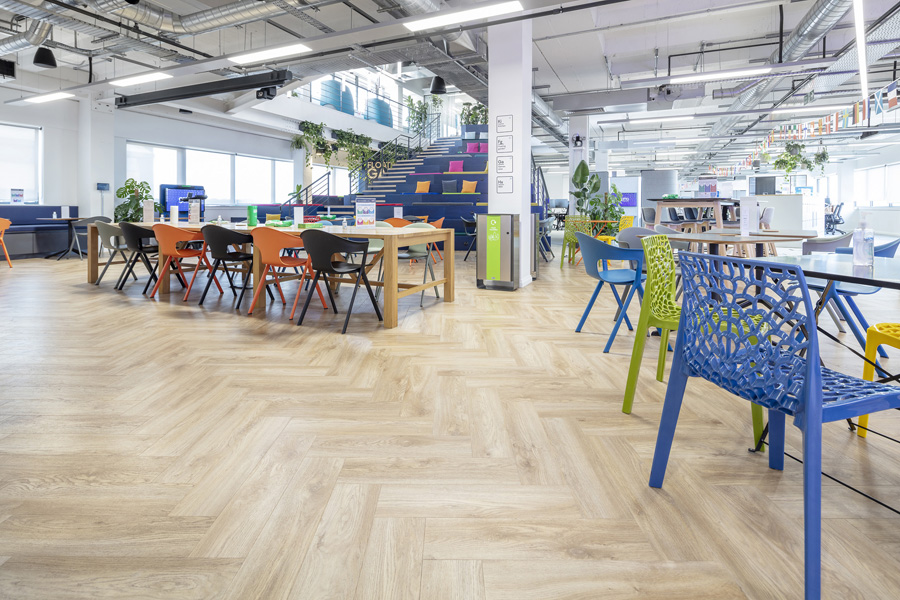 Studio Moods and Luxury Vinyl Tiles from IVC Commercial have added a homely atmosphere to the SKA Gold rated offices of Gama Healthcare, a leading sterile products manufacturer.
Gama Healthcare recently called upon design and build company Oktra to transform its 1,860m2 Hemel Hempstead offices into an environment that supported its workforce with a homelike feel.
The answer saw a design inspired by bright and bold colours with an open space to encourage collaboration. At the heart of the scheme is a flooring layout to support the zoning of the space, using IVC Commercial's Studio Moods and Moduleo 55 Luxury Vinyl Tiles to ground the interior in nature and to add a calming and restful influence.
Laurence Shanks, design director at Oktra worked closely with the team from Gama Healthcare to select the interior finishes. Laurence explains; "The team at Gama Healthcare really wanted something out of the ordinary and were keen to be involved throughout the specification. During a tour of manufacturer showrooms in the Clerkenwell district of London, the team at Gama Healthcare were greatly impressed by the IVC Commercial showroom, The Gallery.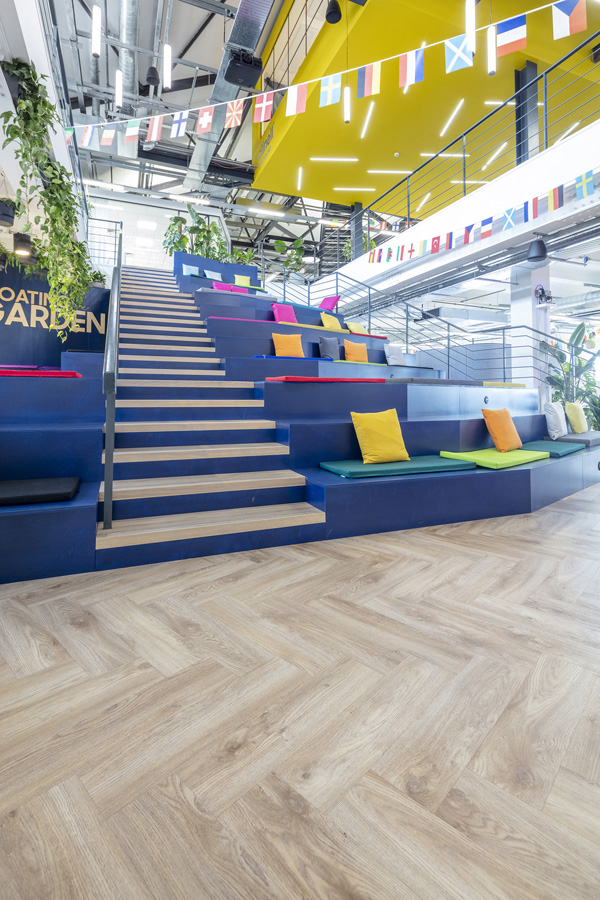 "In particular, the team were blown away by the Studio Moods wicker pattern vinyl floor that greeted them at the showroom's entrance and couldn't believe that the vinyl floor wasn't real wood. Once they learned of the cost, longevity and maintenance benefits, as well as the ability to create a truly unique design, we knew that Studio Moods would be the floor to give a warm and homely feel throughout the offices."
The team at Oktra went on to use Studio Moods in a Sierra Oak wicker pattern, combining it with IVC Commercial's Moduleo 55 Impressive Sierra Oak planks laid herringbone. Both floors deliver an authentic wood-effect, with Moduleo 55 Impressive also featuring EIR, a surface technology that perfectly recreates the texture map of its wood-effect design for a true-to-life feel.
Efficiently made in Belgium using renewable energy and featuring up to 50% recycled content sourced from IVC Commercial's own production waste, Studio Moods and Moduleo 55 Impressive also helped Gama Healthcare's offices to achieve SKA Gold status. SKA helps to assess fit-out projects against a set of sustainability good practice criteria, such as energy and CO2 emissions, waste, water, materials, pollution, wellbeing and transport. IVC Commercial works with third-party organisations to verify the environmental impact of its products with Environmental Performance Declarations (EPDs).
For further information, please visit www.ivc-commercial.com