An intriguing forest of vertical fins, formed from Nordic Royal copper alloy with bespoke triangular perforations, defines a major university building in Estonia.
The new Delta Centre, designed by Tallinn based Arhitekt11, is a key building for Tartu University. But its location close to the city centre, right next to a river and large parkland, makes it pivotal for the city as well, calling for a prominent but not overbearing presence in the urban context.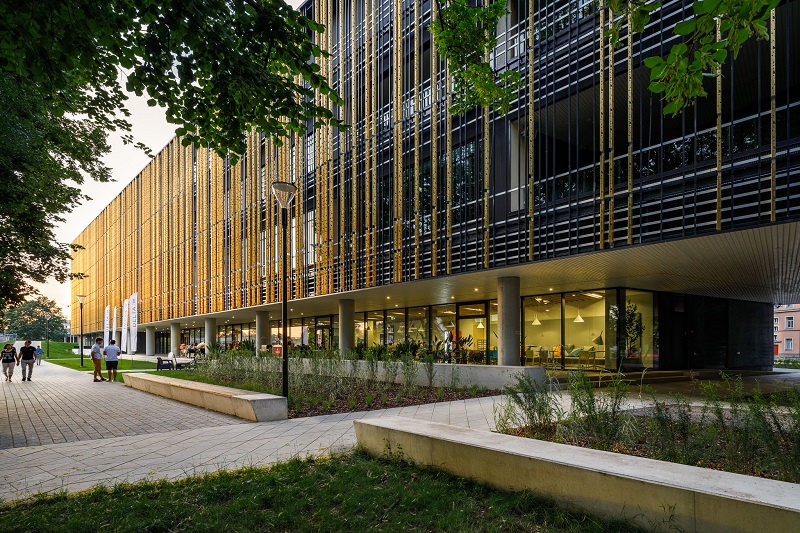 The ground floor of this four-storey building is very open with exposed structural columns and extensive glazing to public spaces. In contrast, the upper three levels, accommodating classrooms, laboratories, offices and work areas, jetty out over the base and are enwrapped with a delicate tracery of vertical Nordic Royal copper alloy fins.
These upper facades were conceived as a reflection and extension of the narrow, tree-lined parkland along the river. They add an informal, abstract verticality, set forward of the darker, contrasting background elevations and partly concealing the glazing. There is a playfulness in the apparently random spacing of the fins and moving around the building reveals fresh perspectives and variations in transparency, with the fins' depth creating an almost solid surface when viewed obliquely.
To create the façade system, Nordic Royal sheets were perforated with a bespoke tool to create a pattern of right-angled triangles of various sizes. The material was then profiled to create the unique fin shape and the fins fitted to a complete, metal structural system.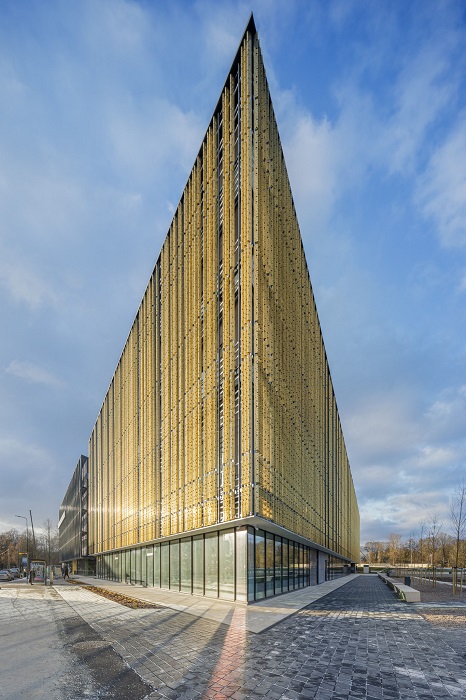 Arhitekt11 project architect Sander Aas commented: 'We wanted a material that would be natural, dignified and durable, so that the facade will age well but not change too much over the years. Nordic Royal copper alloy was the clear choice and we are very happy with the end result. The rich, natural golden colour makes the building eye-catching but dignified – improving over the coming years'.
Nordic Royal is a golden alloy of copper with aluminium and zinc, giving a rich golden through-colour that is very stable. It retains its golden colour and gradually loses some of its sheen as the oxide layer thickens with exposure to the atmosphere, resulting in a protective matt finish. It behaves differently to other copper products over time and does not develop a blue or green patina.
For more information visit: www.nordiccopper.com or email: g.bell@aurubis.com