A bespoke perforated solar screen, formed from Nordic Blue Living 3 pre-patinated copper, defines the new Senior Learning Centre building at Ravenswood School for Girls on Sydney's North Shore.
Architects BVN's design optimises a 6.5m level difference across the site, with extensive glazing to the lower two floors.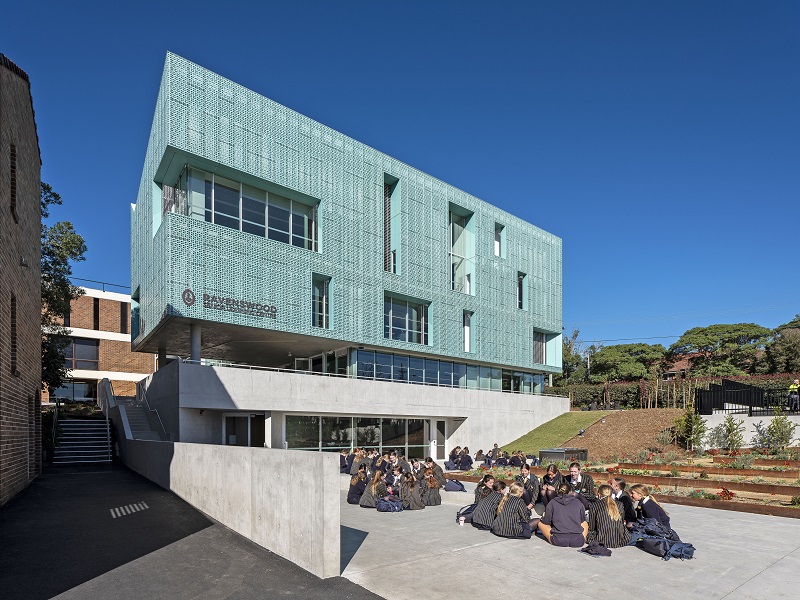 The upper two floors are differentiated by Nordic Blue Living 3 copper screens, creating a transparent skin enwrapping the building and jettied out over the lower levels. To create the screens, a distinctive repeat pattern of perforations, inspired by the shape of gum tree seedlings found on site, were laser-cut into the copper.
Large window openings with deep, copper-clad reveals 'punch' through the copper screen to break up the elevations, enable clear uninterrupted views across the grounds and introduce coloured light via glass bricks. Being set in front of the thermal envelope of the building, the copper screens mediate light and thermal penetration, reducing cooling load whilst allowing the interiors to feel light and airy.
BVN Senior Associate Phillip Rowden commented: "Nordic Blue Living 3 pre-patinated copper was selected for its striking colour contrast with the predominantly masonry surroundings, meeting our requirement for recycled content and low embodied energy.
"High quality materials, such as copper, were selected for the exterior with longevity a key consideration – materials that are robust, beautiful and will stand the test of time. When you're in the classrooms the perforated screen throws dappled light on surfaces and shadows onto the white walls. But at night, the building undergoes a transformation, acting as a lantern illuminating outwards to the community."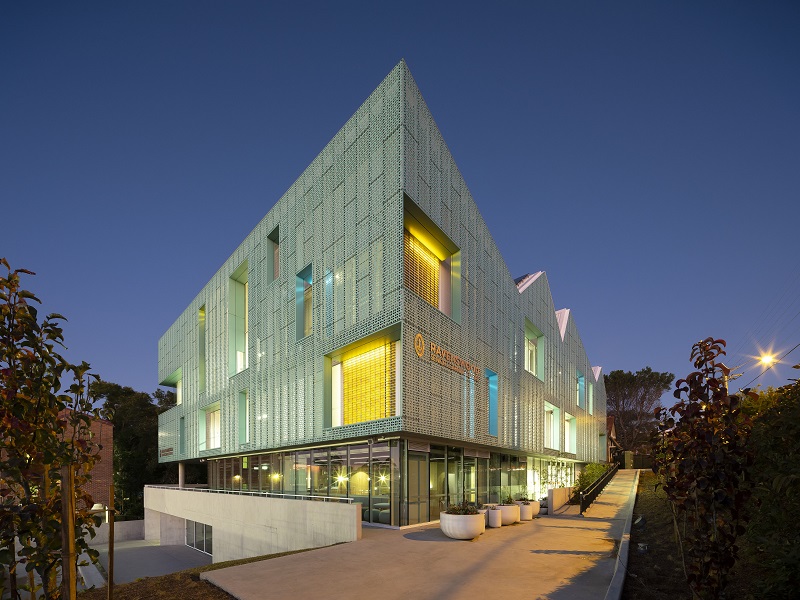 Nordic Blue and Nordic Green are factory-applied patinas developed with properties and colours based on the same brochantite mineralogy found in natural patinas all over the world. With both ranges, the process can be accurately controlled so that, as well as the solid patina colours, other intensities of patina flecks can be created revealing some of the dark oxidised background material.
Other Nordic Copper surfaces from Aurubis – part of the world's leading integrated copper group and largest copper recycler – include Nordic Standard 'mill finish' and Nordic Brown pre-oxidised copper with either light or dark brown oxidisation.
Copper alloys are also available such as Nordic Bronze, Nordic Brass, also available pre-weathered, and the innovative Nordic Royal – an alloy with a long-lasting golden colour.
For more information visit: www.nordiccopper.com or email: g.bell@aurubis.com