High performance floor preparation products and adhesives from F. Ball and Co. Ltd. have been used to transform Tavistock Place, the main undergraduate building at Plymouth College of Art, into an inspiring learning space.
The refurbishment took place during the summer break, meaning a quick turnaround to upgrade the campus gateway for staff and students was required before the new academic year commenced.
Specialist F. Ball products enabled contractors to install safety vinyl sheet and carpet tiles, using Styccobond F49 pressure sensitive adhesive and Styccobond F41 tackifier, respectively, in the independent art school's reception, gallery, café bar, offices, and conference rooms.
Having removed existing wood block, vinyl sheet, and ceramic tile floorcoverings, contractors from Lang & Potter Flooring were faced with clear signs of damp, a sand/cement screed in a poor condition, and a number of uneven subfloors which required levelling.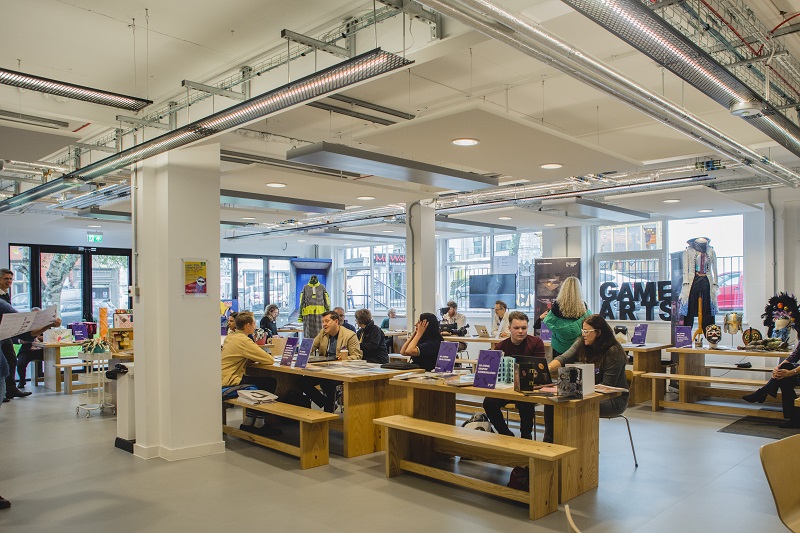 Once adhesive residues were removed by mechanical means and the subfloor primed, the issues were resolved using Stopgap 1200 Pro levelling compound to patch fill holes up to 18mm depth. The product was also combined with Stopgap Aggregate to fill deeper spaces created by the removal of internal walls. Finally, a topcoat of the levelling compound applied throughout the entire ground floor produced a perfectly smooth base for the subsequent application of other subfloor preparation products.
Stopgap 1200 Pro levelling compound was selected for its moisture tolerant properties; it can be used to patch and level uneven subfloors prior to the application of a waterproof surface membrane and prevent it from pooling in undulations on the surface. A very rough surface requires a greater quantity of product to achieve full coverage, as well as an extended curing period, both of which add time and expense to a project.
Once the levelling compound had cured, F. Ball's Stopgap F77 waterproof surface membrane was applied throughout the ground floor. Stopgap F77 cures in as little as three hours with a single coat application to create a barrier against excess subfloor moisture attacking subsequently applied adhesives, where RH levels are up to 98%.
Following a further application of primer and levelling compound, Burmatex Tivoli carpet tiles were affixed in offices and conference rooms using Styccobond F41 carpet tile tackifier. The fast-drying adhesive is designed to provide a permanently tacky film, preventing loose-lay carpet tiles from moving under normal foot traffic, but enabling individual tiles to be lifted and replaced easily in the future, when worn or damaged.
In the café's kitchen, Styccobond F49 Hybrid PS was used to secure Altro Stronghold 30 slip-resistant vinyl. The pressure sensitive adhesive delivers instant grab and extended open time whilst providing an extremely strong water-resistant bond, making it a suitable choice for use in the kitchen, which will be subject to extensive wet cleaning. Throughout the main reception, café bar and gallery, Altro XpressLay loose-lay vinyl sheet completed the installation.
Commenting on the project, Mark Wood, Director at Lang & Potter flooring, said: "There was a short window in which to complete the job ahead of the new academic year starting, and the F. Ball products helped to meet the deadline. We turn to F. Ball products as we know what we're getting, and they help us to deliver high quality results for clients."