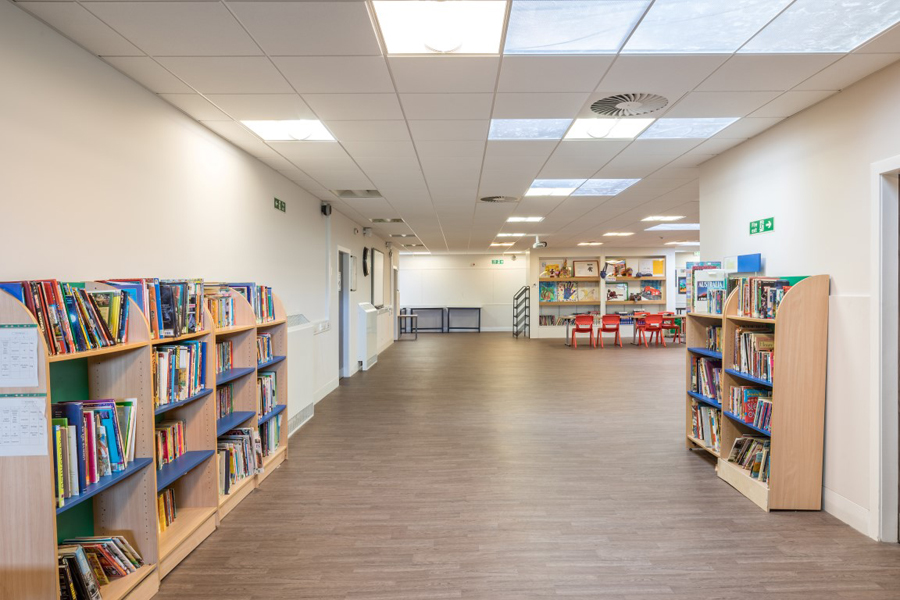 Brand new Altro Wood adhesive-free safety flooring has been fitted in Kaimes Special School, in Edinburgh, setting a high standard for easy to fit, slip-resistant and homely surfaces for pupils and staff.
The installation of the new flooring was part of a wider refurbishment of the school by the City of Edinburgh Council, and integral to their drive to reduce sensory overload in primary and secondary schools by using 'natural' neutral colours and textures.

A spokesperson from the Interiors team at Edinburgh Council, says: "The biophilic design principles of bringing nature into schools have been proven to aid learning, promote calm and improve mood among pupils. Using a wood-effect flooring is a great way to create that atmosphere, and this is why we use Altro Wood adhesive-free— it's a beautiful, homely and comfortable surface that also has very high slip resistance. It ticks all the boxes for us.
"We worked closely with Altro on Kaimes Special School, and they recommended their new Altro Wood adhesive-free flooring for several reasons. Pupils at Kaimes all have complex emotional needs and creating a calm, comfortable space is very important. Reducing sensory overload and harsh colours is a vital part of this, and the existing floors were solid blues and greens, which were too overpowering visually. We know from using ranges from the Altro Wood collection in other schools that this surface can very effectively change the mood of a space with its neutral, warm and natural look.
"The adhesive-free element of the new flooring was also vital for this project, because the existing flooring had traces of asbestos in the adhesive. In other circumstances we would have had to lift the old flooring; a very costly and time-consuming process. But we were able to lay the new Altro adhesive-free flooring straight on top of the old surface, which rendered the asbestos completely harmless. It was incredibly quick to fit as well, going down in just a day, which hugely reduced disruption in the school. And of course there is no adhesive, so no lingering odours."
New Altro Wood adhesive-free creates maximum impact with minimum downtime. Its 12 wood-look colour choices allow the creation of biophilic, stylish, or warm and homely aesthetics. It also coordinates with Altro's other wood ranges.
With 14dB impact sound reduction, a 10-year guarantee and Altro's one in a million slip-resistance reassurance, the flooring offers high levels of comfort underfoot, providing a safe, durable and decorative solution for busy spaces.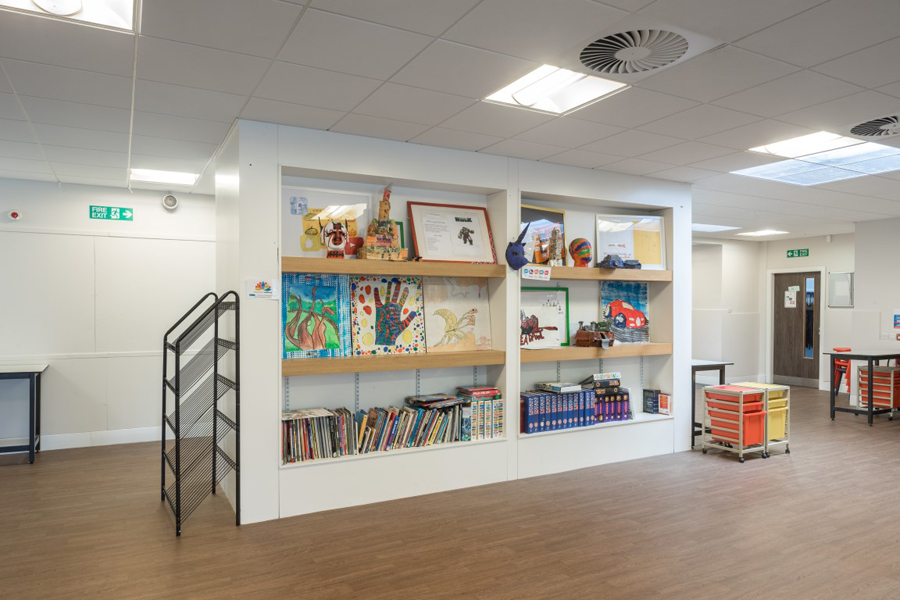 Using Altro's award-winning adhesive-free installation method, it can be welded and walked on the same day, and at the end of its life can be removed easily, allowing it to be reused or recycled. Using Altro adhesive-free floors, installation time can be halved, compared with a traditional adhered installation. It is ideal for busy public spaces, where disruption needs to be minimal, plus there are no associated adhesive odours.
The spokesperson from Edinburgh Council continues: "The new adhesive-free flooring was fitted in two spaces within the secondary parts of the school: the dining hall and 'forum' chill out space — a key area. Before the refit there was a blue vinyl floor and the space was too busy with colour and designs. It didn't have a 'chill out' vibe at all, and there were at times elements of unrest among the pupils.
"We did a huge amount of research to recreate the space as calm, restful, and somewhere pupils could go to recharge, choosing to either be by themselves in a private space, or play and interact with others.
"It is now a superb open plan space, de-cluttered, calm, with neutral colours, wood and other natural designs, and of course the new Altro Wood adhesive-free flooring plays a big part in that. We chose to use it in a large area within the school, so that we could continue the design and homely feel as far as possible.
"We are closely monitoring this project over time, but the early feedback is very positive. It's now a welcoming area where pupils can socialise and gather, it feels so much calmer and the aggression levels have really dropped. That is a huge success for us, and the new Altro flooring has already proven its worth, so we'll definitely be using it in the future.
"But it's not just the design side of the Altro Wood adhesive-free flooring that's important; the practical advantages are also excellent, such as its durability. We sometimes use carpet in schools, but after five years or so it's tired and in need of replacement. The Altro flooring is very tough and lasts for many years, so the cost benefit is huge. And of course the excellent slip resistance means it's safe to use throughout a school, even in areas where there may be water spillages. It is so versatile, one finish suits all."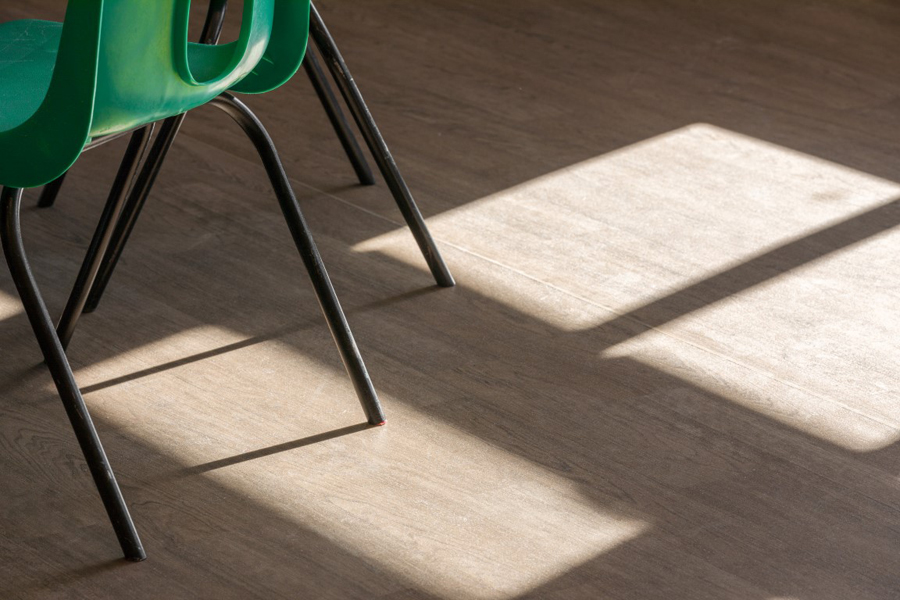 The Edinburgh Council Interiors team also specified two other Altro surfaces for Kaimes Special School. Altro Wood Comfort was fitted in the primary school classrooms, where pupils have high levels of behavioural problems. This 2.85mm thick option gives comfort underfoot and offers 14dB impact sound reduction, and has matching colour and design options with Altro Wood adhesive-free. Altro XpressLayTM adhesive-free flooring was also fitted in some corridors and circulation areas.
"We use Altro XpressLay a great deal in our refurbishments and new builds. Like the new Altro Wood adhesive-free it goes down so easily and quickly and can also be recycled, so it fits in with our sustainability principles too."
Nick Burge, headmaster of Kaimes School, says: "The new wood-effect flooring in the dining room and forum looks fantastic, and it's playing an important part in creating a space that is now warm, homely, calm and inviting.
"The previous blue flooring was far too dark, but this new surface has helped to create neutral tones, which is bringing significant benefits and our pupils remain regulated in a more sensory sympatric physical environment. Using the flooring in the dining and forum areas creates a continuous flow in the building, which is important for us as it means we can earmark areas where we know pupils will be less unsettled by strong colours and designs.
"The feedback from pupils, staff and visitors has been nothing but positive, and the flooring is proving practical too, easy to clean and it looks as good as it did when it was fitted six months ago."