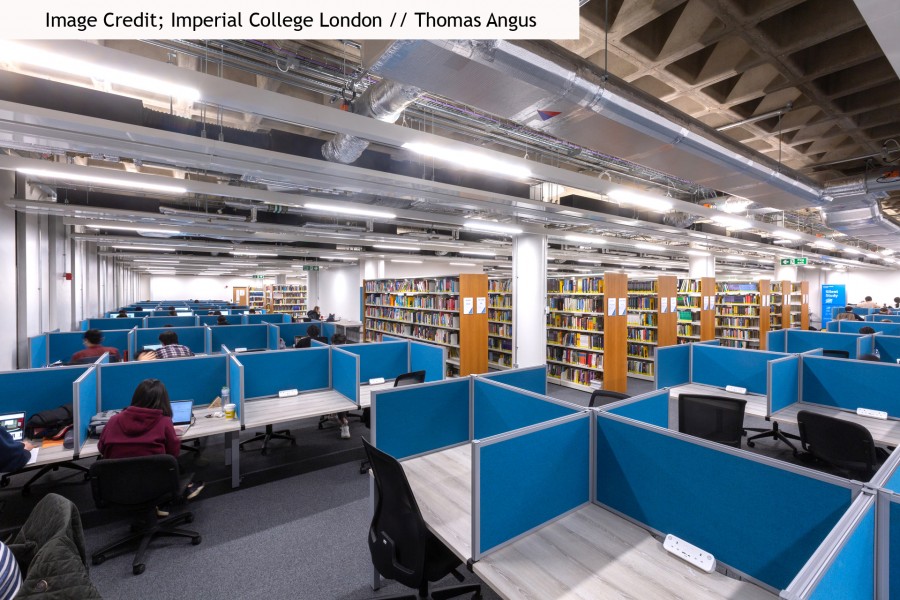 A new cooling and ventilation system has been installed at a world-class London university – thanks to Waterloo.
The major project to address climate control in the Central Library at Imperial College London started in 2017.
Air distribution products were supplied by expert manufacturers, Waterloo Air Product plc, as part of the four-floor refurbishment.
Due to the number of people in the library and the need for an energy efficient scheme, Jacobs was appointed as designers on behalf of Imperial College London.
As part of the planning process, specialists from Waterloo were invited to discuss the project, which included the installation of an active chilled beam. In the early stages, architects chose not to have a false ceiling in the new library, but designers still had to create the right aesthetics.
In Waterloo's factory in Kent, in-house specialists demonstrated in the test lab how the active chilled beam, designed to cool large buildings, would work on site.

To cope with fluctuating levels of occupancy, Waterloo recommended a VAV system. Variable air volume boxes feed the active air side of the beams so that the air can vary to suit the load requirements and the occupancy levels.

To create a feature of the installation, the active beam plenum boxes and interconnecting ductwork were supplied in matt black. And because the units were being installed in a working library, a very low noise level of NR30 had to be achieved.

Andrew Mildon, sales office manager, at Air Systems (SW) Ltd, says: "The installation and performance has proven to be a great success at the Central Library at Imperial College London. The library is now nearly fully occupied following the project."

As part of the extensive refit, new furniture and PCs were installed, three new study rooms were created, and power was supplied to all desks.

For more than 50 years, Imperial's Central Library had welcomed generations of students through its doors. It opened in 1969 as the college's principal repository for scientific knowledge and receives over 1.5m visits every year.
Designers believe the recently finished refit has enhanced the world-class learning resource for decades to come. It has provided an improved learning environment for every student.

London's Imperial College, which is a one-of-a-kind institution in the UK, was founded in 1907 and spreads across nine campuses.