VELUX Commercial, a new division under the VELUX Brand which offers daylight solutions for commercial buildings, has launched a new RIBA approved Continual Professional Development (CPD) programme for architects working in the education sector.
The CPD, 'Under the Rooflight: Spotlight on Education', is included on RIBA's core curriculum under Design, Construction and Technology, with a General Awareness knowledge level.
It offers a review of the latest regulatory changes in the design and construction of education buildings specifically relating to rooflights, as well as a look at the benefits of natural light and ventilation.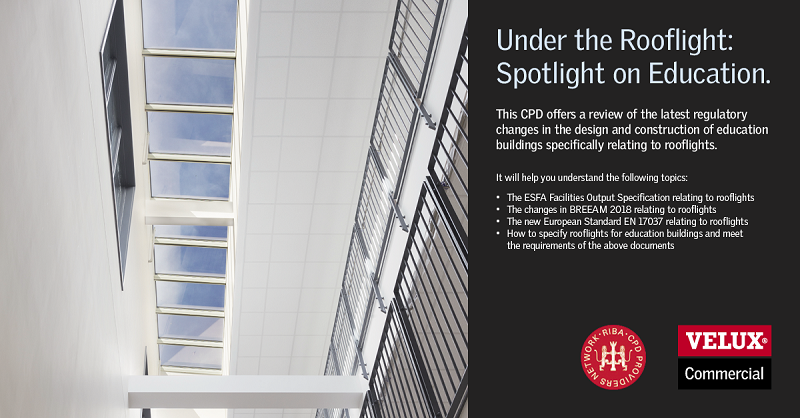 The CPD, which can be held onsite at your practice or a venue of your choice, will provide participants with information on amendments to the Education and Skills Funding Agency (ESFA) Facilities Output Specification (FOS) 2017, BREEAM 2018 and the new European Standard Daylight in Buildings EN 17037.
Architects will also gain a better understanding on the key factors that should be taken into consideration when specifying rooflights for educational facilities to meet the revised requirements.
Scott Leeder, Director at VELUX Commercial GB & IRE, comments: "Optimum levels of natural light and ventilation in the classroom have been shown to improve educational performance by 8%. These levels can be achieved by incorporating skylights into the building design.
"Our new CPD is developed specifically for architects, developers and contractors working on the build of educational facilities. It will provide a better understanding of the benefits of specifying modular rooflights to meet with the most up to date building regulations and requirements. We're confident that the sessions will be of great value to everyone that attends."
A part of the VELUX Group, VELUX Commercial designs, manufactures and markets daylight solutions for commercial buildings such as offices, schools, healthcare facilities, airports, shopping malls and retail stores, large public buildings, railway stations and industrial buildings.
Designed with architects in mind, VELUX Commercial Modular skylights are fully prefabricated offsite, making it easy for architects and developers to create larger, naturally lit spaces. The range provides solutions for classrooms, atriums, narrow corridors, internal courts, studios and large circulation spaces. Each roof glazing solution is delivered with a special prefabricated flashing ensuring a perfect fit and 100% water tightness.
VELUX Commercial Modular skylights can be fitted three times faster than a traditional skylight system. That means the building is watertight sooner, allowing internal fit-out to begin sooner.