At the new flagship Pencoed Primary School near Bridgend in Wales they make it their mission to ensure that every child learns in a friendly, happy school where they feel valued.
Work on the brand new £10.8m Pencoed Primary School has now been completed and with 600 children presently on the roll in one single site it's their aim is to deliver an environment suitable for all needs.
When the school needed flooring for this massive new build project they turned to international flooring specialists Gerflor to deliver a fantastic selection of fit for purpose, future- proof solutions. The installation would fall into the capable hands of Floor Furnishings based in Cardiff.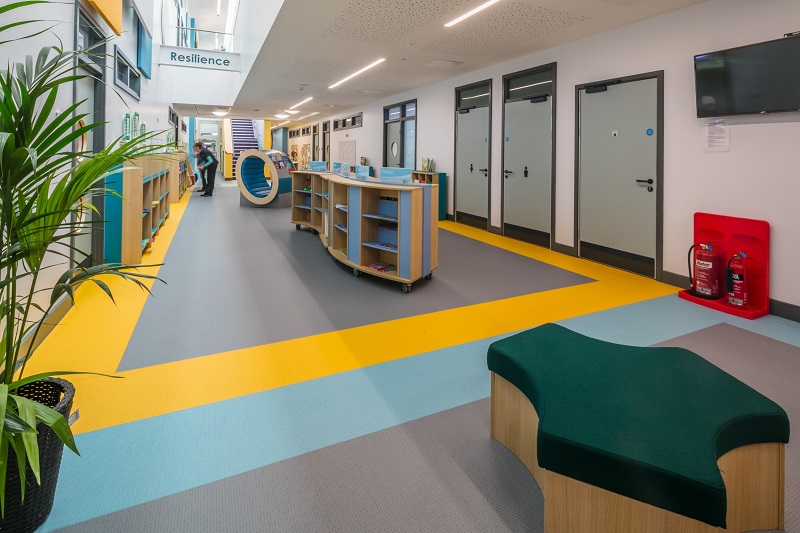 The range of specified Gerflor products would be extremely varied and include their award-winning Taralay Impression Control and Taralay Impression Comfort, their Tarasafe Ultra and Ultra H20 complemented by an amount of Mural Calypso shower wall, together with some 300m2 of Taraflex® Multi Use sports flooring.
With over-70 years' experience Gerflor has honed their expertise in safety flooring to produce the highest standards of safety and durability, coupled to delivering stunning, beautiful designs that are both inspirational and eye-catching.
Taralay Impression Control is the perfect option for a wide variety of education new builds and refurbishments where high volumes of footfall are expected and there is a need for safety and slip resistance.A multi-purpose floorcovering available in 2m sheet format with a Group T wear rating, it's ideal for a host of heavy traffic environments where slip resistance is a must.
Available as a dual collection: - 'Safety in Wood' and 'Safety in Design', the range includes realistic woods in contemporary colours and modern all over designs. Taralay Impression Control also has a Pendulum Test value +36, meets HSE guidelines (BS 7976-2), a surface roughness of >20 RTM-RZ and R11 ramp test value (DIN 51130), together with providing 24 design-led colourways and is perfect for a host of other contract applications.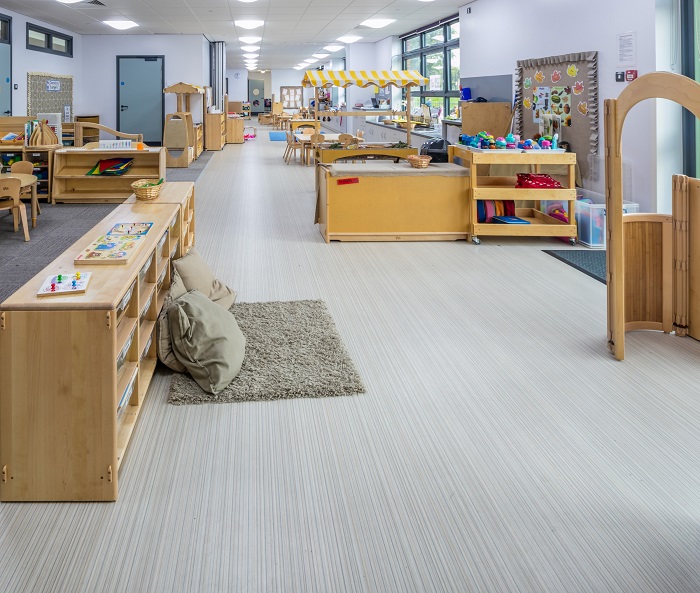 Taralay Impression Control also offers a hygienic solution thanks to a revolutionary UV cured PUR surface treatment for easy cleaning and maintenance. With the Protecsol® Control surface treatment it's easy to clean, is 100% recyclable, offering a state-of-the-art flooring solution for a myriad of applications.
Taralay Impression Comfort comprises a Very High Density (VHD) foam backing reinforced with a glass fibre grid and a printed design that's protected by a transparent wear layer (0.65 mm thick) which offers 19 dB sound insulation and an indentation resistance of 0.11 mm.
The product is protected by a UV cured surface treatment Protecsol® 2 which is easy to maintain and permanently eliminates the need of an acrylic emulsion (metallisation). It does not contain any heavy metals or CMR 1&2 and it is 100% compliant with REACH.
The product emission rate of volatile organic compounds is < 70 µg/m3 (TVOC after 28 days – ISO 16000 -6). It is also 100% recyclable. This flooring is suitable for medium to high traffic areas including hospitals, schools, commercial and public areas.
For designers, the range offers 160 references and includes 21 wood effect references, covering the spectrum of wood colours in 10 stunning designs.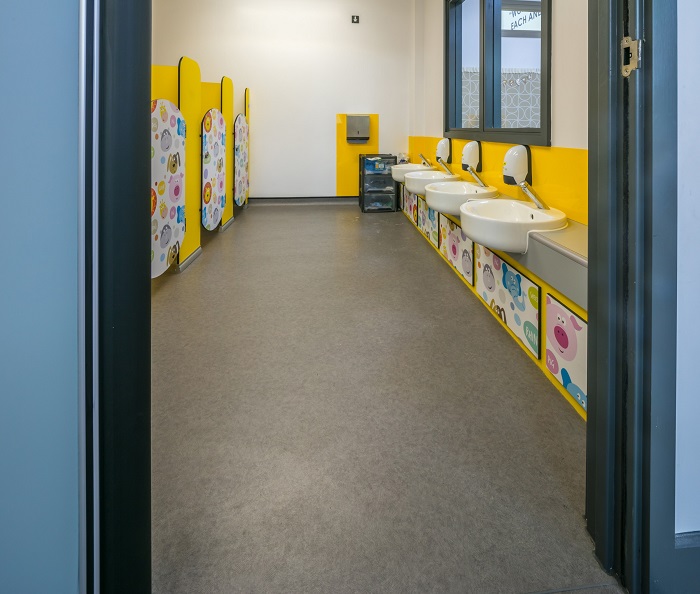 Changing rooms and showering areas in many educational locations can often be wet and slippery environments and that's where Tarasafe Ultra H20 from Gerflor is the ideal solution.
Intended for traditional barefoot spaces where there are continuous wet areas, Tarasafe Ultra H20 also offers a shod solution, providing a perfect blend of flooring applications for those areas where wet flooring conditions can be an issue.
Within Gerflor's other top performing Tarasafe vinyl safety flooring range there are over 80 finishes available to choose from. They are reinforced with a glass fibre grid and are suitable for use in all areas of heavy traffic where slip-resistance, durability and hygienic conditions are required.
Using mineral crystal particles, rather than the industry standard carborundum, Tarasafe, with its improved performance, is easier to install, lighter and more flexible to handle.
The range has a maximum hygiene rating meeting the EN Standard 22196 for anti- bacterial activity (E. coli - S. aureus - MRSA) (3) returning >99% levels of growth inhibition and comes with a 12-year warranty and is also 100% recyclable. The Tarasafe Standard range comes with the unique UV cured PUR surface treatment and their Tarasafe Ultra range (excluding their Tarasafe Ultra H20 offer) also sees a benefit from the SparClean® surface treatment, therefore no polish for life.