The Salesian School in Chertsey has benefitted from a £1.3 million extension to its teaching and administration facilities, with both interior and exterior column casings produced by specialist manufacturer, Pendock, contributing to the appearance and functionality of the new building.
Designed by architect Scott Hill of Drake & Kannemeyer LLP and built by Bisley Contracting Limited, the steel framed extension incorporates five new classrooms, three offices, washroom provision and an entrance hall.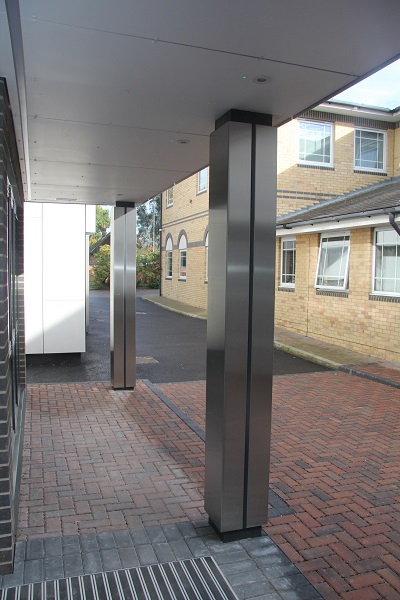 Well known to both the architectural consultant and main contractor, Pendock was tasked with producing three rectangular shaped laminated column casings for the lobby of the school, as well as three square section stainless steel column casings for the exterior of the building.Both sets feature contrasting joint details for added visual effect.
Scott Hill of Drake & Kannemeyer LLP commented: "Historically we have used Pendock encasements internally on our projects, in this instance though, I had the exterior steel stanchions I wanted to do something with other than enclose them in brickwork, so checked to see what Pendock offered.
"Sure enough the company manufacturers something suitable in stainless steel and while I knew how I wanted them to look aesthetically, Pendock offered good design assistance to ensure ease of installation."
The Project Manager for Bisley Contracting, Tony Hills, confirmed: "We had worked with Pendock several times in the past, mainly on education sector projects and know their service is very good.
"The construction of the extension to the Salesian school was done 'under occupation', taking 12 months so it was important to maintain a good relationship with the school, including achieving deadlines.
"Pendock kept to the programme schedule while our carpenters had no problems at all with installing the casings around the main steel stanchions. We are now about to use Pendock again for a project we are doing at Westerham Golf Club."
Established in 1987, Pendock Ltd. started manufacturing pre-formed plywood casings and enclosure systems at its factory in Telford, before developing a wide range of additional encasement solutions such as Pipe Boxing, Column Casings, Radiator Guards and specialist Perimeter Casings for heating.