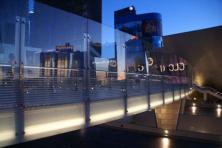 When it came to designing walkways and bridges to connect some of the structures in the City Centre Las Vegas, the designers chose CRL to manufacture windscreens and glass railing systems to provide pedestrians with security as well as a view of the surroundings. Every element was carefully selected to harmonize with this glamorous, imaginative environment.
The suspended pedestrian bridge features a guardrail system that was custom manufactured by CRL. It functions as an actual windbreak and as a guardrail, ensuring a safe walkway. The tempered glass provides a 360 degree view of the area. CRL also added LED lighting to the handrails to help illuminate the bridge. All CRL Glass Windscreen Systems can be easily mounted to a concrete slab, block wall or steel substrate, and they support a wide range of glass panel thicknesses for toughened and toughened laminated glass applications. Custom systems can be fabricated to meet safety concerns, as well as artistic tastes.
At ground level, CRL's P5 Series of posts and handrails were used to create safe and attractive protection for visitors. CRL manufactures a comprehensive selection of Post Railing Kits that combine the durability of stainless steel components with innovative designs and engineering. Their P-Series Post Railing Kits offer a choice of eight distinctive designs for both commercial and residential applications.
The handrails used here also feature an LED lighting system to enhance safety, while creating a dramatic visual effect in the evening hours. CRL's LED lighting components are ideal for illuminating walkways and edge lighting glass panels and are low voltage and low maintenance. CRL supply all the materials needed to utilize the advantages of LED lighting, including LED wall mount and post mount hand rail systems, cap rail housing inserts, strip lights, drivers, mounting clips, jumper pins, and wires.
Although City Centre provided an ideal commercial environment to showcase CRL railing systems and windscreens, they are very popular in residential settings as well.
C.R. Laurence is the leading supplier to the glazing, railing, architectural, construction, industrial, and automotive industries. Offering more than 50,000 products, the company serves the industry from locations throughout Europe, North America and Australia.
For further information please contact:
Chris Pepper
e-mail: chris_pepper@crlaurence.co.uk
C.R. Laurence of Europe
Charles Babbage Avenue, Kingsway Business Park, Rochdale, OL16 4NW
T: +44 (0) 0800 0421 6144 F: +44 (0) 0800 0262 3299