Citispace Leeds
A thriving mixed-use complex just a ten-minute walk from the centre of Leeds city centre, Citispace Leeds is home to over 300 apartments, shops, and shared spaces. In an effort to ensure the complex is a safe space for those who live and work there, remediation work is being undertaken under the Building Safety Fund (BSF) scheme in which any non-compliant elements were to be replaced by Speedclad, the main contractor.
Sector: Domestic/Retail
Façade Design Consultants: Patrick Ryan Associates
Main Contractor: Speedclad
Product: Speedpanel A2® Glass
Finish: RAL9005 Jet Black
Quantity: 460 panels, totalling 642 m2
As part of this work, the facades of the building's spandrel zones - the areas which sit between floors and conceal the structural elements and auxiliary connections - have been refitted, in compliance with current fire regulations. It was decided the look and feel of the iconic Leeds structure should remain identical, wherever possible, requiring a product which could be designed from the outset to recreate the original design aesthetic whilst enhancing performance. Speedpanel A2® Glass provided an ideal solution.
Why Speedpanel A2® Glass?
One would be forgiven for seeing no difference in the before and after images, yet the property now boasts enhanced thermal efficiency and uncompromising fire-performance in the spandrel zone. Façade Design Consultants, Patrick Ryan Associates, envisioned Citispace retaining its original appearance, reinforcing the existing structure's iconic design. Installed in line with Speedclad's FIRAS accreditation, certifying them as a skilled and competent installer of active and passive fire protection, Speedpanel A2®'s rigorous independent testing to the A2-s1, d0 standard, in accordance with EN 13501- 1:2018, ensured that Citispace's remediation work was completed to the highest safety standard with minimal disruption to the lively complex.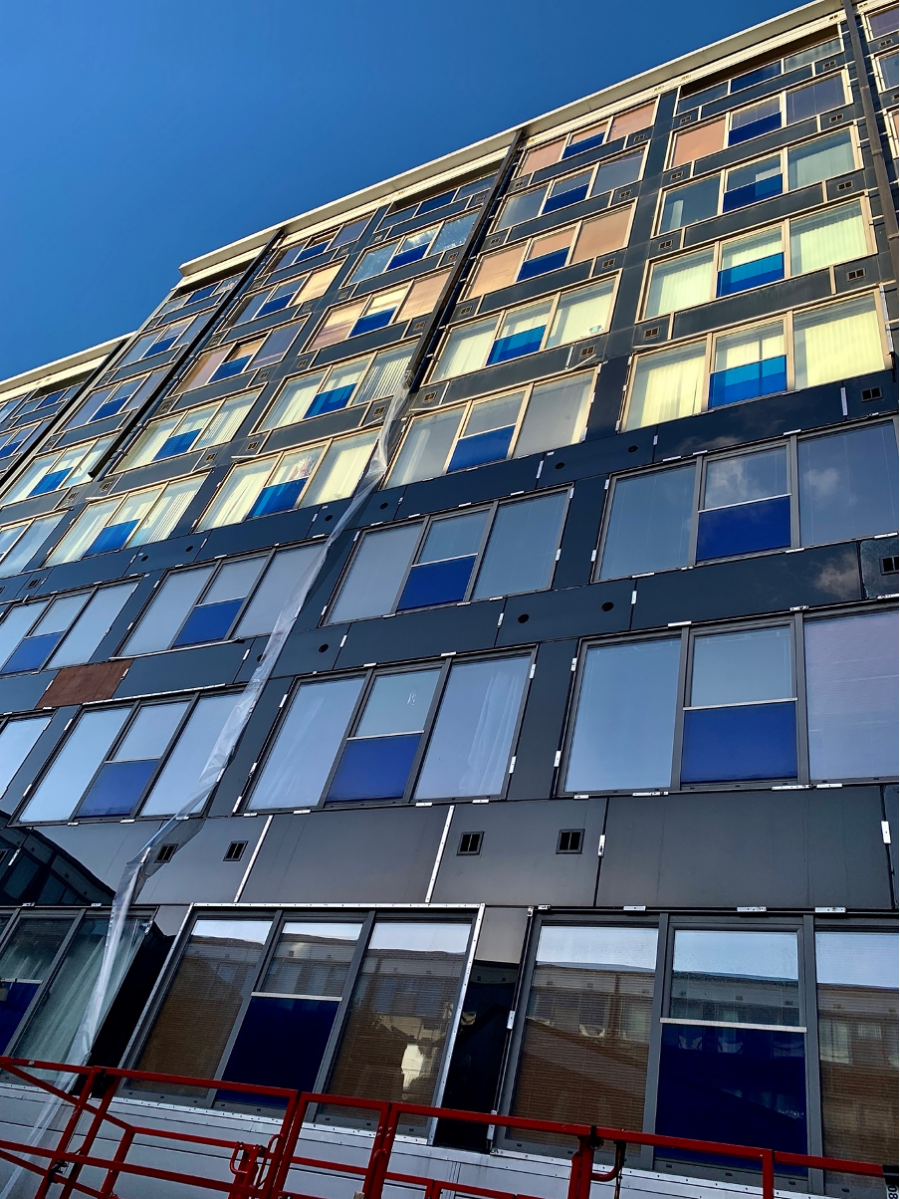 Flexibility at scale
Speedpanel A2® Glass is a pre-manufactured, pre-insulated glass spandrel panel, comprising a steel tray, an inner non-combustible insulated core and a striking, impact resistant glass face (tested in accordance with the TN 75 Hard Body Impact Test). As Speedpanel's Production Manager, Phil Marsh, recounts:
"Speedpanel A2® Glass was original designed and developed to provide core insulation of either 100mm, 120mm or 150mm - thereby providing a glazed-in insulated spandrel panel.
With the increase in demand for a thinner version, driven in part by the refurbishment of spandrel panels on buildings using the Building Safety Fund (BSF), we developed a thinner Speedpanel A2® with a minimum overall thickness of 31mm which allows it, in many applications, to be used as a direct replacement for non-certified panels.
Specifiers are now able to order the panels with glazing edge details from 28mm to 48mm, and an overall thickness from 31mm to 157mm. The process of adding the new reduced thickness panels included full testing by Warringtonfire and extensive pre-production calculations to ensure the panels would meet the requirements of this and future projects clients."
The expertise and adaptability of our technical team allowed us to create a solution to remedy the challenges experienced on this and other remediation projects, and since it was independently tested and certified to the same high standards of our original Speedpanel A2® panels, it is now available as a standard sizing for specifiers of these demanding projects.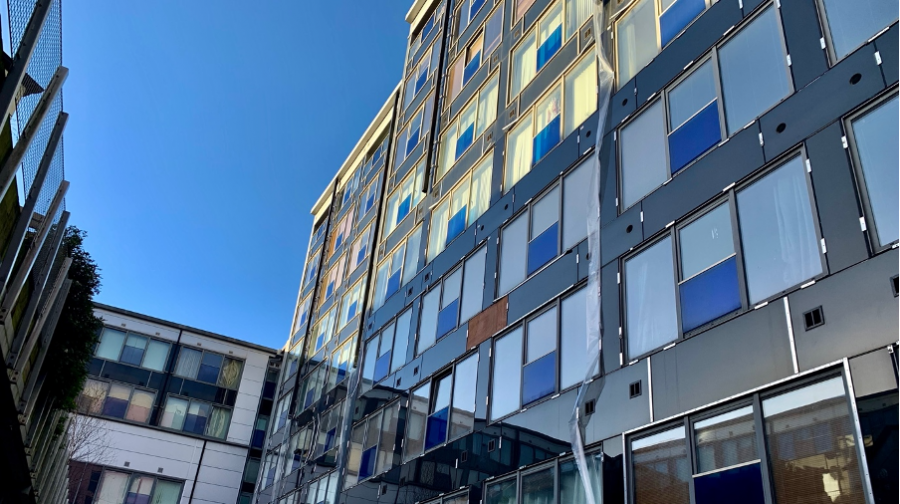 Ease of install
Another benefit of Speedpanel A2® is the way it is designed as a single unit, not requiring built-up assembly whilst on site. Reflecting on the advantages of this approach, Speedclad's project lead, Fraser Brown, commented:
"Speedpanel A2® allowed for quickness and reduced disruption whilst replacing panels in under floor areas – our installers could complete large areas without damaging existing furnishings or needing to handle lots of material on site. By glazing directly into the existing curtain walling system, the Speedpanel A2® spandrel panels were able to be installed swiftly and fit in a range of rebate depths to suit these older facades."
Although it's easy to think this is the final chapter for the project, we know that the design of our panels matter long after a project is completed, and Speedpanel A2® will maintain its appearance and performance for decades. The panels are also manufactured using recyclable core materials.
To explore how Speedpanel A2® Glass, Aluminium or other bespoke variations can help to support a new build or remediation project, explore our product pages or get in touch with our team.