Our Speedpanel A2® insulated spandrel panels are the result of years of experience and careful development. We wanted to create a reliable solution to common construction challenges that would serve the needs of designers, specifiers, installers and building owners alike. Here we share how our Speedpanel A2® range came to be.
Learning from experience
We're no stranger to the different demands of construction. We've worked in the industry for well over a decade and have experienced the common struggles and pain points of operating in the modern built environment. Especially the frustrations of quickly and safely completing the building envelope to protect projects from the elements without compromising on other aspects.
When working on large scale, multi storey buildings, we repeatedly stumbled across issues when sourcing components for the non-vision zone, which plays an important aesthetic and functional role in curtain walling applications. Traditional built-up systems involve multiple layers of internal facings, insulation and rainscreen protection, requiring complex assembly onsite, which can unfortunately produce varying results. Incorrect installation of any one of these elements can compromise the airtightness, fire and thermal performance of a building, and the many stages of built-up systems increases the likelihood of errors occurring.
In response to this issue, we developed a single, modular component which combines all of those elements into a premanufactured spandrel panel, designed to be swiftly and easily installed into any curtain wall system with no further assembly. This reduces the potential for incorrect installation, ensuring the highest levels of performance and safety in the completed construction.
Not only do Speedpanel A2® insulated spandrel panels provide a straightforward, single component solution, but they also deliver excellent fire and thermal performance in a package engineered to welcome design flexibility. Independently tested to A2-s1, d0, Speedpanel A2® gives building specifiers, owners and ultimately occupiers the peace of mind that it offers a solution that is safe, consistent and fully compliant with building regulations, without compromising on design vision. When every delay or wasted moment on site represents additional cost, Speedpanel ensures safety and performance at speed.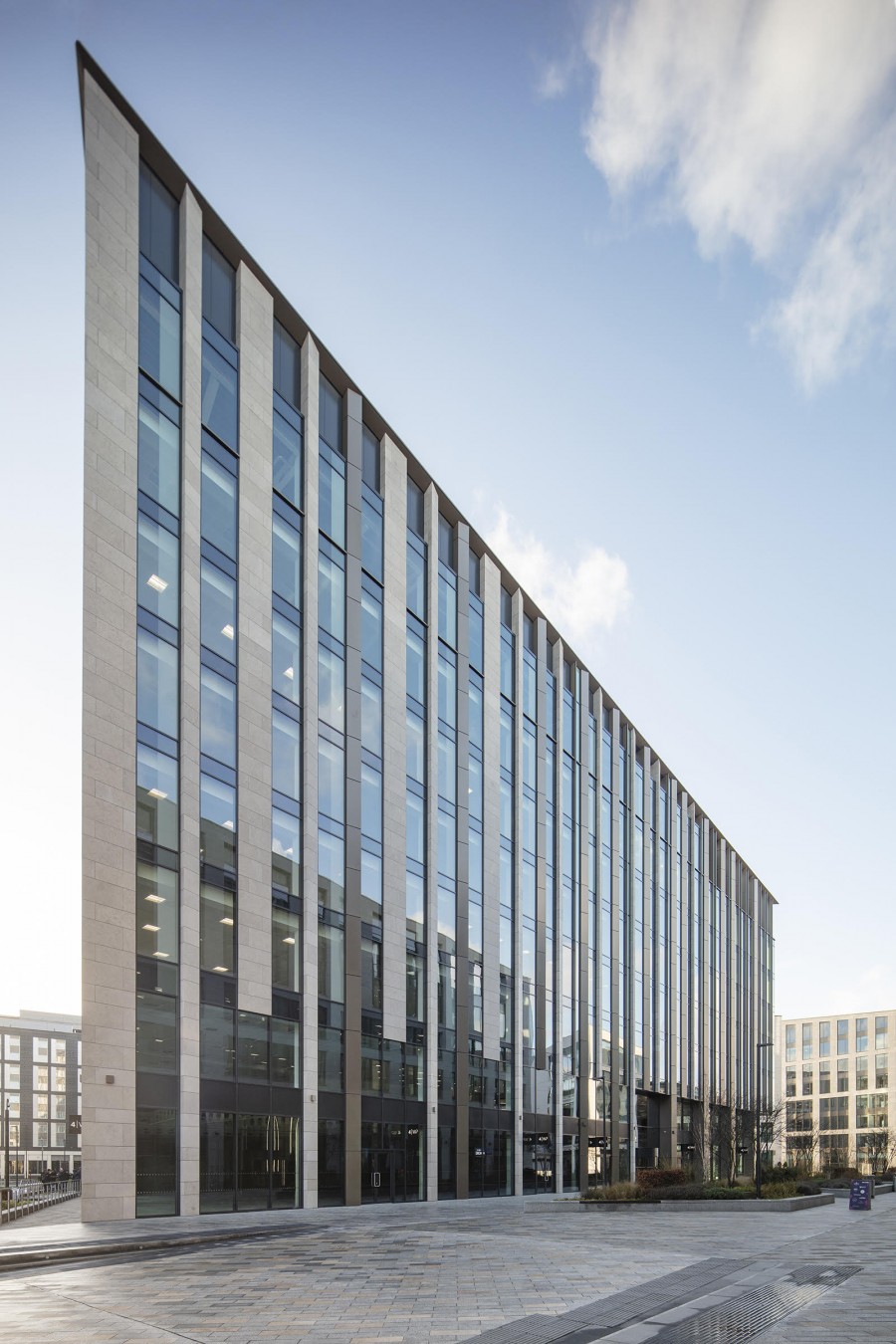 People-centred design
Years of project experience with Speedclad taught us that delays, mistakes and a make-do attitude were all too commonplace in the industry when trying to deal with the spandrel zone and source suitable products, so we developed the Speedpanel A2® range to address these issues.
Our A2 spandrel panels are complete units, pre-assembled and sealed in the factory so that when they arrive onsite, they are simple and quick to install, even allowing for quicker plasterboard application on their inner-facing side. Their design incorporates a sturdy coated-steel undertray with an A1 fire-rated mineral wool core, combined with either a toughened glass or aluminium finish. Composite panels use adhesives to bond various materials together, which can make achieving the required A2-s1, d0 fire rating a real challenge, as many adhesives feature solvents, isocyanates or PVC, all of which are highly flammable.
It became clear that using adhesive was the only way to achieve what we needed. We partnered with Henkel Loctite, who worked closely with us to understand the particular requirements of the application. The result has been a specially developed adhesive which meets all our demands, including fire classification and grab strength, enabling the Speedpanel A2® range to obtain that all important A2-s1, d0 classification. Thanks to our partnership with Henkel Loctite, we're able to offer a consistent product finish, every time. No varyingly torqued fixings, no accidental cross threading on the jobsite, just safe and consistent performance for every project.
In addition to our panels' performance, the nature of our facings allows the panels to have great design flexibility for architects, offering various options for glass and aluminium faces which can be tailored to fit in or stand out – we believe in safety and simplicity without sacrificing beauty.
Our products are industry leading, thanks to our expert technical team. Such experience and depth of knowledge means we can creatively tackle the most challenging projects, with bespoke solutions fit for any situation. We know that buildings and spaces come in all shapes and sizes, can present all manner of problems and prerequisites, and each require a tailored approach. Even when developing bespoke, project-specific solutions, we are grounded by uncompromising safety in all that we do.
Through this approach, we aren't just providing construction products; we're pushing the industry to build safer and to be more efficient creators.
Rebuilding trust
The construction industry is undergoing a huge transformation and a long overdue shift in culture. Everyone should feel safe in the places they live and work, confident that the buildings that surround them will protect them. We recognise the role we can play in helping to rebuild trust in construction, leading by example by putting safety at the very core of our product design, manufacture and testing processes.
Many other products on the market claim that their components are tested to A1 fire certification, but this can be misleading if it only applies to individual elements, not the whole system. To be truly confident in a system's fire performance, and the protection it will offer, we believe it should be holistically fire tested as a complete unit. Our insulated spandrel panels have undergone rigorous, independent testing in this way by WarringtonFire – achieving A2-s1, d0 fire classification – to ensure safety and offer peace of mind.
We also want to make it as straightforward as possible for professionals at any point in a project to find the information they need, so our product datasheets and testing certifications are easily accessible, both here on our website and on our NBS Source product listings.
We have complete control of our quality too, manufacturing all our products in the UK from our dedicated facility in Northallerton. This removes the complexities of shipping products from overseas, and ultimately lowers the carbon impact of our product range.
What's next?
From our core spandrel panel range to bespoke products – and from a small enterprise to volume manufacturer – we are growing to become the go-to solution for the issues faced by architects, engineers and installers across the country. We are rapidly evolving our product offering too, engineering fully tested flexible finishes and features to meet the demands of dynamic design trends.
With an ageing building stock across the UK and mainland Europe undergoing a renovation boom, along with ever more stringent fire regulations and a relentless pursuit for lower operational carbon footprints, our product offering caters to the changing times.
Speedpanel A2® offers safety and performance in a beautiful package that removes some of the complexity from retrofit projects. Our innovative panels, which help bolster thermal efficiency and are composed of recyclable major components, are a solution fit for the future.
No matter what the industry trends or changing market priorities, Speedpanel is committed to creating practical solutions with uncompromising safety, supported by the technical expertise to tackle any challenges that arise, constantly evolving our product range to meet the needs of our customers, far into the future.
To explore our projects, products and more visit our website.