Sunamp has been declared the winner of the Big Innovation Pitch — the biggest callout for innovation in the industry – during the second day of Futurebuild 2022.
After creating a shortlist of six game-changing technologies from over 90 submissions, the judging panel chose Sunamp for its pioneering thermal batteries.
During the Big Innovation Pitch final, the six finalists had five minutes to pitch their innovations to the judging panel. The winner, Sunamp, presented on its Thermino thermal storage battery, which uses food-grade phase change materials for more efficient heat storage, delivering instant hot water while reducing carbon emissions. While the battery is up to four times smaller than an equivalent hot water cylinder, the battery has an energy density around five time greater than water.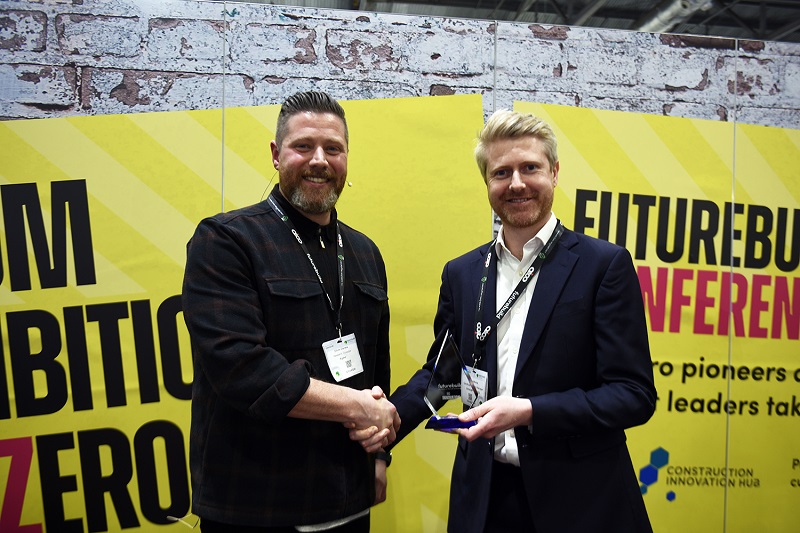 "We need more than one technology to help us reach net zero, so it was brilliant to be presenting alongside the other shortlisted innovative technologies," explained Toby Morris, specification sales manager at Sunamp and Big Innovation Pitch winner. "At a time where we're talking about electrification of heat, which is necessary to meet net zero, we must also think about how it impacts the grid. As energy demand increases, the strain on the grid will also rise, so alternative energy storage solutions will be crucial to reduce emissions and pressure on the grid, delivering a more sustainable energy infrastructure."
ACO, a pioneer of sustainable surface water management systems, is sponsoring the Habitat Matters café. The café provides an area for visitors to meet and collaborate while interacting with the installations about the Habitat Matters campaign. Visitors also had the opportunity to attend a book signing with Tony Juniper, activist, campaigner and writer of `Our Changing Planet, to highlight the strides that have been made and still need to be made in the industry.
"This year's Futurebuild event has gone beyond our expectations," commented Peter Ridgway, brand director at ACO. "People are genuinely enjoying being back face to face and we have designed the café to encourage discussions that will reverse the impact the built environment has had on the natural world."
On the Innovation Stage, three of the show's Innovation Partners, Kensa Contracting, Internorm Windows UK Limited and INTU Your Home, discussed their latest innovations. Kensa Contracting covered how the industry is revolutionising renewable heating systems with ground loop array infrastructure. Internorm Windows UK Limited showcased how we can meet the demanding build specifications, such as thermal efficiency, with innovative glass specifications and shading solutions. David Culshaw, technical director at INTU Your Homes, raised awareness about energy saving and health and safety the benefits of using INTU taps in every home in the UK.
"We launched in March 2020, so Futurebuild has been our first opportunity to meet with our customers in person and other innovative providers in our sector," explained Culshaw. "The show floor and innovation stages have been a great platform for us to raise awareness about the benefits of our new five-in-one hot water taps for safer and more energy-efficient water consumption in homes."
On the Wholehouse Retrofit stage David Pierpoint, CEO of the Retrofit Academy and Phil Mason, head of regulatory engagement at Trustmark, discussed the importance of maintaining clear quality standards in the retrofit sector. Over 24 million homes need to be retrofitted over the next 28 years, so we must provide accurate and trusted information to suppliers and homeowners to make this target a reality.
A panel of industry experts, chaired by Rose Grayston, co-author of the report of The No Places Left Behind Commission, joined the conference stage to discuss what levelling up the built environment should really mean. They discussed how we need to shift our focus from growing the economy, to concentrating on the opportunities that economic growth provides people and places.
The third and final day of Futurebuild will focus on how we can live in a healthier and happier environment. Attendees can also visit a range of pavilions to discover more about sustainable building technologies, timber, modular industry, and green infrastructure.