CorkSol UK has recently launched its next generation building coating, SprayCork.
Offering an improved finish and enhanced functionality when transforming internal and external walls, SprayCork is set to provide applicators and consumers with an even better cork-based product, with a wider range of practical benefits and colours available.
Well suited to the UK, the new product has 40% more cork content, making it more thermally efficient in a climate where heating systems struggle to insulate buildings in the winter months.
The higher cork content means the product is also more eco-friendly. As cork bark is stripped from the trunk and no tree is felled, this is one of the most ethical choices on the render market, unlike quarried materials which cause permanent damage to the landscape.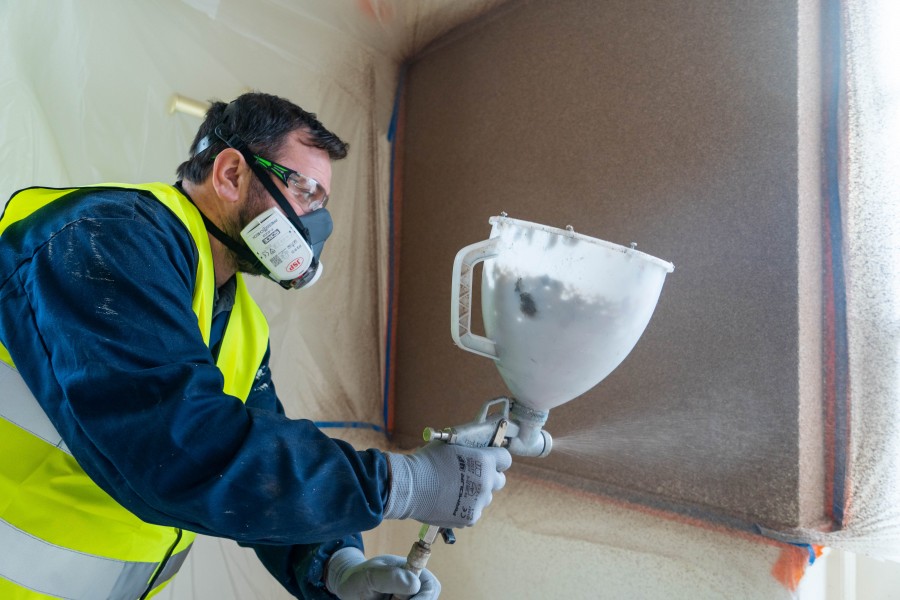 SprayCork is resin bound with a pigment added to create a range of striking colour options. The product will be available in 28 colours as standard, with the core colour collection reflecting the demands of the UK housing and commercial markets, including a wider selection of neutral shades, modern greys and crisp whites. As the product is all mixed in house, bespoke colours are also available and can be matched to any RAL shade, free of charge for larger orders.
Launched to market through an integrated communications campaign to help applicators build their customer base, SprayCork comes with many other added benefits for the applicator including an improved warranty of 25 years and an accelerated IR and UV drying time helping improve job turnaround and reducing the chance of wash offs between coats.
SprayCork also delivers a range of additional user benefits including acoustic absorption, breathability and resistance to cracks, mould, water, sea salt and fire.
Joff Ward, Director or CorkSol UK comments: "The launch of this next generation demonstrates our commitment to innovation and product development here within the UK. Our team is constantly looking to discover new solutions that offers applicators and end users a wide range of value-added benefits. What really stands out with SprayCork is the sustainability angle and the flexibility we now have with colour and finish. Homeowners and developers alike are looking for building coatings that not only deliver on performance but that also reflect current social trends – which is where SprayCork excels tapping into demand for environmental solutions and finishes that suit individual tastes."
SprayCork is distributed exclusively to CorkSol's approved applicator network across the UK. Full training is available at the company's HQ in Halifax, West Yorkshire. This vetting process gives end users confidence that the applicator knows exactly how to specify and apply CorkSol products, giving that official seal of approval.
Visit www.CorkSoluk.com to find out more.