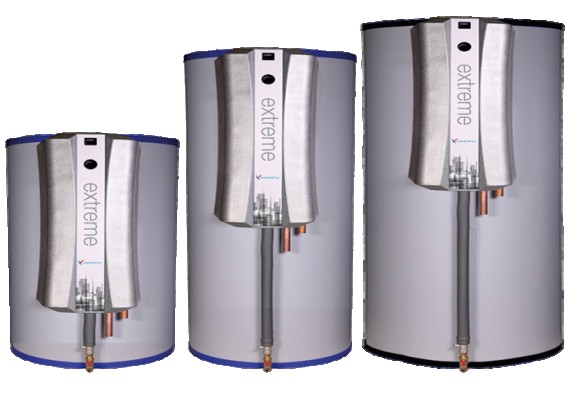 Mikrofill's hot water loading systems have been developed specifically to meet the demands of modern commercial buildings. The Extreme is a domestic hot water generator that combines the advantages of both an instantaneous hot water heater and a storage system, creating perfect harmony between a condensing boiler and a hot water cylinder.
The Extreme loading system addresses and overcomes all of the disadvantages of the traditional coil type cylinder, whilst remaining simple and straight forward to install. In addition the operating principle ensures the efficiency of a condensing boiler is optimised during the production of hot water.
The Extreme produces exceptional flow rates in excess of 2500 litres per hour at 60°C. Mikrofill's uncompromising approach to quality materials, design flexibility and engineering excellence has resulted in the Extreme, the new standard in hot water generation.
Introducing 'INJECTION DYNAMICS', a breakthrough in domestic hot water technology. By utilising this revolutionary method of heating, the Extreme generates hot water faster, cleaner and more efficiently than ever before.
For more information head over to the NEW Mikrofill website www.mikrofill.com