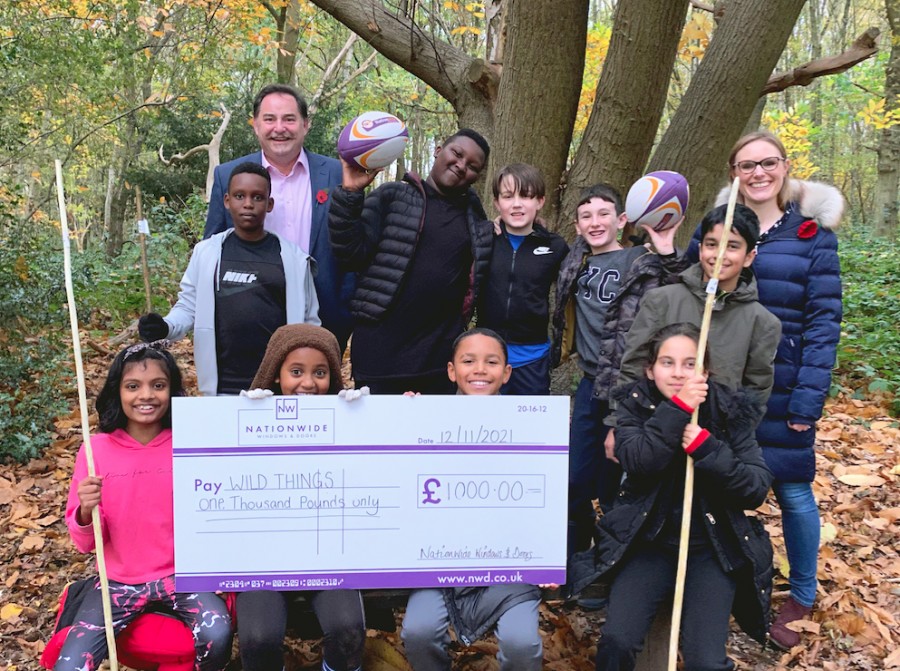 Photo caption: Kevin Caveney of Nationwide Windows & Doors and Rebecca Dermody-Simmons of EEM present the cheque to Mellers Primary School pupils.
A charity working to make the natural world more accessible to inner-city children has benefitted from a £1,000 donation from Nationwide Windows & Doors.
Wild Things, based in Nottingham and Derby, were "surprised and delighted" to receive the funding after being nominated by the winner of a prize draw held by Nationwide on their stand at the recent CIH Housing 2021 exhibition.
Rebecca Dermody-Simmons, Chief Executive at Efficiency East Midlands (EEM), was the lucky winner of the prize draw and knew exactly where she wanted the donation to go.
"I felt a big responsibility to ensure it went to a charity who would really benefit from the generous amount," she says. "I have known about Wild Things for a while and they provide such an amazing experience for children, which has become even more important following the recent lockdowns.
"I hope the donation will give them the opportunity to get more children outdoors and enjoying the activities they offer – I certainly enjoyed tracking through the woods with them on the day we handed over the cheque!"
Kate Milman, Forest School and Environmental Education Worker at Wild Things, says: "We were surprised and delighted to be selected for this generous donation towards our project - especially during a time when finding funding for our work is becoming increasingly challenging.
"We set up Wild Things 25 years ago, with the main aim of helping children and young people access positive and potentially life changing experiences in the natural world that they wouldn't otherwise have access to. Each year we work with approximately 500 children and young people, the majority of whom will never have spent time in a woodland environment before.
"The natural world offers so many emotional, social and educational benefits, especially during these difficult times, and donations like this mean that we can make the benefits and joy of time in the natural world accessible to more inner-city children."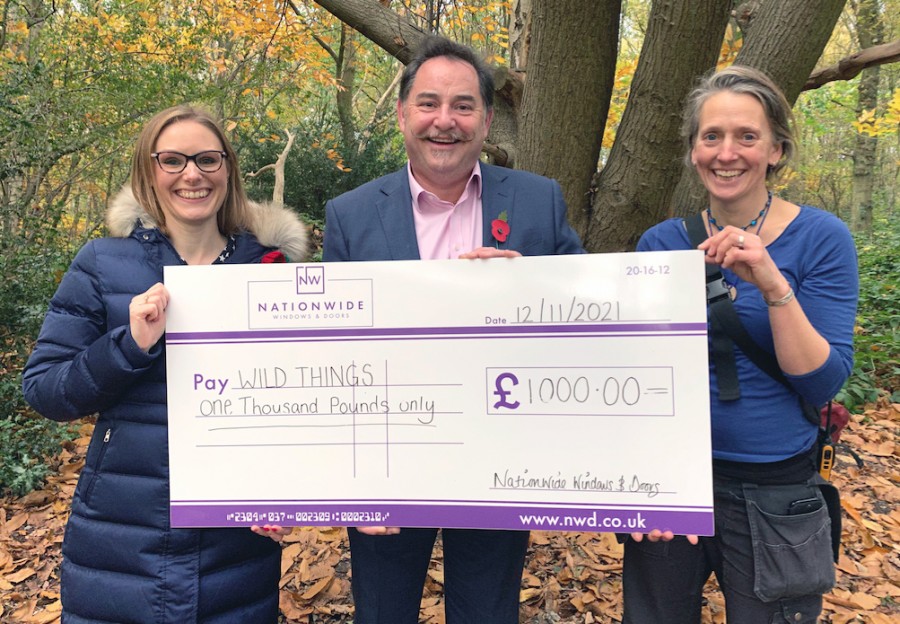 From left: Rebecca Dermody-Simmons (EEM), Kevin Caveney (Nationwide Windows & Doors) and Kate Milman (Wild Things).

The £1,000 donation will go towards a future six-week Forest School programme with children from Mellers Primary School in Nottingham, and Kevin Caveney, Director of Commercial Sales at Nationwide, joined some of the pupils to see Wild Things in action.
"Our mission at Nationwide is to improve communities, housing and homes," says Kevin. "After meeting the team and seeing their great work, it's clear that Wild Things has a hugely positive impact on the children and the communities that they work with.
"It was wonderful to see how relaxed and happy they were at being given the opportunity to immerse themselves in the wild. We're so pleased that the donation has gone to such a great cause."
Find out more about Wild Things and the work they do at: www.wildthings.org.uk.