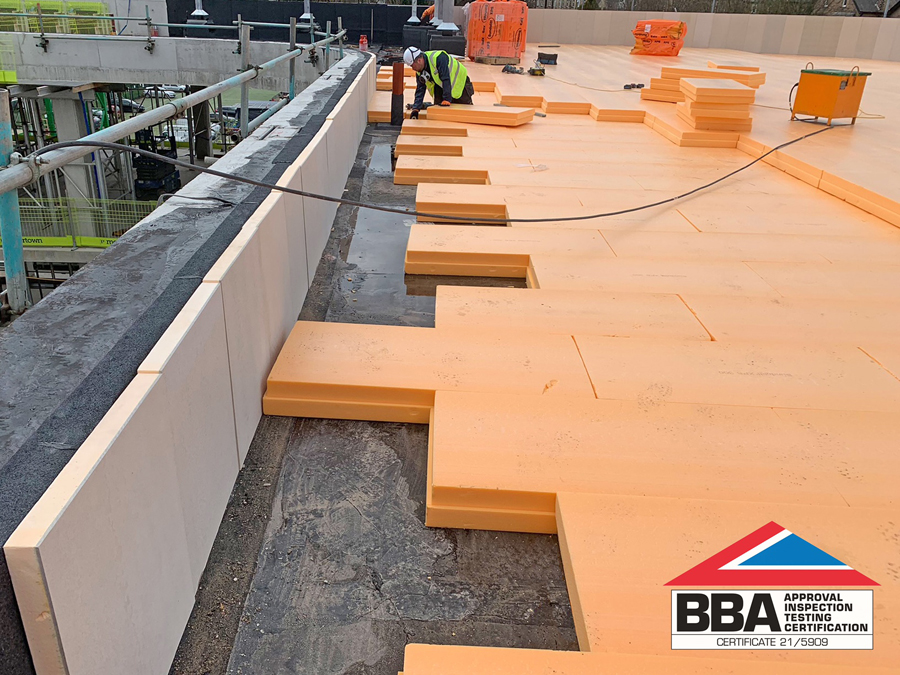 Sundolitt's extruded polystyrene (XPS) 300 Inverted Roof Insulation Board has been awarded BBA certification. The insulation board is suitable for the inverted roof concept (above roof waterproofing) on new or existing domestic and commercial trafficked flat roofs, and balconies and terraced roofs subject to pedestrian access.
The high thermal performance insulation board is overlaid with Sundolitt's WRL (water-flow reducing layer) membrane with a gravel ballast or paving slab finish applied on top and will ensure the insulation system is warrantied for the lifetime of the building.
Sundolitt XPS offers exceptionally low moisture absorption through its closed-cell system which helps maintain excellent thermal performance in wet environments such as with inverted roof, whilst its strength and stability is unaffected even by water absorption, immersion and diffusion.
Colin Morrow, General Manager, Sundolitt comments, "We are delighted that our XPS 300 inverted Roof Insulation Board has been awarded BBA certification following rigorous testing. This is the second product in recent months to be accredited and is part of our drive to ensure we manufacture and supply proven, high-performance insulation products to the construction industry."
Inverted roofs are cost effective solutions and cost savings can be made by installing Sundolitt XPS Inverted Roof Insulation board over the weatherproofing. Insulating over the weatherproofing prolongs the life and reduces maintenance of the membrane by reducing stresses caused by temperature extremes and UV exposure.
CO2 blown and utilising no harmful greenhouses gases in manufacture, Sundolitt XPS Insulation can be fully recycled at the end of its life. Our third-party accredited Environmental Product Declaration (EPD) confirms Sundolitt XPS has a GWP of less than 5 and an ODP of zero.
All Sundolitt sites are accredited to global Quality Management Standard BS EN ISO 9001:2015 showing comprehensive assurance of our commitment to quality in every part of our business. We also operate the EC Eco Management and Audit Scheme (EMAS) to ensure that all relevant laws and regulations are adhered to and continuous environmental improvements are achieved. Furthermore, producing most of our own raw materials in compliance with management system ISO 14001:2015, ensures our commitment to supply high performance, high quality and sustainable products aligning with client requirements.
See below link to BBA certificate
https://www.sundolitt.com/globalassets/sundolitt/01.-international-market/03.-documents/bba-certificate-inverted-roof-insulation-xps.pdf