New research from Corksol UK has confirmed its innovative SprayCork solution is proven to reduce heat loss through walls by more than 30%, making it the ultimate choice for properties old and new.
A high performance, sustainable solution, SprayCork offers an eco friendly alternative to traditional render systems and other coatings. Breathable and weather resistant, SprayCork delivers excellent insulation properties, and now thanks to this lastest research, it is proven to reduce heat loss making it an outstanding solution when looking for ways to combat the problems caused by thermal bridges and poor insulation.
The test was conducted on a 1890's solid walled, Yorkshire stone detached cottage that suffers from a lack of wall insulation. This style of property was chosen as it totals almost 7.8 million of the UK built environment. Less than than 10% of these properties have any form of wall insulation and are notorious for harvesting damp spots and mould.
Armed with a U-value monitoring kit and a Infrared (IR) camera funded by Corksol's Innovate UK R&D grant, the team set out to assess SprayCork's thermal wall insulation performance, seeing outstanding results with the porous nature of SprayCork well suited to old properties, whose walls were designed to breathe.
The U-value of the property reduced from 1.58 to 1.10, with SprayCork generating a 30.4% improvement in heat loss through the wall – an incredible result for a product applied at only 6mm thick. Not only does this research make SprayCork a market-leading solution for thermal insulation, but it is also ideal for use in small spaces, where thicker layers would cause reduction in room size.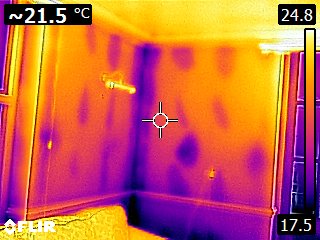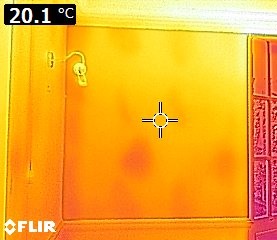 Joff Ward, director of Corksol UK comments: "We always knew SprayCork had unrivalled potential as it is made from one of the world's finest natural insulators, but this testing has really solidified our case. To be able to reduce heat loss by over 30% should make SprayCork attractive to homewners, landlords, housing authorities and housebuilders as there are so many benefits.
"Besides saving money on bills and tackling fuel poverty, SprayCork helps to improve build quality, better living conditions by purifying the air and eradicating damp, and reduces the carbon footprint of the property. We're investing heavily in testing and research to make sure we give SprayCork the recognition it deserves as for such a thin coat material, the performance it yields is astounding."
The test house struggled to stay warm in winter, had evidence of mould and damp, and had no existing insulation, just plasterboard dot and dab fixed direct to the 300mm thick stone. The large dabs holding the plasterboard in place were cold to the touch, with the IR camera confirmed clearly that they were acting as a strong cold bridge.
The U-value test kit, an ISO 9869-1:2014 approved Swiss system, requires three measurements to be recorded every minute for at least 72 hours (internal temperature, external temperature and heat flux) with signifitcantly different internal and external temperatures. The wall was tested before application, recording a U-value of 1.58W/mK.
SprayCork was then applied direct to the existing plasterboard, across the whole wall and around the window reveals. Application was in two layers giving an overall depth of 5-6mm. After IR drying, the wall was skimmed with 2mm of standard gypsum plaster, all in the same day.
Immediately there were signs of significant improvements in thermal performance. IR images showed a visible reduction in the cold bridges caused by the plaster dabs and around the internal corners, confirming SprayCork's effectiveness at controlling condensation and mould. The U-value testing kit was mounted in the same spot as for the first test, under the same conditions. Four days later, the test was complete to ISO9867 standard, with the resulting U-value down to 1.10W/mK.