Creating lasting and functional products and systems is something Schlüter-Systems are well known for, however when it comes to products that are visible on the surface, the options available must also be aesthetically pleasing. With this in mind, Schlüter have expanded their shelf range for even more design options.
Three new patterns join CURVE and FLORAL in the Schlüter ®-SHELF range:
The SQUARE design features small squares for a smart, uniform aesthetic.
The PURE shelf is a simple and minimal design which lets the tiles have the focus.
Lastly, to create an elegant yet subtle statement, choose the WAVE shelf.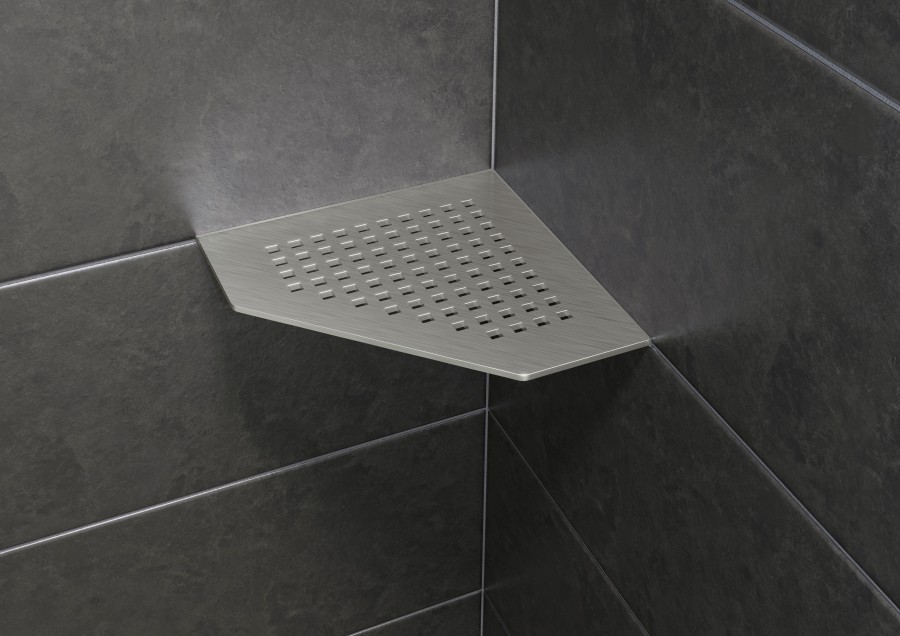 Those familiar with Schlüter products may recognise these patterns. This is because they have been created to match the Schlüter-KERDI-LINE drain grates already available, making a cohesive finish far simpler to achieve. Having matching finishing accessories can give your bathroom a sleek and modern look.
Alternatively, there is the potential to mix things up and make a statement by clashing one style of shelf against a different patterned drain grate, creating a look that is truly your own. Whichever you choose, the options are only limited by your creativity.
Not only are there a larger selection of shelf patterns available within the range, Schlüter has also expanded on the finishes on offer too. This means that Matt Brilliant White, Matt Graphite Black, Natural Beige Grey, Natural Cream and Natural Blonde are included in the textured colour finishes available.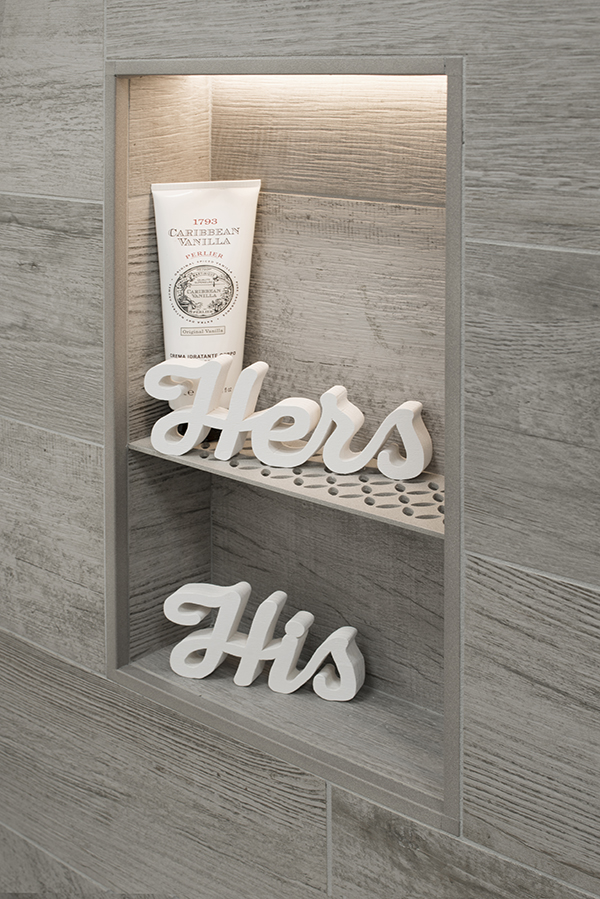 As with all products in the Schlüter®-SHELF range, there is flexibility with placement due to the corner, wall, and niche options available.

The Schlüter-SHELF-E comes in three shapes: triangular, pentagonal, and quadrilateral. Installation is easy as no drilling is required. The shelf simply integrates into the joint pattern with the use of a sealant. This option is ideal for smaller spaces as the shelf can be slotted in seamlessly.
A benefit of choosing SHELF-E is the versatility offered – the shelves can be retrofitted between grout lines, creating an effortless update without having to make big changes to your bathroom. Avoiding the need to drill through finished coverings and the waterproofing beneath means that there is far less risk of water ingress.
SHELF-W is a rectangular shelf designed for tiled walls which can be installed anywhere within the wall area as long as it is in tandem with the tile.
Lastly, The SHELF-N is the perfect companion for the popular prefabricated shower niches Schlüter-KERDI-BOARD-N to create even more storage space.
Whatever bathroom or wetroom style you are after, with the new variants on offer and the option to mix and match, Schlüter is bound to have a shelf that will finish it off perfectly. Find out more about the products and services available by visiting www.schluter.co.uk