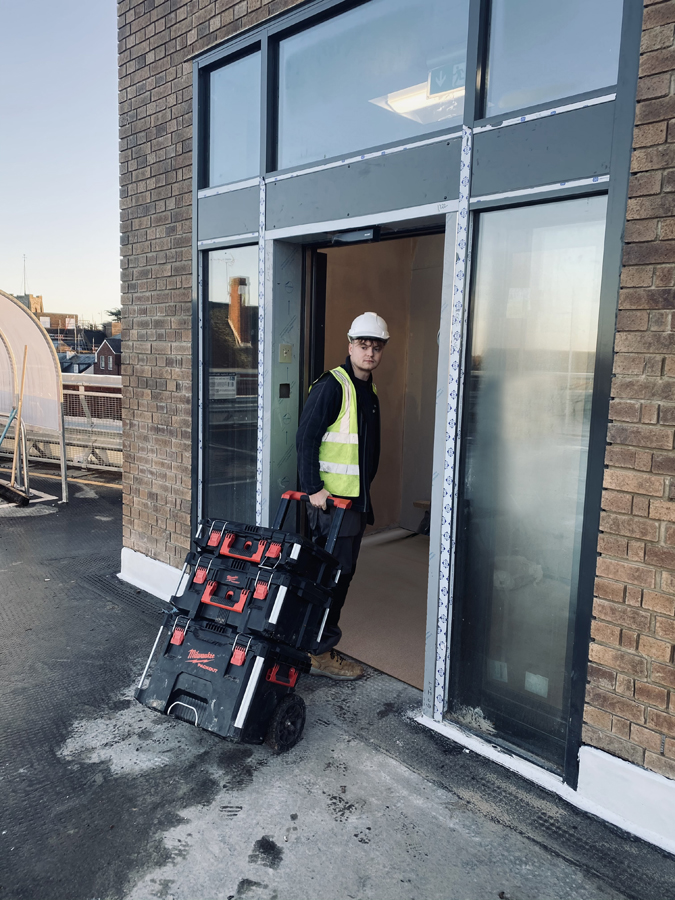 A landmark apprenticeship scheme to bridge a skills gap and ensure quality standards within the automatic door industry has been launched this month (March) by the Automatic Door Suppliers Association (ADSA).
The Powered Pedestrian Door Technician Apprenticeship realises more than five years hard work – from initial idea, active partnership working and Government green light, to devising structure and content and commissioning a suitable training provider.
ADSA Managing Director Ken Price said that this was "a landmark moment" for the industry which will serve it for years to come – delivering professional entry level training and qualification, underpinned a consistent approach to safety and standards.
"Our members clearly identified that there was a skills shortage for entry level technicians in our industry. Alongside this, there was a need for a consistent approach to ensure that those entering the profession were able attain a high-quality standard of knowledge in theory and practice," he said.
The two-year level two apprenticeship comprises of 23 modules: six electrical and mechanical engineering, the remainder industry specific. Each module has been selected to ensure that all apprentices attain essential core skills. Level two Maths and English will also be provided if the apprentice does not already hold these qualifications.
ADSA initially devised an expression of interest when the Government Trailblazer Apprenticeship scheme was launched in 2015 – a move backed by industry employers.
However, it had to overcome many hurdles before being given the go-ahead. A Trailblazer working group was established which produced standard and 'end point' assessments. This was followed by rounds of detailed costing submissions before course content could be developed during 2019. Work continued through 2020 despite the knock-on effects of a global pandemic and a training provider was identified.
South Staffordshire College was chosen as the delivery partner for the PPD Technician Apprenticeship with cohorts of up to 15 apprentices working towards their qualification as part of a rolling programme. Learning will be undertaken in block release sessions at its Tamworth Campus with digital platforms replacing classroom delivery while COVID restrictions are still in place. Apprentices will also be assessed in the workplace with the end point assessment in installation and service being undertaken within a moot environment.
Apprentices are paid salary by the employer during their indenture, with all learning funded through the Government's Trailblazer Scheme. The ratio of learning is 40 per cent study 60 per cent practical.
Kirk Hookham, Deputy CEO of South Staffordshire College, added: "We are very pleased to be working with ADSA as part of an innovative partnership to provide high quality education and training."
Details of the apprenticeship can now be found on the South Staffordshire College website
https://www.southstaffs.ac.uk/south-staffordshire-college-official-apprenticeship-training-provider-for-automatic-door-suppliers-association/
Employers can arrange apprenticeships direct with the college by calling 0300 456 24 24 or by emailing apprenticeship@southstaffs.ac.uk