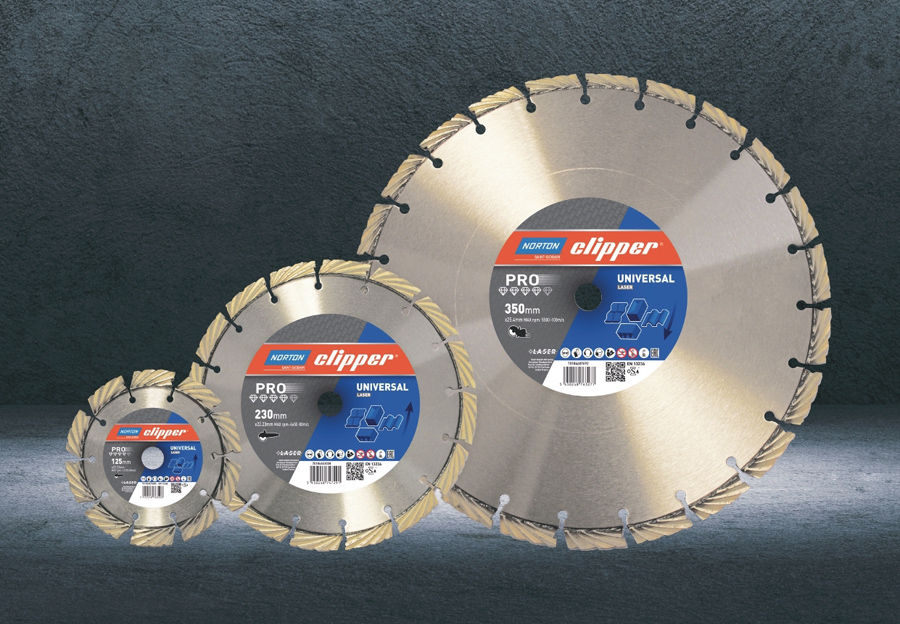 As the UK construction industry remains operative through the third national lockdown, Norton Clipper has announced the release of its newly updated Pro Universal Laser Diamond Blade, to help speed up cutting time and reduce overall abrasives costs for contractors on site.
Enhancing control and performance, the Pro Universal Laser Diamond Blade ensures a more precise, quicker and sharper cut when compared to its predecessor, and is available in a complete range of sizes, from 115mm to 350mm, to suit all cutting requirements.
Ideal for general building materials such as bricks, paving stones and other common onsite applications, the new blade has an increased segment height from 10mm to 12mm and has been upgraded with i-HD denser segments, which ensures a longer product life with fewer blade changeovers.
While the density of the blade can ensure optimum safety against segment loss, the concise grooves on the blade work to reduce surface contact – minimising friction between the blade and material, and ensuring an easier and more precise cutting process, even after multiple uses.
A change in the design of the updated blade has also allowed for better evacuation of dust, increasing visibility and safety for the operator.
Norton Clipper's Pro Universal Blade can be used on a range of machinery, including masonry saws for both wet and dry cutting, with operators noticing a smoother and more controlled process.
Renowned as the cutting product of choice in the construction and building industries, products in the Norton Clipper range are known for their durability, quality and expert finish – and this new addition is no exception.
To help contractors quickly and easily choose the correct tool for their projects, the Pro Universal Laser Diamond Blade has been colour coded in blue and includes images of the correct applications and machinery.
Colin Knight, National Sales Manager at Saint-Gobain Abrasives, comments: "The construction and building industry is currently a huge driver for the UK economy, and at Norton Clipper we truly understand the importance of supporting the sector, right down to the individual. That's why we wanted to upgrade one of our most popular onsite blades, without adding the hefty price tag.
"The updated Pro Universal Laser Diamond Blade offers a fast and precise cut throughout its long lifespan – simply look out for the blue blade with four diamonds, or ask at your local builders' merchants."
To find out more about Norton Clipper's Pro Universal Laser Diamond Blade, visit https://www.nortonabrasives.com/en-gb/pro-universal-diamond-blades-upgrade, or to find the right diamond blade for you, see https://www.nortonabrasives.com/en-gb/diamond-blades-guide-0.