The refurbishment of Inntel Hotels Rotterdam Centre has seen UNILIN Panels reclaim and repurpose decorative panels used in the interior, turning them into brand-new furniture for guest rooms.
UNILIN Panels has been reclaiming its existing decorative panels and turning them into something new for companies and Dutch hotel chain, Inntel Hotels, was among the first few companies to follow its circular approach. When refurbishing its Rotterdam Centre location, Inntel Hotels turned to UNILIN Panels to take back its existing decorative panels and turn them into new furniture for the 150 guest rooms.
Learning of UNILIN's circular approach, project manager, Joram Buitenhuis knew it was the right way to go: "I've spent more than 25 years in interiors, so I have a good knowledge of materials. A combination of design, quality and sustainability is crucial to a nice interior, and all at a reasonable price. When I learnt about UNILIN's circular approach back in 2019, it really stirred my interest."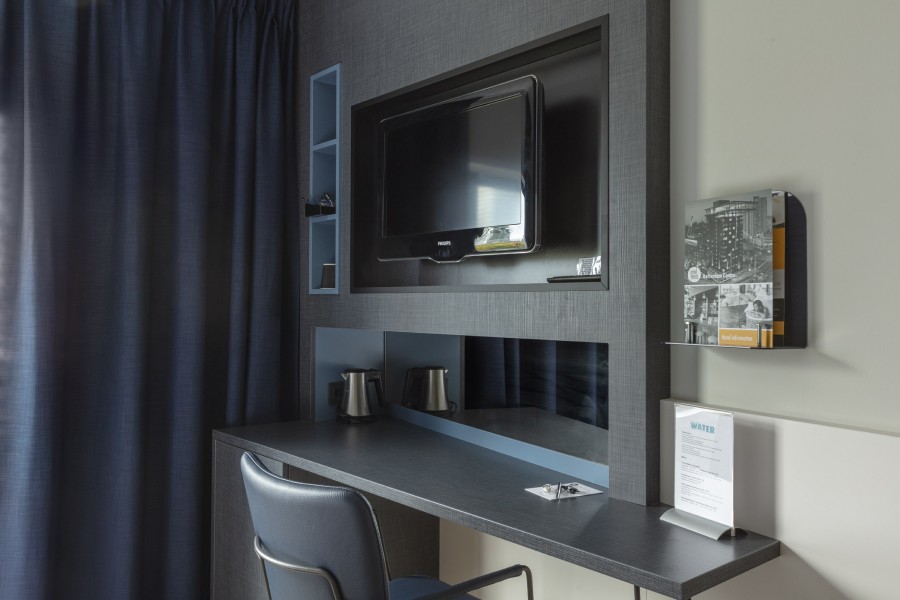 Having given new life to old wood materials for decades through its decorative panels, UNILIN is now taking the next step in building its circular economy, reclaiming a project's old panels and turning them into something brand-new for the same interior. For Rotterdam Centre, UNILIN took back the old guest room furniture and turned it back into Evola panels for use in new cabinets, desks and beds.
UNILIN's circular approach to the production of its wood-based solutions for interior design is part of the company's long-track record in making its products more sustainable. Since its foundation in the 1960s, driven by looking for a sustainable way to give by-products of the flax industry a meaningful destination rather than incineration, UNILIN has pioneered using wood waste as a renewable raw material and source of green energy. 100% of wood used in production is recovered, saving 4,000 trees from being felled every day.
Inntel Hotels Rotterdam Centre is the first hotel in Holland to have its old furniture recovered and processed into new panels right away:
"Inntel Hotels are often just that little bit different, slightly more interesting than other hotels. UNILIN Panels has helped to preserve that difference in Rotterdam," concludes Joram Buitenhuis. "We're currently working on new hotels in Scheveningen and Amsterdam, where we are also looking at a tie-up with UNILIN Panels to make Inntel even more "surprisingly sustainable."
For further information, www.unilinpanels.com, info.panels@unilin.com