As an experienced installer, Shaun Scott understands the importance of finding high-quality solutions, which combine traditional style with modern performance. That is why he specified and installed products from aluminium guttering and drainage system specialist, Marley Alutec, and its Traditional and Tudor ranges during a recent renovation of his own heritage property.
Located in Insch in the Scottish countryside, Shaun Scott's 200 year-old home is a traditional farmhouse that had been left derelict prior to Shaun purchasing the property. As such, the rustic property, which consists mainly of natural stone and timber features, was in desperate need of an exterior renovation, including refurbishment of its old cast iron guttering, rainwater drainage and eaves.
For Shaun, 2016's UK Plumber of the Year, the challenge was to find products that would fit with the pre-existing farmhouse aesthetic but still provide the performance upgrade that was needed. Shaun first became familiar with Marley Alutec through his membership with the Scottish & Northern Ireland Plumbing Employers' Federation (SNIPEF), of which Marley Alutec is also an associate member. On meeting the company's Area Sales Manager for Scotland at a SNIPEF event, Shaun was introduced to its Traditional range. This innovative aluminium solution provides a low cost replacement for cast iron downpipes delivering an accurate aesthetic match, long lasting durability with zero maintenance and an easy installation.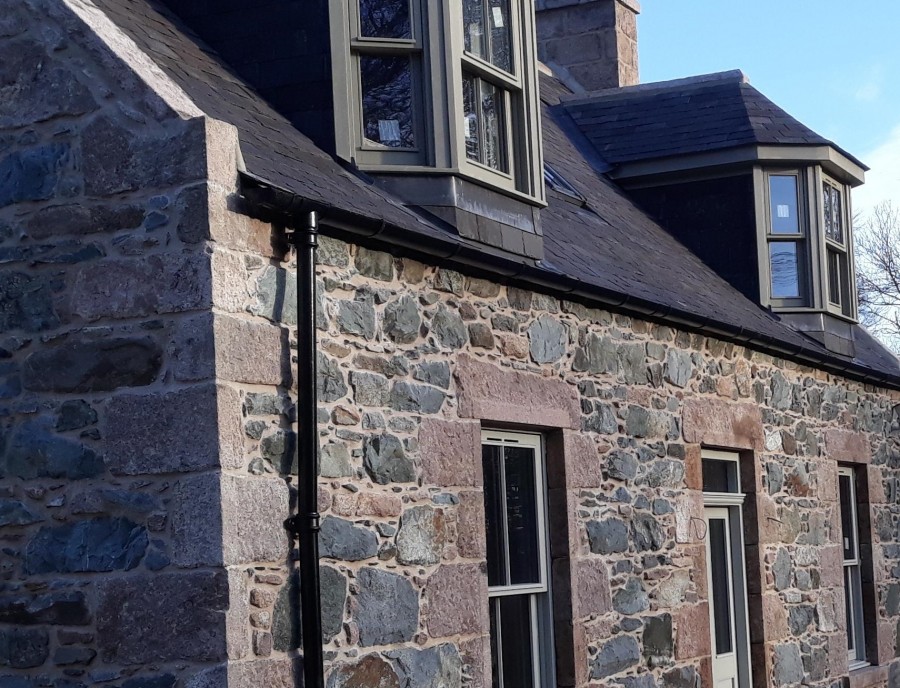 All of Marley Alutec's products are manufactured from aluminium, which is an ideal substrate for polyester powder coating. As such, the company is able to offer rainwater solutions as a direct replacement for bolted cast iron in a textured polyester coated finish called Heritage Black. This means cast iron products can be replaced with enhanced systems that are visually identical, even down to the fittings. For Shaun, choosing products from the Traditional range meant that he could maintain the existing heritage aesthetic at his property, whilst also ensuring a large flow capacity and minimal future maintenance. What's more, as aluminium is up-to 65 per cent lighter than cast iron, rainwater systems manufactured from the material are easy to transport and install, especially for a single tradesperson.
For his own project, Shaun opted for a Traditional half-round gutter system with Tudor range downpipes, all in Heritage Black, perfectly replicating the original cast iron system.
Shaun commented: "Working with Marley Alutec has helped me to meet specific project goals in a timely, cost-effective manner. I was already familiar with the company's solutions and the benefits of using aluminium rainwater solutions over alternative materials. Even so, it was fantastic to experience those benefits for myself. From the deep flow rate, to its ease-of-installation, it's clear that I have made the right choice. What's more, Marley Alutec's team has been on hand to support me every step of the way, from specification, to installation, which I am very grateful for."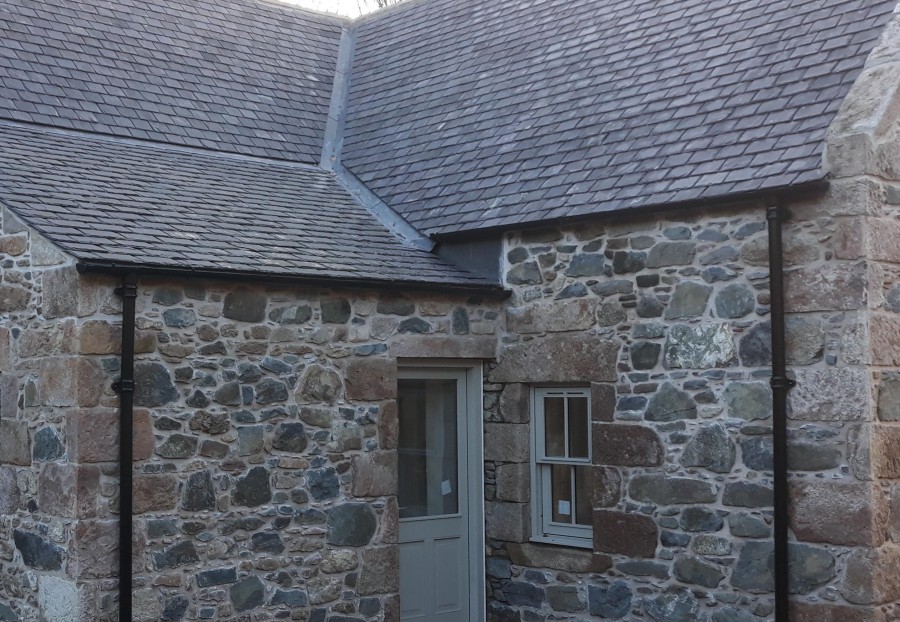 Marley Alutec's Scottish Area Sales Manager, Drummond McKenzie visited the property and helped Shaun through the specification and installation process. Drummond commented: "Given the unusual shape and style of the property's roof, it was necessary for us to produce a number of bespoke downpipes to match the original pipe work. Similarly, due to some uneven surfaces on the exterior of the older building, it was necessary for our technical team to design a number of special offsets to take link the guttering and the downpipes, without which the downpipe would have been sitting too far out from the wall."
"Thankfully, due to the combination of our extensive distributor network and short lead-times we were able to generate and deliver these bespoke elements to site in a timely manner, helping to avoid costly delays and keep Shaun's renovation on schedule."
For more information about Marley Alutec and its aluminium rainwater systems, please visit: www.marleyalutec.co.uk.