Newton Waterproofing Continues to Drive Sustainability with BES 6001 Certification
With the Government setting a net zero carbon target for 2050, the drive in the building products sector is towards sustainably sourced or recycled building products.
Leading from the front is Newton Waterproofing, the UK's leading independent designers and suppliers of guaranteed structural waterproofing systems for everything from large-scale commercial developments to new-build and existing domestic properties.
Having launched its award-winning Recycling Service in 2017, the family-run company has had sustainability as its focus ever since.
The closed-loop recycling scheme works in collaboration with the company's nationwide network of Newton Specialist Basement Contractors (NSBC), who store offcuts of Newton's plastic membranes, which are then collected by Newton when they arrive at the site to deliver new products.
The HDPE membrane is then processed and chipped into small granules at Newton's headquarters in Tonbridge, Kent, before being collected by a national reprocessor who recycles the granules ready to be made into new products for the construction industry. Newton then donate all profits made by the scheme to the marine conservation charity Surfers Against Sewage.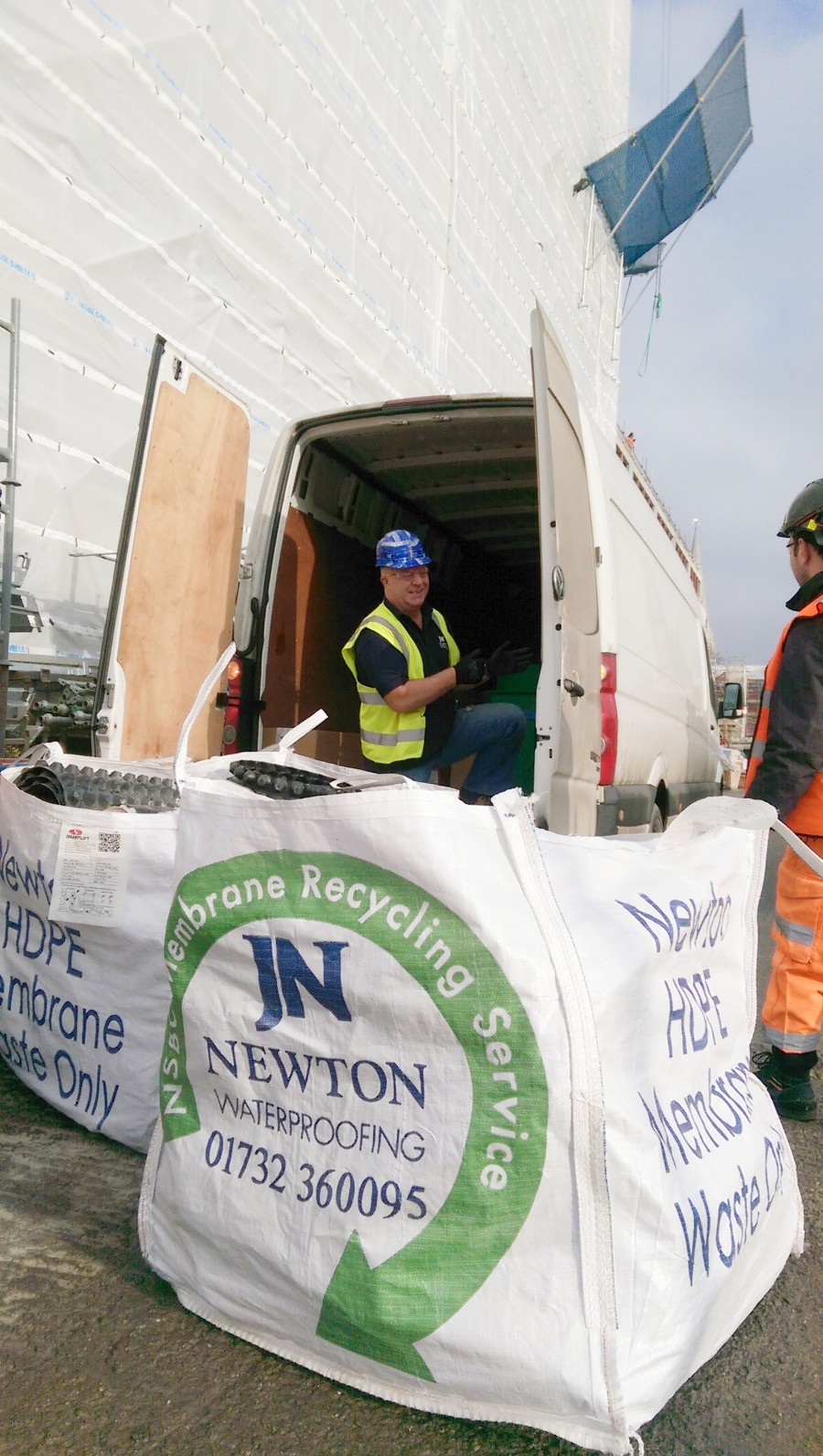 The Numbers
As well as preventing 4.31 tonnes of plastic from going to landfill in 2020, the scheme has helped avoid 4.95 tonnes of carbon emissions and save approximately 19,356 Kilowatt hours (kWh) of energy, which equates to approximately 688,234 mugs of tea.
In total, since launching the service in 2017, Newton has been able to recycle over 18 tonnes of HDPE membrane, avoiding 20.70 tonnes of emissions and saving 80,900 kWh – enough energy to make almost three million mugs of tea.
And by collecting the waste HDPE on delivery back-loads, the service avoids creating any additional carbon emissions too.
It's no wonder the scheme is multi-award winning, and Newton Waterproofing's Managing Director and creator of the scheme, Warren Muschialli, said: "Despite the unprecedented coronavirus outbreak, our dedicated team worked hard to ensure our clients have continued to be fully supported throughout and it's fantastic to see our recycling service has continued to thrive.
"Before this service there was a complete lack of any such scheme in the UK, which resulted in the waterproofing industry sending hundreds of tonnes of plastic membrane to landfill every year. To be able to have recycled more than 18 tonnes since 2017 is an excellent achievement from everyone involved so far.
"We're not stopping there though, and we will continue our partnership with Surfers Against Sewage as part of their 250 Club of top donors."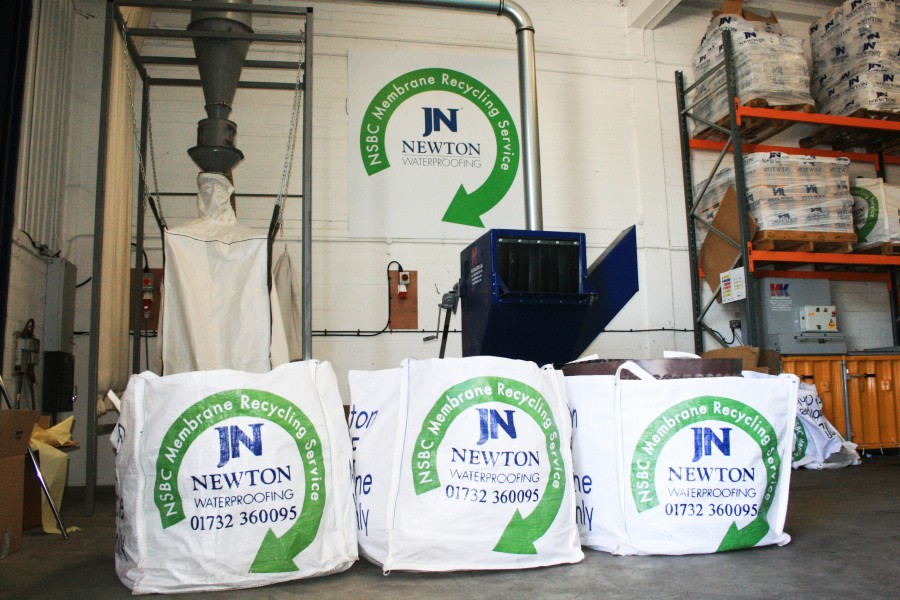 Another UK First
Newton Waterproofing recently became the first UK waterproofing supplier to have an entire waterproofing solution, the Newton CDM System for below-ground cavity drain waterproofing, certified to BES 6001 by BRE Global.
BES 6001 is the framework standard for the responsible sourcing of construction products and is an increasingly important and valuable standard for customers looking to procure building products. Certification is a voluntary process and demonstrates a supplier's commitment to reducing the environmental and societal impacts of their construction products, through sound environmental credentials, social awareness, and ethical practices.
The certification can be added to Newton's long list of environmental/sustainability memberships and accreditations already held, including ISO 14001, Constructionline Gold, the Supply Chain Sustainability School, the UK Green Building Council (UKGBC), and the Fleet Operator Recognition Scheme (FORS).
"The BES 6001 certification was a long audit process, so we are delighted to achieve it," said Warren. "We are also the first company in the UK waterproofing industry to have achieved it. As part of this certification, we will now be listed on Green Book Live alongside other products and services that can help reduce environmental impacts: www.greenbooklive.com/."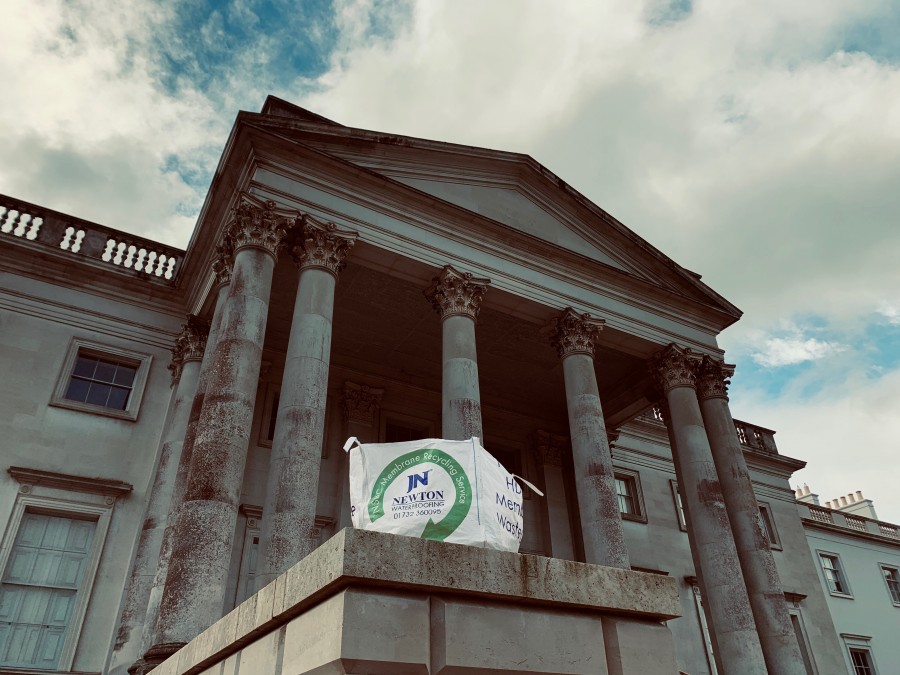 Continuing the Drive
The company will soon be putting together guidance on how specifying Newton will help to maximise BREEAM (Building Research Establishment Environmental Assessment Method) points on construction projects.
BREEAM is the longest standing and most widely used environmental assessment method for buildings in the UK, and Newton's sustainability initiatives will help to maximise a site's score as part of the 'MAT 03: Responsible Sourcing for Materials' and 'WST 01: Construction Waste Management' credits, without any compromise on performance, choice, or budget.
Customers can also improve their eco credentials with Newton's 100% recycled waterproofing product range and their recycling service expansion to include plastic tubs and containers.
"We are always investigating ways to expand the service to include more kinds of recyclable waste," added Warren. "We sell over 7,000 products with recyclable tubs and containers each year, so that gives an indication as to how much we can potentially recycle with this expansion.
"We are committed to helping shape the green agenda and providing sustainable construction by helping combat the industry's waste problems. And we want all our customers to know that when you work with Newton, you are using a socially responsible company with sustainability at the top of its agenda."
For more information on Newton Waterproofing and the Newton Membrane Recycling Service, call 01732 360 095 or email info@newtonwaterproofing.co.uk.