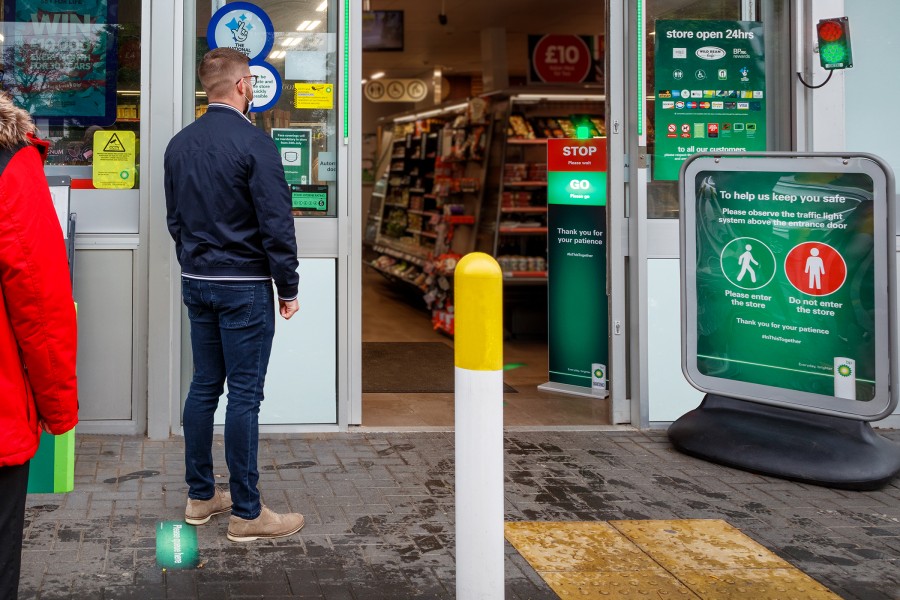 Knowing the true occupancy and the flow of people in and out of a store, office or building is now more important than ever. Particularly for retailers who have to limit the number of people in store and the need for social distancing as one of the means to limit the spread of the COVID-19 virus.
Yet so far this has mostly been achieved by an individual standing at the shop entrance and counting people in and out as the queue forms outside – probably not the best use of a member of staff.
A solution that provides queue management automatically can save money, make better use of staff and meet government requirements is what's required.
GEZE has introduced two systems, GEZE Counter Plus and GEZE Counter Connect that integrate with automatic doors to provide controlled admission by a simple but effective traffic light system that meets the need for social distancing, controls the number of people in a store without the need for someone to stand at the door, and so ensures the health and safety of employees and customers.
BP Fuels were quick to spot the benefits of GEZE's Counter system and one of the first to sign up to have it installed and it has now been rolled out to over 200 BP retail stores across the country.
BP chose GEZE Counter Plus; the system includes a large display pillar with an integrated traffic light system that controls the automatic door's operator and links to a local network on a PC or smartphone to view, control and manage analytics in store. When the traffic lights are on red the doors are deactivated, but entrance is permitted when they go green.
BP Fuels were so impressed with the GEZE Counter system that GEZE UK was awarded the BP Contractors Achievement Award 2020 for Innovation for their introduction of GEZE Counter Plus across the BP retail forecourts.
Due to the pandemic, the award was presented digitally by Martin Rackley, HSSE Advisor, BP to GEZE UK Service Director, Adam Presdee.
Adam said "On behalf of the whole team at GEZE UK I am delighted to receive this award for developing and rolling out the GEZE Counter system, it also recognises BP's vision and commitment to health and safety to look after their staff and customers.
"GEZE Counter was a big project for GEZE UK both to introduce it and to roll it out to BP sites across the country, especially during lockdown and following government guidelines".
As retailers are being targeted to do more to combat the COVID-19 virus, it remains vital to know the true occupancy and flow of people in and out of store whilst ensuring the safety of both staff and customers.