Moving forward into 2021 we still see the ongoing march of biophilic structures. The new DLW Linoleum range is proudly manufactured by international flooring specialist Gerflor.
DLW Linoleum Inspired by Nature is boldly designed and offers a large selection of breath-taking hues and colours, providing architects and designers with a palette of naturally stimulated colourways.
From education through to healthcare, retail, hospitality and corporate spaces, the new Inspired by Nature collection offers beautifully crafted designs that are not only varied and stunning in style, but also environmentally sustainable and deliver impressive performance with reduced maintenance costs.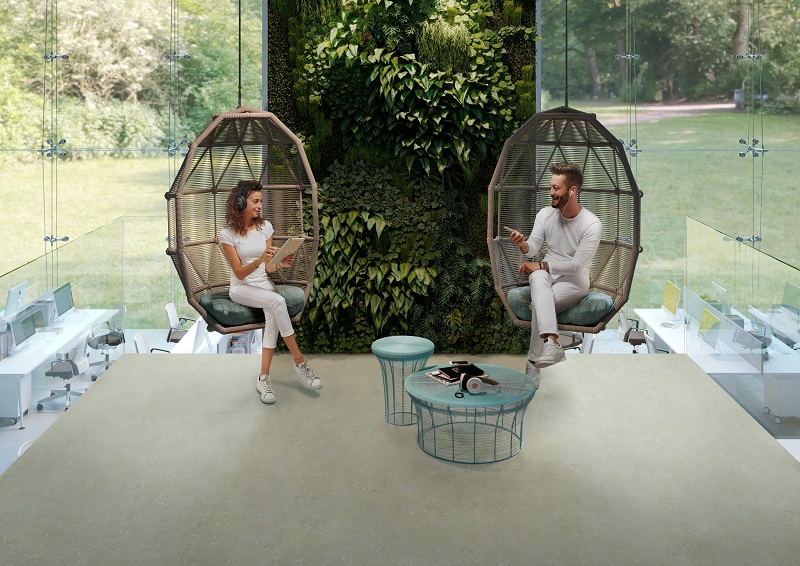 Made in Germany since 1882 and "Cradle to Cradle" Silver certified, DLW Linoleum is made up of 98% natural (bio-based and mineral) materials including linseed oil, wood flour, chalk, jute, and resin. The new extended and updated collection of DLW Linoleum from Gerflor unlocks an almost unlimited range of possibilities for any interior or architectural design project. Perfect for a host of design and architectural applications the wide palette of historic DLW Linoleum designs which includes marble or foam effects now offer a revisited colour assortment.
The DLW Linoleum collection conjures up visions of the natural landscape whilst on the other hand delivering classical and slightly textured designs with vibrant tones or solid tones coupled to an overall natural/matt effect. With architects and interior designers very much in mind the new DLW Linoleum collection has been extended with 63 new colours making it possible to select from an incredible 159 unique colours.
Providing an extensive range of colours and natural designs derived from mother nature has propelled Gerflor to the forefront when it comes to designers making creative decisions alongside choices based on the sustainability of our world and its population. It's simply Gerflor's way of connecting people closer to nature.
Timeless classics that have endured the passage of 'design time' still include Arabesque with its nautical themed design, Marmorette which delivers a historic palette of marbled effects, Uni Walton where the classical elegance of Le Corbusier is explored and finally Colorette which offers slightly textured vibrant tones.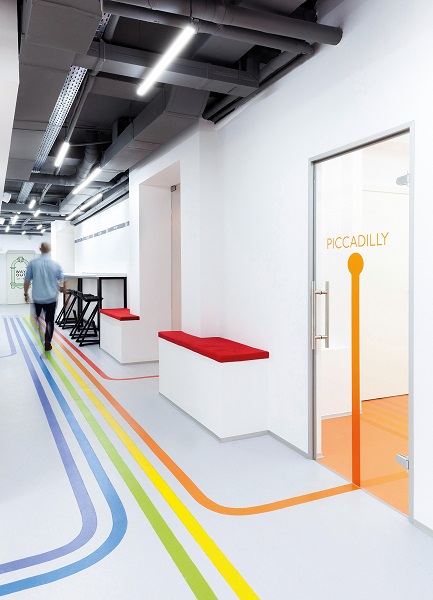 Add to this the Lino Art Series which all deliver spectacular urban inspired themes by the 'street load' with ranges that are developed around three brand new exclusive main design types of striated, terrazzo and mineral concrete.Lino Art Flow, which is inspired by lively abstracts, Lino Art Metallic which has light within the material, Lino Art Star providing a fruity and fresh look and Lino Art Urban where the purest appearance of concrete is explored. The extensive DLW Linoleum collection now enables architects and designers to unleash their creative juices by delving into the myriad of designs, colours, and patterns that the new DLW Linoleum range now offers.
Ideal for a multitude of applications DLW Linoleum from Gerflor also unlocks a host of possibilities for a vast array of sport applications by providing a 3.2mm/4mm/10mm sports variant with Linodur Sport, Colorette Sport. Marmorette Sport and Linogym II. Where acoustic and comfort considerations are key, DLW Linoleum provides specifiers with a linoleum delivering up to 19Db sound insulation, and where electro-static issues are on the designer's agenda then DLW Linoleum also provides their 2.5mm dissipative linoleum for a host ESD areas and applications.
Nav Dhillon, Marketing Manager, Gerflor Flooring UK commented: "Our new DLW Linoleum collection for 2021 delivers an unparalleled opportunity for both architects and designers to release their full creative flair with our new enhanced range of colours and designs." Nav Dhillon added, "Our innovative Neocare protection system applied to DLW Linoleum also offers a fantastic shield against dirt and stains."
Gerflor are the first company worldwide to utilise the Neocare™ high performance surface protection system for linoleum. Neocare™ is a new solvent-free surface protection developed exclusively for DLW linoleum, ensuring that the range has outstanding technical features for healthy and durable use, with easy cleaning and maintenance. The manufacturing process of the new DLW Linoleum range from Gerflor also offers high quality sustainable solutions by using 98% natural (bio-based and mineral) components, 76% rapidly renewable materials, together with up to 40% recycled content.
Architects and designers can now create unique spaces by combining designs and colours by utilising the Mix & Match gallery of the Gerflor Interior Designer system to simulate various designs and colours in the same room view. Mix and Match offers design freedom where the tones in the collection appear in the various patterns, so that individual designs can be combined with each other in perfect harmony…a real boon to designers when they want to visualise their designs without leaving their computer screen.