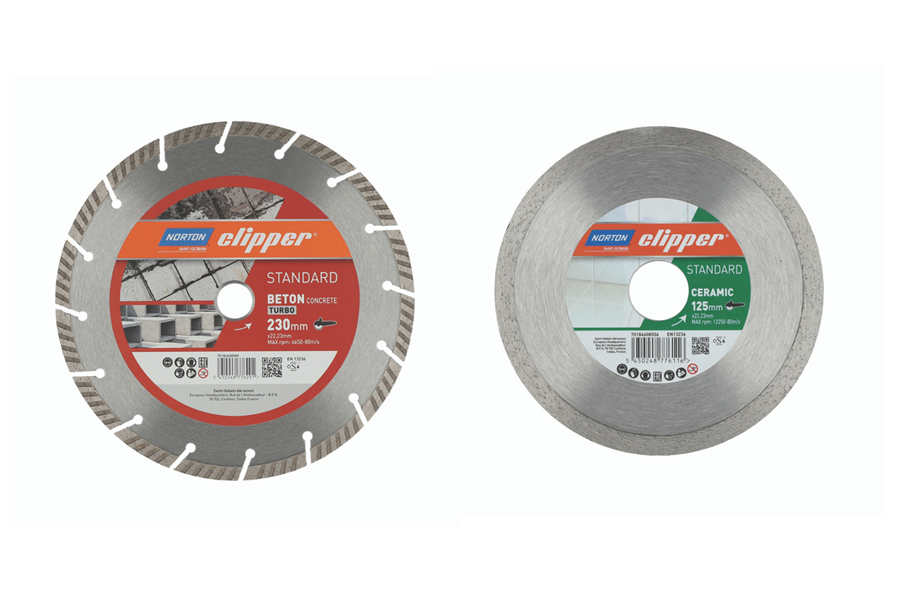 Norton Clipper has expanded its diamond blade offering with the addition of its latest performance tier. The new 'Standard' range is designed for light to medium-duty building, construction and maintenance tasks.

Available in three main application sectors:
Standard Ceramic: Designed to cut ceramic, glazed ceramic, porcelain tiles and other similar materials for a quality cut
Standard Universal: Suitable for universal building materials such as bricks, pavers and building blocks – also available in Universal Turbo for a more aggressive cut on harder materials (ideal for roof tiles)
Standard Beton: Covers tougher materials, such as concrete and reinforced concrete
This announcement comes as the industry prepares for another home renovation serge. With the nation spending more time at home, this year saw almost two-thirds of homeowners investing in renovations[1], and with time at home set to continue into the annual home restoration peak, contractors are being advised to buy now.
Renowned as the cutting products of choice in the construction and building industries, the Norton Clipper range is known for its high performance, quality and safety. Certified by the Organisation for the Safety of Abrasives (oSa), these new additions are no exception.
The Standard diamond blade range strikes the perfect balance of durability and expert finish, with cost-effective, entry level solutions. Blades are available in a range of sizes to ensure suitability for all types of cutting machinery including angle grinders, tile, chop and masonry saws.
To help contractors quickly and easily choose the correct tool for their projects, blade blotters have been enlarged to clearly display images of the correct material and application type, and packaging is colour coded in order to help identify which materials it can be used for, as follows:
Green (Standard Ceramic): Ceramics and porcelain
Blue (Standard Universal): Building materials
Red (Standard Beton): Concrete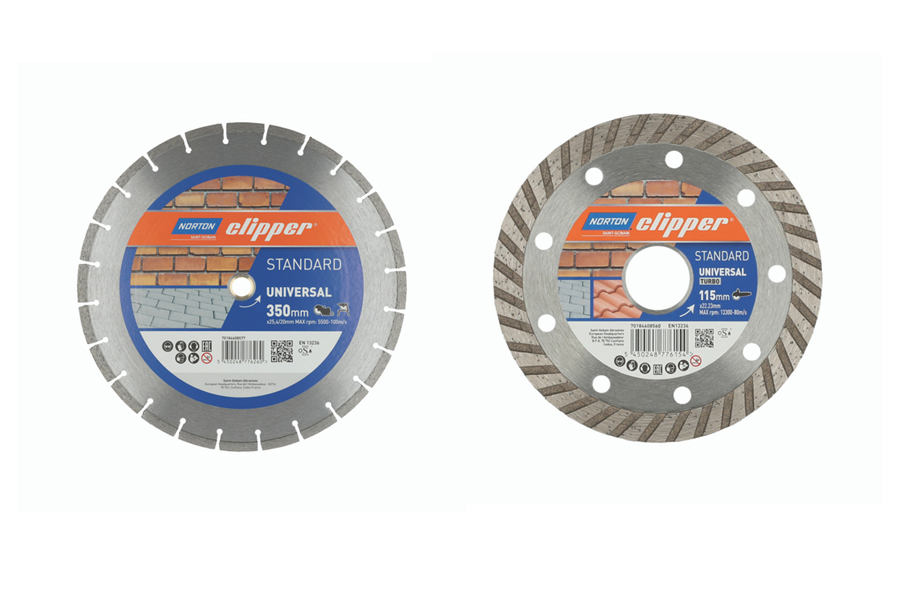 Designed with the professional, the hobbyist and the DIYer in mind, the Standard tier provides an inexpensive solution for those who may be working to a budget, or simply have no need for the pricier heavy-duty products.
Adrian Hough, Country Manager at Saint-Gobain Abrasives, comments: "Our new entry level Standard blades complement our existing family of quality product and performance tiers, namely: Classic, Pro and Extreme. Each tier provides users with the right amount of power and durability for each application – using the correct blade can guarantee users a smoother and faster cut, whilst extending product lifecycles to save money and time spent on replacements.
"We have developed this range alongside and with the feedback of contractors and builders to ensure that this is indeed a product designed with the user's needs and requirements in mind. We are confident that both professionals and DIYers alike will be thrilled with this new range of diamond blades, which prioritises user safety and delivers great results, time after time."
To find out more about Norton Clipper's Standard tier diamond blades, visit https://bit.ly/2HyL5g0, or to find the right diamond blade for you, see https://bit.ly/3q0HLMg.
---