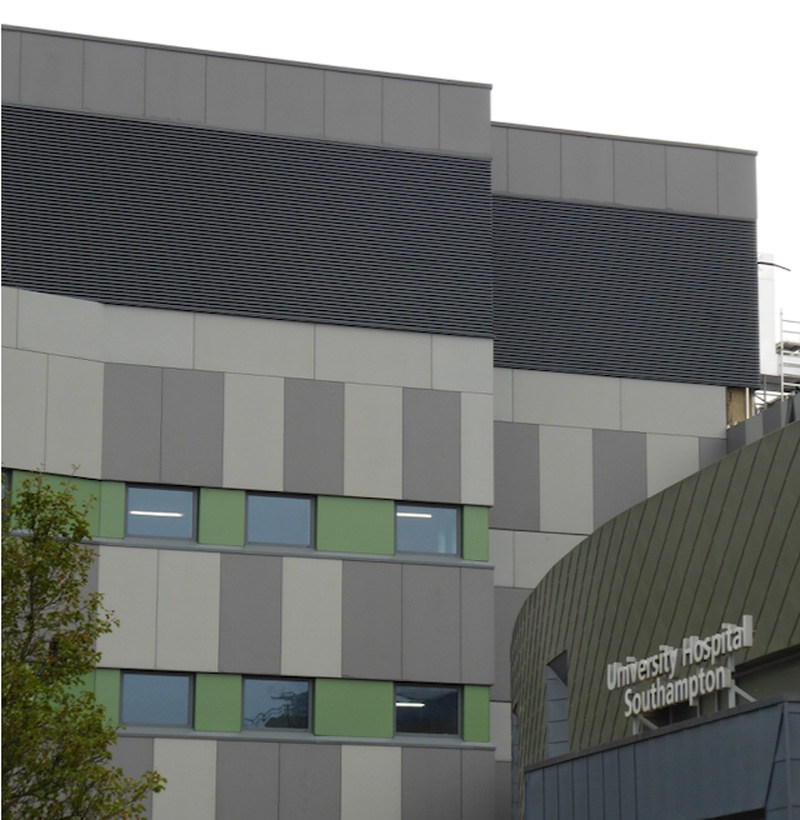 A £22m construction programme to expand intensive care facilities is progressing apace despite COVID disruption, as a result of "impressive" performance by Gilberts Blackpool.
The UK's leading supplier of air movement solutions has completed the supply and installation of 11 banks of screening and ventilation louvres on the façade of the new five-storey extension for University Hospital Southampton NHS Foundation Trust.
The project, with main contractor BAM (who built the original hospital 45 years ago), was completed within the agreed timescales, despite limitations affecting site access and operative working practice as a result of COVID-19.
BAM Senior Project Surveyor Bertie Green commented, "BAM has been impressed with Gilberts' on- site performance, particularly ensuring labour was available despite the COVID disruptions. The client and design team have given very positive feedback on the quality of the installation."
Gilberts created louvre screens almost 415m x 3.5m high from its WGK75 kitform louvre system. Integrated removable panels and doors have allowed maintenance access to the fifth-storey plantroom. Solid insulated panels behind the louvres across much of the additional four levels of façade have helped to maintain high levels of thermal performance for the 22 ICU bed space healthcare facility below.
Additionally, a WHC high performance deep channel louvre screen with fire dampers was fitted at plant room level.
Interaction with the cladding contractor to address interface details further enabled Gilberts to deliver a smooth external appearance, despite some of the louvres having to be fitted around ductwork. The unique clip-on blade arrangement of the WGK kit system facilitated the erection of such large banks, whilst allowing for on-site adjustment to ensure the seamless fit and recognisable louvre profile. At least 50% free ventilation area is provided to screened plant.
Southampton is the latest in a line of prestige screening projects undertaken by Gilberts. The back catalogue includes Papworth Hospital and National Composites Centre, University of Ulster and No 1 Court at Wimbledon aka the All England Lawn Tennis Club.
The WGK louvre system is part of the comprehensive range of factory- and site-assembled louvres from Gilberts, which has a heritage of pioneering commercial ventilation solutions that stretches back 60 years. Family owned, the company is the UK's leading independent air movement specialist, operating from a 95,000 sq ft facility in the Northern Powerhouse of Lancashire.