A Firm but Silent Foundation
With its roots in foundational flooring materials and 100% improved sound absorption, Rudiments is the latest carpet tile collection From IVC Commercial.
From stone floors to artistic textile coverings and roughly shaped wood planks, Rudiments presents three carpet tile designs grounded in flooring materials to which we are intrinsically connected, connecting us with nature and history in a surprising way.
Basalt, a random organic pattern that adds texture across large areas is inspired by the mineral-rich formations of volcanic rock, while Teak's more structured pattern owes to the light and shade thrown by oiled wood blocks in arbitrary geometric arrangements. For Jute, IVC Commercial has created a subtle all-over texture inspired by the earliest hand-woven organic floors.
Vanessa Van Overmeeren, product director carpet tiles, says; "We conceived Rudiments as a carpet tile collection to use as a foundation for layouts, so looking towards flooring materials of our history seemed a great place to start. All three designs work across large areas, but each delivers a different level of pattern depending on the requirement of the project. With a shared colour palette, they also blend perfectly together for boundless configurations."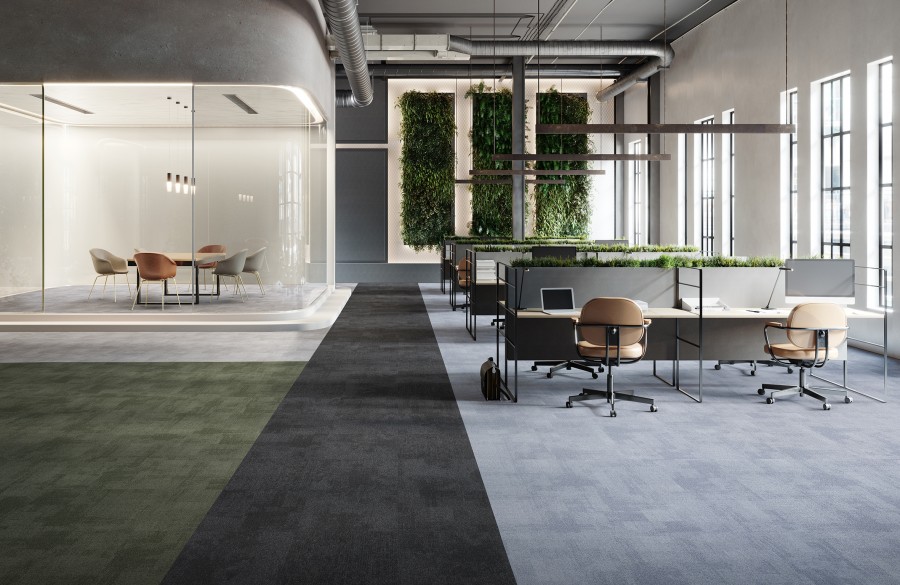 The foundational designs of Rudiments are available in all 12 colours that use tonal combinations to create harmony. By blending functional tones with complementing trend hues, the tone on tone colourways ensure that Rudiments can be both practical and inspirational, working to bring balance to commercial interiors.
The Rudiments collection is also the first to feature IVC Commercial's new EcoFlex™ Echo acoustic backing. The 94% recycled polyester felt improves sound absorption by up to 100% compared to the standard EcoFlex™ Statera backing, also reducing impact noise by 25%. Adding underfoot comfort as well as improving acoustics, EcoFlex Echo™ is a great option for projects focusing on the wellbeing of users.
Designed and made in Belgium, Rudiments uses a solution dyed nylon yarn that provides resistant to stains and excellent resilience to wear. Supporting IVC Commercial's philosophy that sustainability starts with performance products that last.
For further information, www.ivc-commercial.com
About IVC Commercial

IVC Commercial is a global player in the design and manufacture of flooring solutions including Carpet Tiles, Luxury Vinyl Tiles (LVT) and Heterogeneous Vinyl for use in business, public and private environments.

As the commercial division of IVC Group, we're focused on improving the productivity of businesses and the wellbeing of users in spaces through innovative solutions that are easy to implement and affordable. Accountable for our actions, we design and make floors responsibly in Belgium, developing a circular approach to the future of flooring.

About IVC Group

IVC Group is part of Mohawk Industries Inc., the world's largest flooring company. With 1,800 employees and 10 production sites in Europe, Russia, USA and Luxembourg, IVC Group produces over 180,000,000m2 of flooring every year.