Getting the waterproofing basics right is an absolute must when it comes to creating a wetroom, but it is equally important to produce the perfect finish too.
Schlüter-Systems creates products which work best when used together, as well as providing solutions for the variety of challenges architects and specifiers face on a daily basis. From uncoupling membranes and preformed shower trays to finishing profiles which make the sanitaryware stand out, there are plenty of options to bring the desired design to life.
Creating a fully waterproof bathroom or wetroom that will stand the test of time relies on each component working both on its own and as part of a system. To break this down, each element should be understood in its own right:
Uncoupling Membranes and Heating Systems
Schlüter®-DITRA 25, an uncoupling membrane, serves as a waterproofing membrane and a vapour pressure equalisation layer, protecting tile or natural stone coverings from cracking or debonding. The same features can also be found in the underfloor heating system Schlüter®-DITRAHEAT-E, making it ideal for heated floors and walls in wetrooms with tile and stone coverings.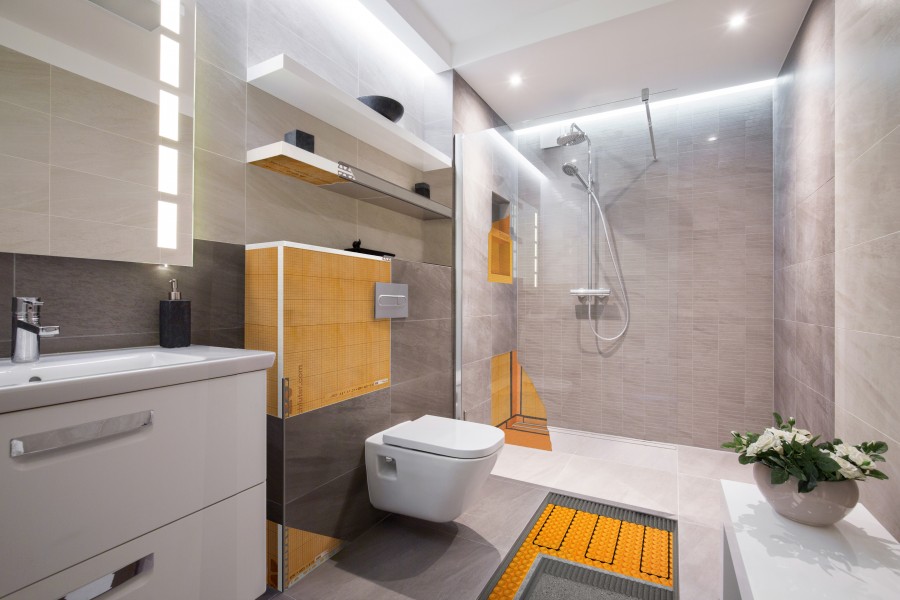 Shower Drainage and Level Entry Access
The tile and stone covering in the shower area must be sufficiently sloped to allow for appropriate drainage. This is easily achieved with Schlüter's prefabricated levelling and shower tray components, which are available with a point drainage system or a component linear drainage system.
This is where Schlüter-Systems' newest launch Schlüter- KERDI-SHOWER-LTS comes into its own. The preformed shower tray has been created with a 1 in 80 slope to work harmoniously with the linear drainage system Schlüter®-KERDI-LINE-G3. When used together, this provides a simple,
low height single-source solution for architects and specifiers.
The KERDI-LINE-G3 drain complies with BS EN 1253, providing a constant 50 mm water seal and anti-blockage based on an 8mm ball bearing test. It is another recent and welcome addition to the KERDI range; at just 78mm high it offers a low height solution whilst also meeting the necessary building requirements.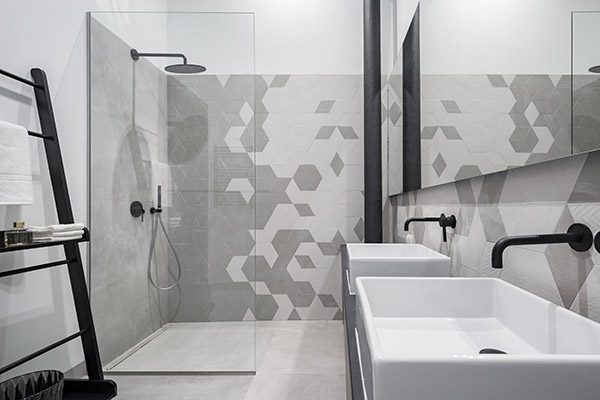 Adding the Finishing Touches
To create the desired finish, Schlüter®-TRENDLINE finishing profiles are available in a variety of different colours and textures, giving you full flexibility to complement the chosen tile effortlessly. This can be achieved by offsetting the colour to make a statement with the tiles, or for visual flow using one tone of tile, matching the colour of your profile to it.
Shower niches provide stylish integrated shelving that can be tiled in-line with the rest of the room or can even become a focal point with using of accent tiles. If a shelf is required after the project is finished, the Schlüter®-SHELF range is the perfect solution as it avoids the need to drill through finished coverings and the waterproofing beneath. Instead, it is designed to coincide with the grout lines to create a seamless finish, making it easy to install whilst keeping the wetroom fully functional.
Whether you are looking to create a fully warrantied waterproofing system at its earliest stages, or add some attractive elements to a finished wetroom, Schlüter-Systems is here to help, offering you peace of mind and unparalleled solutions.
For more information, visit www.schluter.co.uk.