Here, Tim Checketts, Head of Specification at dormakaba explains how choosing the right access solution can make complying with enhanced hygiene measures easier, by minimising physical contact and reducing the spread of germs, while providing reliable security.
The current focus for many businesses and other organisations, is balancing the need to operate as conventionally as possible, while ensuring high levels of hygiene are maintained in all areas of the building. Reducing the number of common contact points and frequently touched areas is key in helping to limit the spread of germs and viruses.
From this perspective, entrance and exit points can be challenging to manage and one of the Government's key recommendations for minimising the spread of bacteria in these areas is to avoid the use of touch-based security devices such as keypads.
However, many organisations rely on electronic, touch operated time and attendance (T&A) systems to effectively manage, track and record the movement of people. This is especially true where flexible and staggered work patterns are in operation. A possible solution to this is implementing a system that supports contactless identification. For example, radio-frequency identification (RFID) access media and Bluetooth Low Energy (BLE) enabled smartphones can replace the need for physical contact with a screen or keypad. In some cases, it may be possible to upgrade an existing system to operate with these media, meaning minimal disruption and inconvenience. This can also help streamline access to the building, to avoid people waiting or grouping at the entrance or exit.
Similarly, contactless access can be achieved throughout buildings using the same technology to replace keypad access and minimise physical contact on everything from internal doors to car park barriers. This further reduces the number of contact points and helps make effective cleaning easier.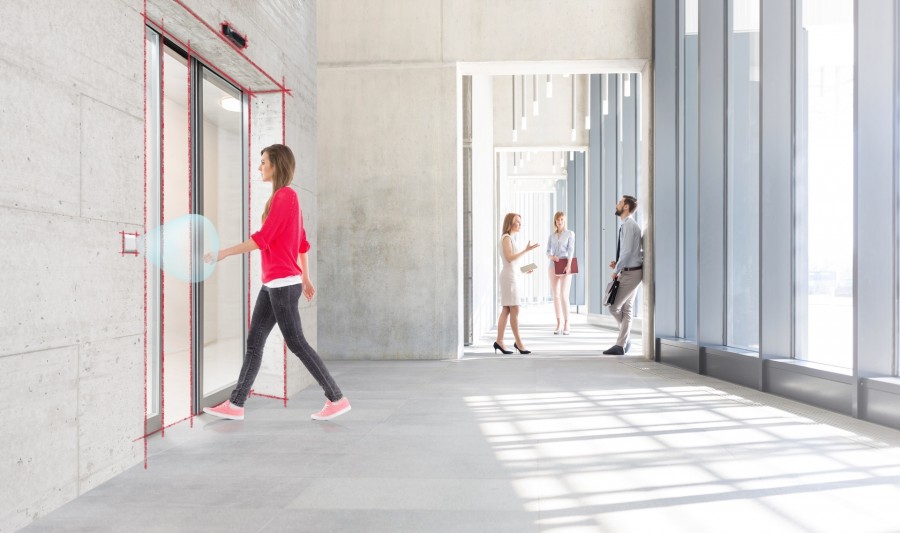 There are a range of options to reduce contact that suit all types of doors and locks. This includes compact, contactless readers as well as digital cylinders that allow traditional locks to be replaced easily. The individual readers and cylinders can be integrated into a single access system for maximum control and convenience.
It is possible to reduce physical contact further by converting manual doors to operate automatically. This can be achieved simply by swapping the standard door closers for automatic swing door operators and installing the required sensors. Button operated doors can be improved by replacing the push-pad with a contact free sensor. These devices typically use microwave detection to activate the door when the user moves their hand in front of the sensor.
Manual or servomatic revolving doors can also be upgraded to fully automatic operation to minimise contact when entering the building. Depending on the existing system, it may be possible to achieve this by replacing the control module. This is often a simple procedure that can be carried out quickly and with minimal disruption.
Certain areas of the building can present a hygiene challenge. Entrance, access and security solutions that reduce the number of frequently touched areas and contact points can help solve this issue and minimise the spread of bacteria and viruses. It is often possible to upgrade the systems already in place and therefore limit the investment required to implement the changes. Working with an access solutions specialist will help identify the options best suited to the needs of a particular building or organisation.
dormakaba is running a series of webinars on this topic. To find out more about this, as well as the products and systems in its range visit www.dormakaba.com.