A bold and lavish take on Arabescato marble, Pulp is the latest porcelain wall and floor tile collection from design-led tile specification company, Parkside.
Pulp takes the rich veining of this exquisite marble and adds a contemporary flavour in five bold colours - gold, black, green, blue and red - for a look that becomes strong, dynamic and surreal.
Available in matt, polished and raw (high slip-resistance) finishes, Pulp brings a marble look with a contemporary twist through floors and walls, inside or out. The rectified porcelain tiles are available in 600 x 1200mm, 100 x 600mm, 75 x 600mm (polished only), 300 x 300mm and 75 x 1200mm skirting, meaning the collection is ready to provide an all-over marble look that adds to its luxurious feel.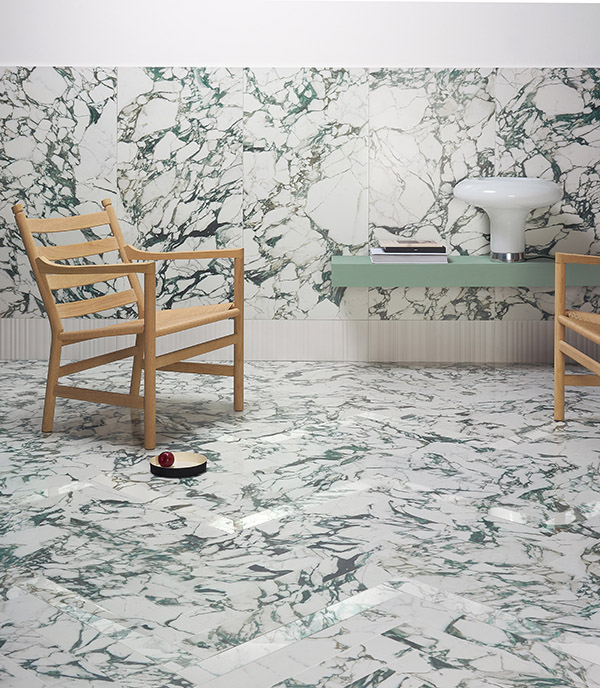 Sarah Holey, marketing manager, Parkside, explains the launch of the collection; "Marble is definitely a timeless and demanding look that's adored for its sense of unadulterated luxury. There are few other interior finishes that quite so eloquently summarise their intent, but its high cost and natural variance make it a difficult one to introduce successfully into a project, particularly on large surface areas, so step up Pulp."
"The controlled colour and look of the marble veining brings a contemporary overtone that pays homage to genuine Arabescato marble but without falling into the trap of feeling like a direct copy. Pulp brings the instant luxury aesthetic of marble but in an accessible tile that celebrates the joy of colour and features the performance of today's best porcelain."
Pulp is exclusively available in all five colours from Parkside, with samples available from the website.
For further information, 0116 276 2532, info@parkside.co.uk, www.parkside.co.uk
About Parkside
Through over 500 tile designs, including exclusives from the world's best manufacturers, Parkside is a trusted tile specification company with the versatility to provide solutions for any commercial interior. With a philosophy of developing thoughtful responses to the unique demands of clients and their projects, Parkside delivers a range of additional services including waterjet cutting, colour matching and bespoke digital print. Alongside studios in Chelsea, Clerkenwell, Leicester and the Cotswolds; a team of knowledgeable consultants come together for over 200 years of experience in developing tile specifications with the architecture and design communities.