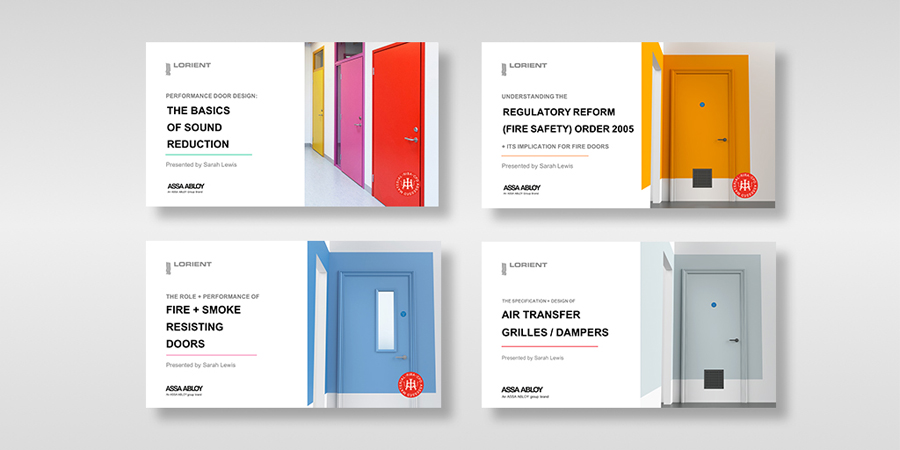 Lorient, a leading designer & manufacturer of sealing systems has released a number of educational webinars that covers its specialist field of acoustic, smoke & fire containment.
Lorient's 3 RIBA accredited CPD seminars are now available to watch via live webinar, and pre-recorded versions are also available. These include 'Performance Door Design: The Basics of Sound Reduction'; 'The Role and Performance of Fire & Smoke-Resisting Door Assemblies'; and the 'Regulatory Reform (Fire Safety) Order 2005 & its implications for fire doors'.
In addition, Lorient is also excited to launch a brand new seminar entitled: 'The Specification & Design of Air Transfer Grilles / Dampers'. This is a fantastic new addition to the companies growing collection of CPD seminars and explores: the latest test standards and building regulations; the major difference between intumescent air transfer grilles and dampers; the importance of correct specification, installation and maintenance; plus it offers practical solutions to fire and smoke containment over a range of applications.
The webinars are impartially presented by knowledgeable speakers including Lorient's Technical Director, Doug Law and its highly respected Specifications Manager, Sarah Lewis. The seminars are structured to be technically informative, while providing practical advice. All of our webinars are free of charge and all industry professionals are welcome to join. Certificates of completion are available to all registered live attendees who complete the webinar.
To find out more, visit lorientuk.com