Last year saw a 14 per cent increase in fires in England, according to UK Home Office statistics[1] and smoke is the biggest killer in a fire. An effective smoke ventilation system is critical to preserving lives and properties, but with more buildings becoming increasingly airtight to help manage energy efficiency, how do designers, specifiers and managers ensure safe buildings?
Here Colin Wells, Keylite Roof Window's Head of Technical, looks at the importance of an effective smoke ventilation system in high rise and commercial buildings.
Since the Grenfell Tower tragedy in 2017, fire safety has quite rightly become a significant area of concern. In May 2018, an Independent Review of Building Regulations and Fire Safety, led by Dame Judith Hackitt, was published. The review highlighted a range of issues, but the message stood clear: the UK's current approach to fire safety in buildings is not functioning as intended, and a new, holistic approach to fire safety is required.
Whilst we await more concrete regulations and the implementation of the proposals from the Hackitt report, designers must continue to create well-performing high-rise and commercial buildings, and – rather than focusing on one issue – they should consider the broader fire safety aspects of a building to ensure designs are robust.
So, how do smoke ventilation systems fit into a more holistic approach?
Smoke is the major risk to occupants in a building fire. Unless controlled smoke can spread from the source of a fire preventing escape routes being used due to poor visibility. Plus, the toxic products of fire include irritant and narcotic components, so smoke can also cause disorientation, incapacity or death.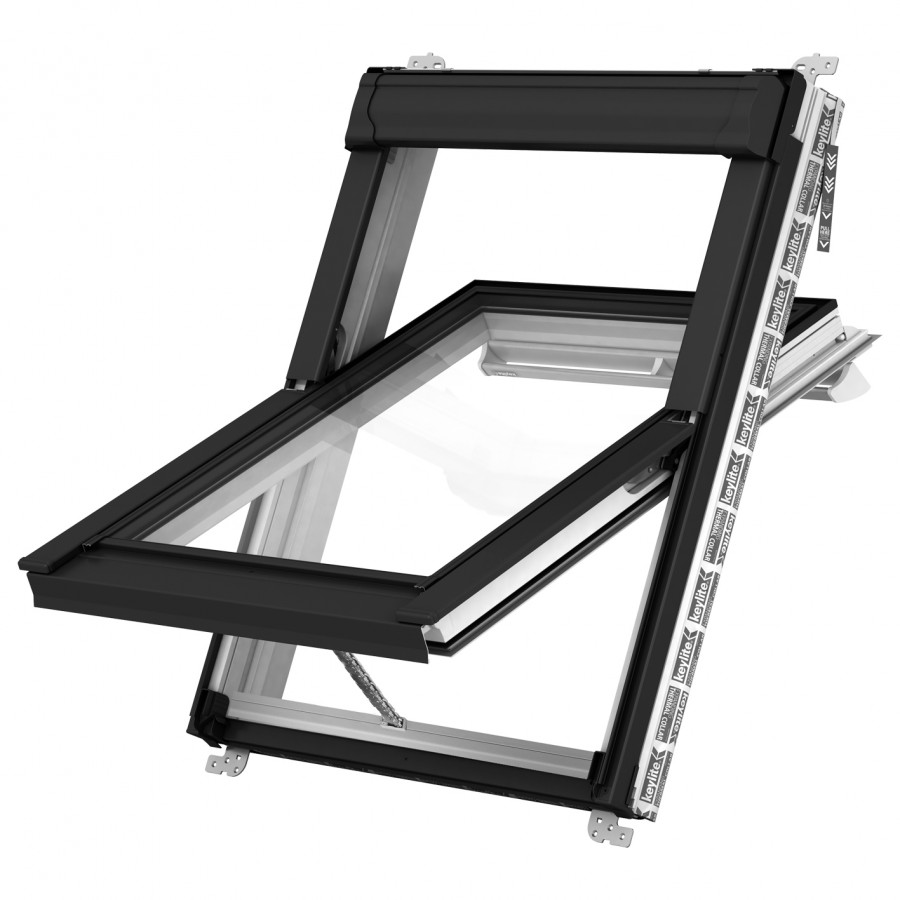 The BRE recommends that a combination of smoke management techniques is used within buildings. These include physical barriers, such as fire doors and windows, as well as dilution or natural smoke ventilation where the smoke is diluted with fresh air to aid evacuation, airflow which uses horizontal air to force the smoke in one direction and pressurisation for safety critical areas. It is recommended that along with physical barriers one other of these techniques should be employed.
Alongside physical barriers, roof windows with smoke ventilation kits are recommended to help with smoke management in buildings. These window vents can be integrated into existing fire management systems or stand alone and operate with the smoke sensor, break glass unit and control panel provided, so when smoke is detected or when the 'break glass' screen is broken they automatically open helping to dilute the smoke and allowing for egress.
All smoke vent products and systems should comply with EN12101-2 but there are other features specifiers should be looking out for to ensure the most effective system. A long-life battery back-up power supply should be included, so that in the event of a building's electrical system failing the smoke vent will still operate, ensuring the safety of building users.
One of the criticisms of using natural smoke ventilation is the impact wind flow around a building can have on it. The BRE states: "The resulting distribution of positive and negative wind induced pressures on the building envelope can have a major influence on the performance of the ventilation systems, including that provided for smoke management." To overcome this, specifiers should select products that can be upgraded to comply with aerodynamic smoke ventilation requirements, with features such as Wind Deflectors, as this can help to manage the adverse effects wind may have on the pressure inside and around the building.
One of the biggest issues facing the fire safety of the building is not the viability of the products installed but what happens once they are installed…have they been fitted correctly and are they properly maintained and functioning as they should be throughout the lifecycle of the product?
All smoke ventilation kits should be signed off by a fire safety engineer when they are installed to ensure the wiring is correct and the system is working as designed. In addition, they should also pass an annual functionality test as a safeguarding measure to make sure the product continues to work after being subject to daily wear and tear. These tests should be done by a qualified engineer. Whilst these are required to comply with fire safety regulations, all too often they are forgotten due to the lack of a comprehensive fire safety inspection scheme. Left to the responsibility of the building owner and manager they can easily be missed, which is why Keylite Roof Windows offers an annual inspection service, which its customers can opt to pay for when purchasing a Keylite Smoke Vent Roof Window.
Keylite Roof Windows believes a more holistic approach needs to be taken to fire safety. Products that meet relevant fire tests are only the start of the journey. There needs to be more regulations around how these products perform with other elements of the building envelope and enforced inspections to ensure they continue to perform as designed. This will only be achievable through legislation and then the commitment of resources to regulate and enforce the legislation.
Keylite Roof Windows supply Smoke Vents on its Centre Pivot and Flat Roof windows with a smoke ventilation kit featuring all the added benefits needed to keep a building and its occupants safe in the event of a fire. In addition, building owners and managers can arrange and book annual functionality tests via Keylite Roof Windows, where an experienced professional will come out and make sure that the roof window smoke vent system is performing to the high standards expected from Keylite Roof Windows' products.
For more information on Keylite Roof Windows' smoke ventilation kits and vents, please visit https://www.keyliteroofwindows.com/products/roof-windows/smoke-vent/.
---
[1] UK Home Office, 'Fire and rescue incident statistics, England, year ending June 2019', https://assets.publishing.service.gov.uk/government/uploads/system/uploads/attachment_data/file/845846/fire-and-rescue-incident-jun19-hosb2819.pdf