Located adjacent to the Hôtel de Paris, in Monte Carlo, Monaco, the newly completed Sporting d'Hiver complex, is a stunning 250 € million development which includes premium mixed-use pavilions and the city's most prestigious casino.
Complete with luxury residential abodes, as well as an art gallery, boutiques, offices and conference facilities, the complex makes the most of the city, sea and mountain outlooks with floor-to-ceiling glass frontages.
Architects Rogers Stirk Harbour + Partners wanted a pergola shading system that would fit in with the high-end surroundings, but could also withstand high winds, retract when necessary, and last for a long time without deterioration and with minimal maintenance.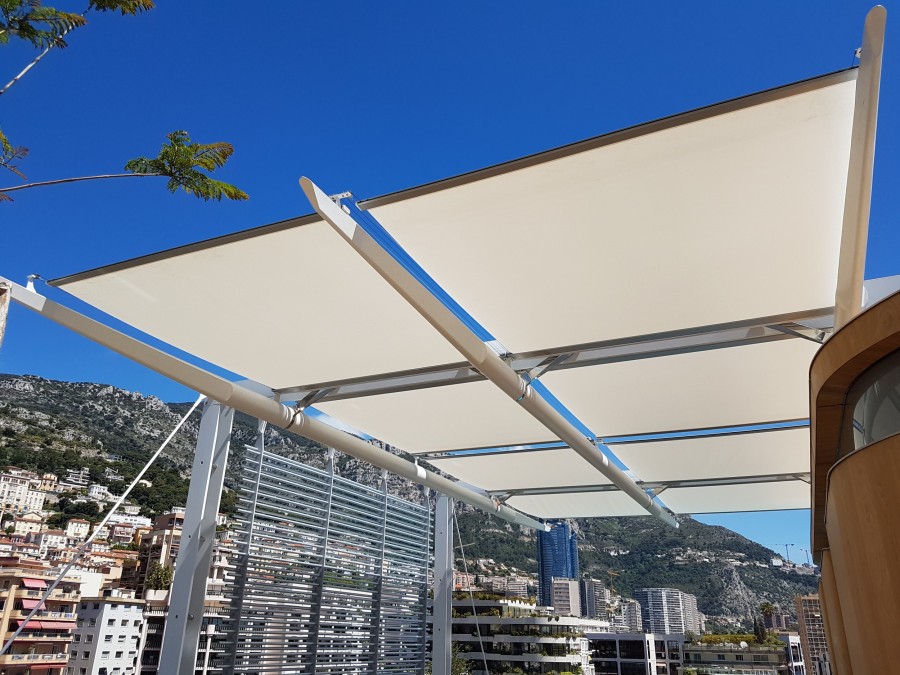 The TESS™640 system from Guthrie Douglas was specified for its unique spring mechanism which holds fabric flat regardless of the angle the system is installed at. The mechanism is concealed within a single fabric roller, so the blind is almost invisible when retracted. Slim 4mm stainless steel rods guide the shade.
Guthrie Douglas, specialist shading engineers for architectural projects, were contacted by London architect Rogers Stirk Harbour + Partners to work with Renaudat Centre Constructions, Somfy Projects, and Serge Ferrari fabrics to supply and install the shades within the pergola structures on each of the six rooftop terraces.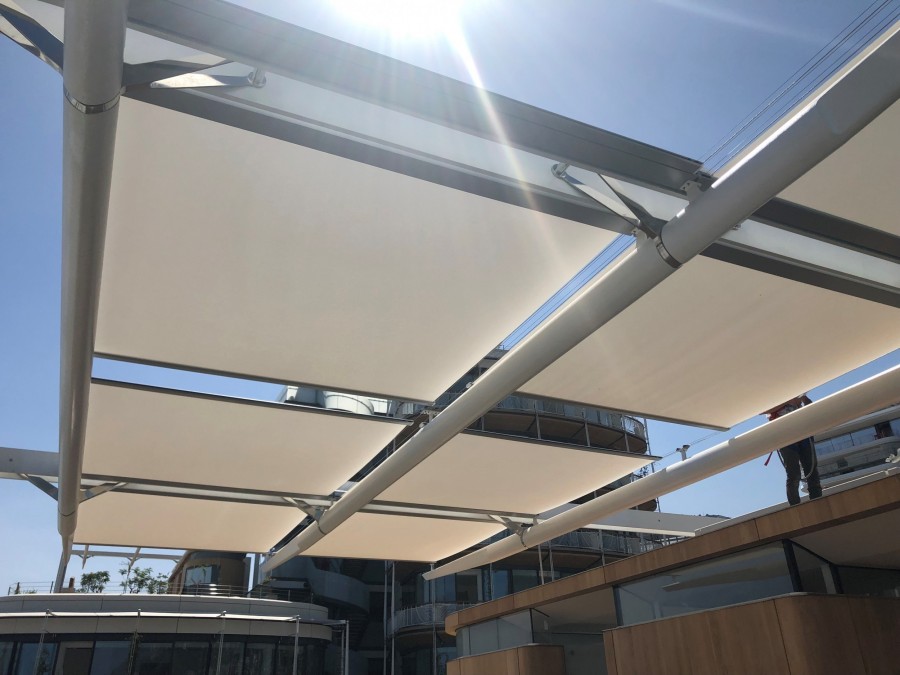 "The aesthetic was important here and the end result is in keeping with the design aesthetic of this premium complex in one of the most exclusive areas of Monaco." said Sandra Johnson of Guthrie Douglas. "That said, the technical performance of the system is equally important. No-one would thank us if these systems were still not looking beautiful in 5, 10 or even 15 years' time. This is the benefit of using a tried and tested system such as the TESS™640".
Each rooftop terrace required eight shading systems and in keeping with the light and airy feel of the building, they were each fitted with TESS™Poly 5%. Made from tear-resistant polyester, the material has a PVC coating with fungicidal and dirt-repellent finish and UV absorber. It is also flame resistant according to DIN 4102-B1.
For more information about Guthrie Douglas and their specialist blinds for architectural projects, visit www.guthriedouglas.com or email: projects@guthriedouglas.com