The new Gaia Decoupling Membrane is quick to install and two products in one.
Firstly, as a decoupling membrane guarding against movement in the sub floor which can cause tiles to crack and secondly as a heating cable carrier providing warmth to floors.The polypropylene membrane has rounded square shaped studs that form channels specially designed to embed and fasten electric heating cables.
Coupled with the Gaia Heating Cable the system is ideal for small or large installations and awkward areas within a property where flexibility is required.Depending on the cable spacing the cable can provide a power output for either primary or secondary heat.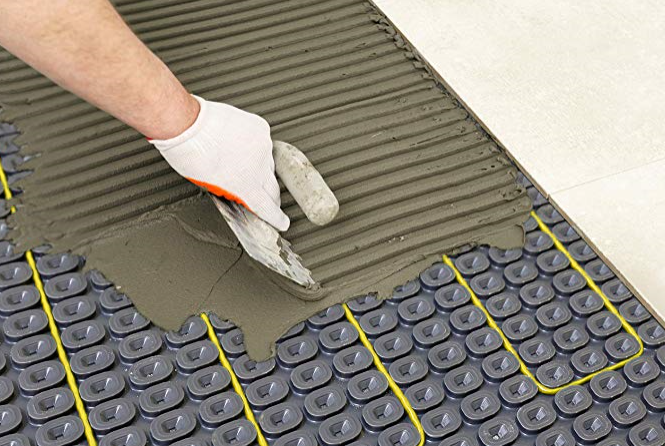 Available in 5m and 15m rolls, the Gaia Decoupling Membrane is a decoupling membrane of 5.5mm in thickness that does not require expansion joints in the screed before laying ceramic and natural stone tiles.It's also a waterproof membrane when the Gaia waterproofing tape and sealant is used.With the Gaia heating cables available from 10m lengths to 165m lengths, we can cover any project area size.
The system provides comfortable warm floors allowing the heat from the electric cable to be distributed evenly across the floor.It's a polypropylene membrane with rounded square shaped studs that forms channels specially designed to embed and fasten the electric heating cables.
Typically used in areas where the floor covering is tile, the system can also be used with varying floor coverings such as carpet, vinyl and timber floors.Full instructions, recommendations and technical information is provided with the product to ensure the correct installation and product care is taken.Gaia offer the full service, from project start to project completion.We can supply the product for your contractor to install or alternatively our operation team can visit site to carry out the install.
Gaia Underfloor Heating is fully backed with a technical and design team to support you throughout the project.