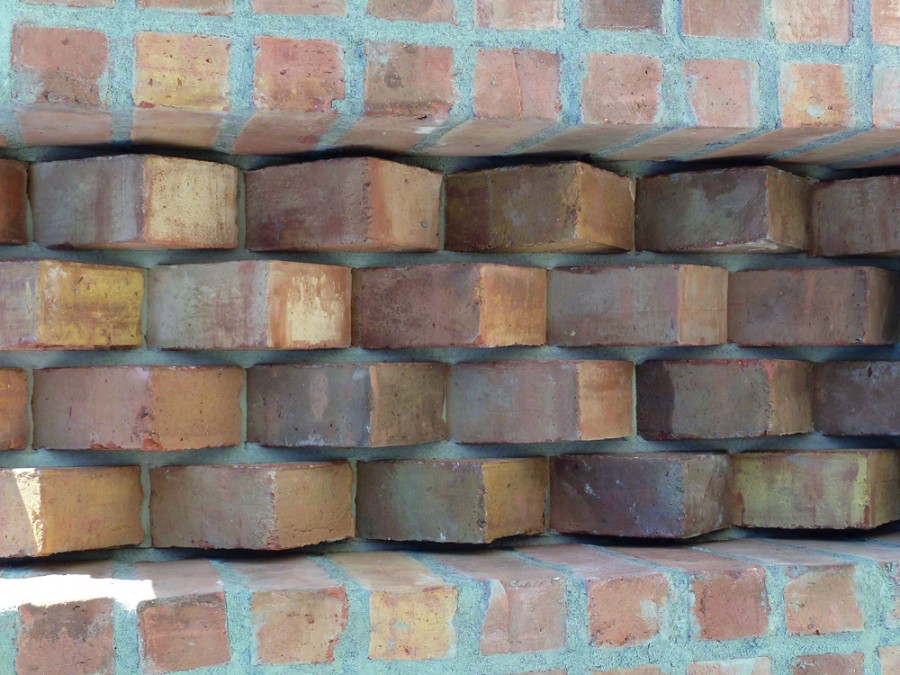 MODERN METHODS OF CONSTRUCTION, OFF-SITE, PREFABRICATION, PREMANUFACTURE, VOLUMETRIC AND MODULAR ARE ALL TERMS WE ARE BECOMING INCREASINGLY FAMILIAR WITH IN THE 21ST CENTURY BUILT ENVIRONMENT.
The Project Management Triangle or Iron Triangle concept/theory dictates that the three most significant restrictions on any project are Time, Cost and Scope, with Quality being the central theme. The principle dictates that one restriction cannot be altered without affecting the other two. Off-site construction contradicts this principle as it delivers on all these levels and much more.
With an ageing bricklaying workforce and the high demand for both traditional and contemporary brick faced facades, Telling Architectural Ltd have developed a technology for natural Brick Faced Glassfibre Reinforced Concrete Panels.
Glassfibre Reinforced Concrete (GRC) is a material that, whilst having reached 50 years of being utilised in the construction industry, the majority of its global recognition has only been identified in this century.
The development of this innovative material, bringing new technologies to the manner in which we design, manufacture and deliver building facades has been developed further by Telling Architectural Ltd to meet the demand of architects, engineers and designers in adding a new dimension of creativity to their thinking process.
The real brick slips utilised can be hand made, waterstruck or cut from any standard brick. They may also be extruded. Traditional wall bonds such as Stretcher, Header, English, Flemish, Herringbone and Stack Bonds, can be produced with a range of joint depths and styles. In addition saw tooth, dentil, projecting and recessed features are all possible.
Brick Faced GRC replicates a standard of finish only achievable by skilled masons and in particular to areas where such skills are either non-existent or as a result of demand at unsustainable premium rates. Accurate joint uniformity/consistency is engineered into the panel without it appearing artificial. Day joints and associated lift lines are eradicated. Complex 3D forms beyond traditional means in-situ can, not only be created, but also replicated.
The performance of the panel is further enhanced by utilising natural hydraulic lime mortar as opposed to traditional sand cement mortar.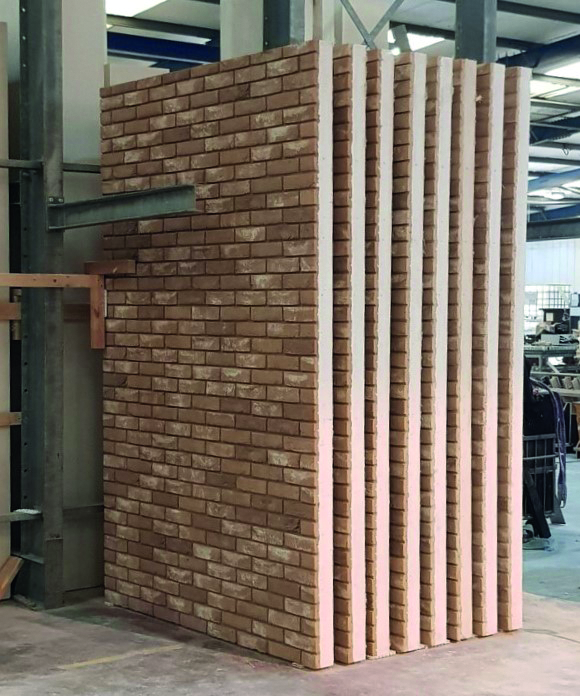 The brickwork suffers no contamination, staining or bleaching and any penetrating moisture evacuates as a vapour through the joint.
Natural hydraulic lime has its own environmental and sustainability benefits as research shows that an equal amount of CO2 is retained during the carbonation/curing process as is released in its manufacture, making it a carbon neutral product.
Additional advantages of this innovation include:-

Reaction to Fire Classification A1 – In accordance with EN13501-1:2007 + A1:2009
Weight - Typically GRC Brick faced panels weigh in the region of 110 Kg/m2 compared to traditional single skin brickwork which can weigh in the region of 250 Kg/m2. This can lead to significant savings in both the ground works and the design of the structural frame.
Speed - 50-80m2 of finished brickwork per day can be installed on site - in comparison a bricklayer and labourer would achieve circa 8 to 10m2 per day. Additional benefits include no remedial/snagging work and daywork costs. It removes a wet trade from site.
Accuracy – panel dimensional tolerances up to +/- 3mm can be achieved.
Strength and Stability - Each brick slip is anchored and adhesively fixed with pull out values in excess of 2 kN being achieved. This in addition to the panels being designed to withstand windloads applicable to their environment / geographic location.
Logistics - Delivery – just in time and on time – with reduced time on site – premanufactured panels enable the façade to be removed from the critical path, this in addition to the associated savings to the construction programme and site overheads. Installation by façade contractor without the need for a tower crane as the brick panels can be installed by mono rail or spider crane.
Single source responsibility.

Environmental. - Reduction in raw materials required for a thin lightweight concrete backing panel - typically 12 to 15mm thick - 80% lighter than precast steel reinforced concrete. Reduced environmental impact by minimizing the use of natural resources and resulting CO2.
Waste is managed and minimized off-site, and removed completely from the on-site construction process.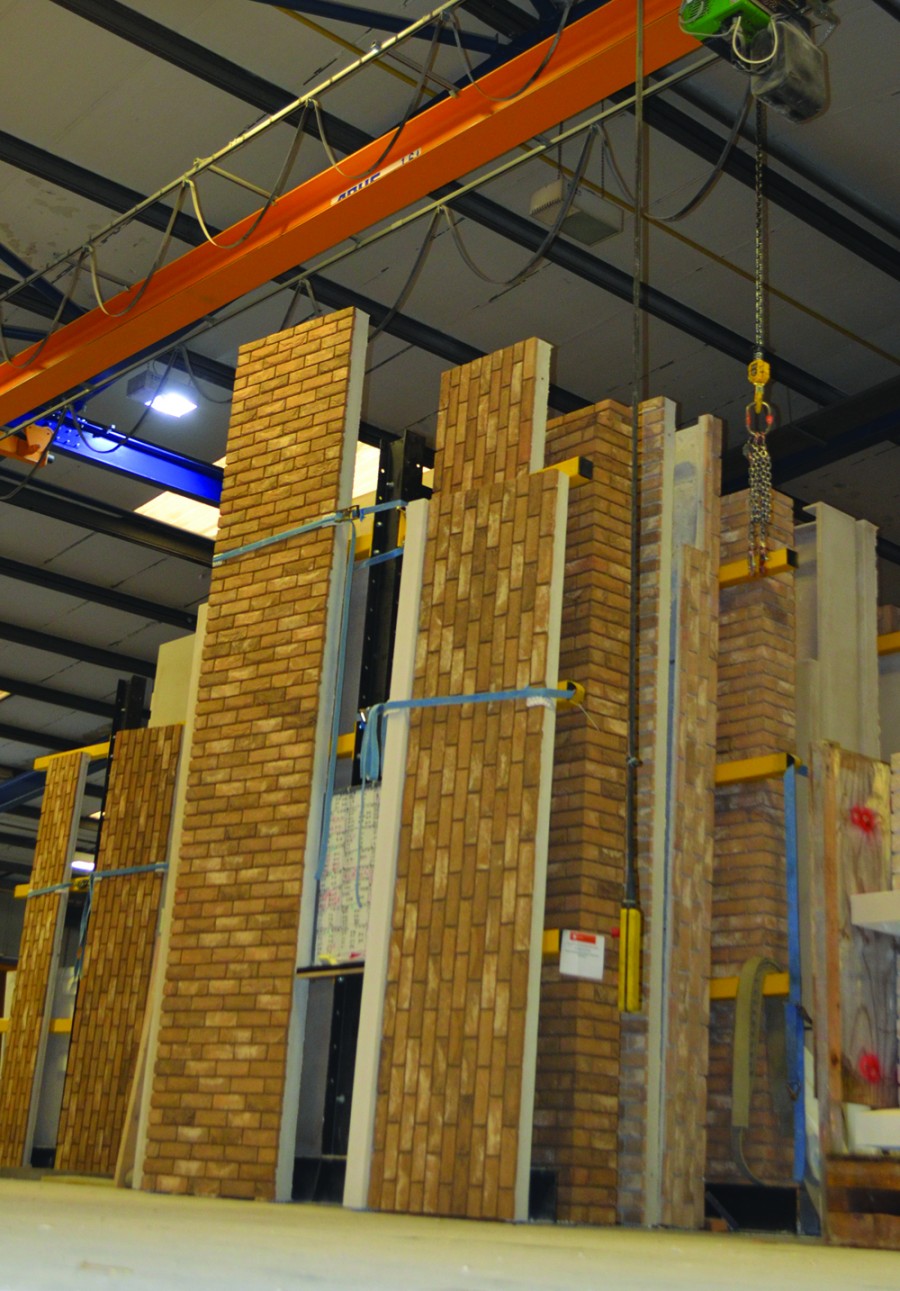 Using innovative Modern Methods of Construction such as Brick Faced GRC provides an excellent opportunity to remedy the skills and labour shortage without compromising quality, time, cost and scope.
This in addition to recognizing the significant contribution it has towards achieving our net zero carbon building objectives.