Sika's products have ensured the long-term durability of a stunning multifaceted glass roof installed at The University of London's Senate House.
As part of a refurbishment to create a new academic hub, the roof was created using 105 completely unique bespoke glass panels. Sikasil®-SG 500 structural silicone adhesive and Sikasil® WS-605 S sealant were chosen to bond multiple glass panels to a steel frame, allowing for the unusual shape of the roof design without the need for mechanical fixing.
Prior to the installation, vital in-house adhesion testing and structural calculations were provided by Sika's technical team at Welwyn Garden City to guarantee the strength of bond and ensure the project would meet ETAG 002 European Guidelines.
Cantifix, a Sikasil® Registered Contractor, was tasked by Spacelab architects to help with the roof's design and installation, which posed many challenges. The roof's large and unusual organic design meant bonding was unable to take place offsite. To counter this, Cantifix worked to a 3D-model until onsite where they individually lifted the glass panels into the steel frame before bonding with Sikasil®-SG 500.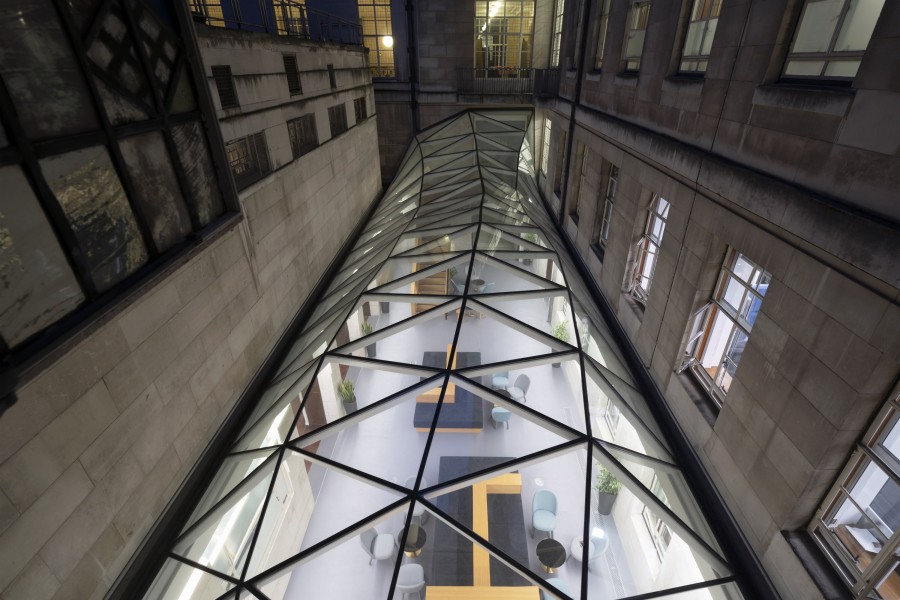 Despite the challenges, Cantifix's expert knowledge and experience alongside the excellent training provided by Sika, meant their team was able to complete the installation successfully.
The resulting roof was finished to a high standard and saw the client expressing their delight with the credibility both Cantifix and Sika brought to the refurbishment, which has gone on to receive a nomination for an FX Design Award.
Andrew Hills at Sika said: "This project is a great example of the value of Sika's in-house technical team combined with Sikasil® Registered Contractors. With a wealth of experience and expert knowledge, the end result is a stunning structurally glazed roof that has been securely bonded for a strong and durable finish."
Charlie Sharman, CEO and founder of Cantifix, said: "The structurally glazed roof at Senate House is a perfect demonstration of the benefits of this type of construction. If this shape had been attempted in a framed system, the potential for compromising the weather and air tightness would be unacceptably high. With glass and Sika silicone both being stable materials, the roof becomes an impervious membrane to the external conditions for a very long time. It also looks incredible."
For more information on Sika's products and services call 01707 394444, email sarnafilroofing@uk.sika.com or visit www.sika.co.uk/facades