Straightforward solutions with unrivalled system safety
Whatever the project, new build or renovation, there are truly no limits when it comes to wedi's diverse product range. From shower elements specifically designed for use in suspended timber floors through shower trays with integrated drainage that are developed for renovation projects to exciting shapes for design led areas such as round or shell shaped showers with matching wall elements that can be installed free-standing – all can be manufactured according to requirements if the desired size is not already available in wedi's standard product range.
The modern shower, however, consists of much more than just the floor element and to fulfil this demand, the modular wedi system opens up endless possibilities in expanding the shower with aesthetic and practical elements. Thanks to their modular design, wedi elements can be combined in countless variations resulting in a customised design without the need for bespoke production.
Wide range of simple and hygienic seating elements do not only offer a comfortable and relaxing showering experience but create an inviting atmosphere of wellbeing. The clever construction of the wedi Sanoasa seating solutions enables unrivalled freedom of visual design and can also be individually modified to suit.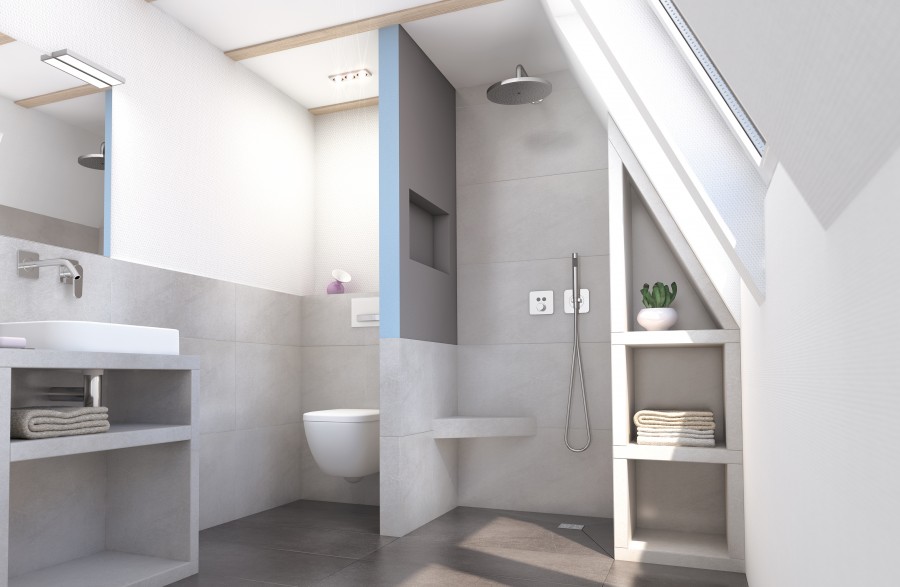 Robust, tiled storage solutions tailored to the client's needs. Sanwell Niches in different formats and sizes add extra storage to the shower without compromising the floor space. These storage solutions are easily highlighted with the aid of accent tile design or lighting.
Walk-in showers or 'step-in' showers can often be created with the use of a simple partition. On top of the already existing customised approach (50-100mm wedi building boards) wedi now offers a practical 2in1 solution. Robust Sanwell Wall elements with a thickness of 100mm and a width of 900 or 1200mm are ideal for use as free-standing walls. These wall elements are not only waterproof to the core but are also fully customisable: the height and width is easy to adjust to required dimensions and the size of the integrated niche can also be modified to suit.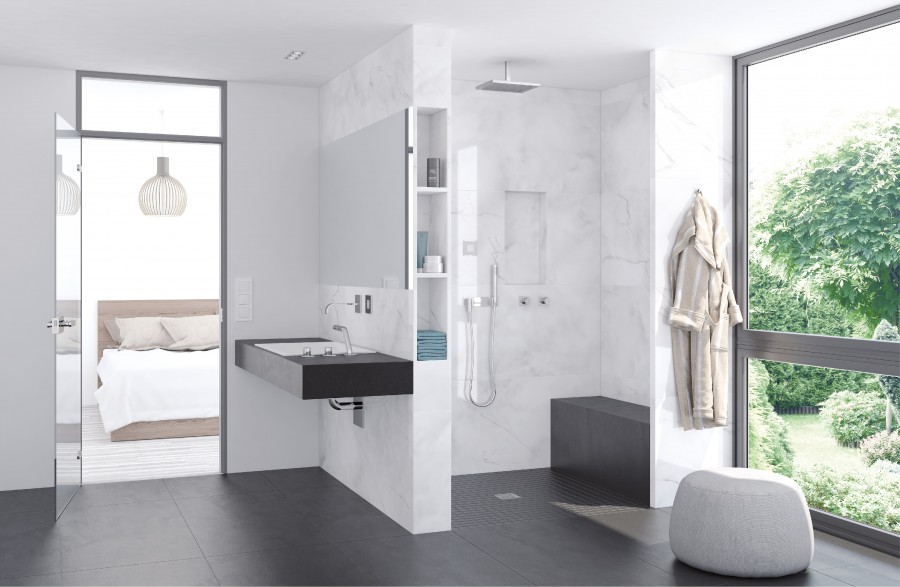 The wedi product range with its numerous compatible interlocking elements and accessories offers a full system solution with unrivalled system security, reduced overall processing time and a particularly straightforward and easy installation for direct tiling.

Furthermore, keeping functionality, practicality and longevity in focus, wedi's new Top series offer stylish, colour-coordinated cladding across the whole bathroom as a modern alternative to the classic tiled look. Grey and Anthracite Black in an aesthetic natural stone look or White in a classic modern look – provide a contemporary shower area in which no grout lines break the design. Thanks to their low heat conductivity, they're warm to the touch and their antibacterial surface promotes hygiene around the bathroom. Check out our video below.