Creating a fresh new look for its offices and stores, Belgian supermarket giant, the Colruyt Group, has turned to UNILIN, division panels, to help it complete the circle and repurpose its old retail and office interior fittings.
The family-owned Colruyt Group is famed for its sustainable approach to retailing and is active in many initiatives positively impacting its entire supply chain. As part of its drive towards a circular, sustainable approach - that it sees just as important as competitive pricing – the retailer has placed reuse high on its agenda. So, when it came to creating a fresh new look for its offices, it turned to its long-running relationship with UNILIN, division panels, to see what could be done:
"Our current chipboard is 100% circular," explains specification director, Christof De Poorter. "Comprising 85% recycled wood, the remaining 15% is sourced from thinning and waste flows from the timber industry. We save an average of 5,000 trees per day and reduce CO2 emissions by some 1.2million tonnes a year."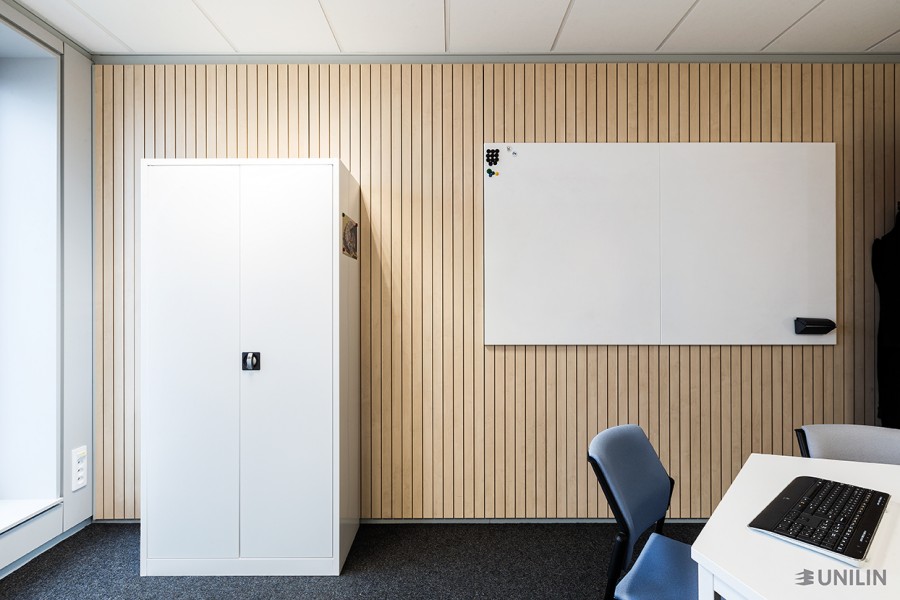 Colruyt Group took this circular process one step further, delivering its old panels and shelves directly to UNILIN, so that they could be recycled and returned for use in its new offices. UNILIN undertook a sophisticated cleaning process involving a range of technologies including NIR (near infared), sifting, induction and magnetism, before working them into new Evola panels to be used within the retailer's offices. Selecting H720 BST White Birch and 625 BST Silicon, Colruyt has selected a look that's fresh, yet easy to maintain and resistant to the knocks of modern working environments. More importantly, it has brought new transparency to the materials it specifies.
"We sense just how important sustainability is to our customers and our circular approach helps them to take action," continues Christof De Poorter. "Colruyt's approach and commitment to taking every step possible to become more sustainable shows that consumers are no longer buying just a product, they place a great deal of importance on the complete production chain."
Colruyt is not the only company to take advantage of UNILIN's circular chipboard production with more and more organisations looking for positive actions on sustainability to increase transparency and gain competitive advantage.
For more information; unilinpanels.com, info.panels@unilin.com