Steeped in tradition Jersey is the largest of the Channel Islands, sitting in the Bay of St Malo and only 5 miles long and 9 miles wide. So, not very big at all. However, with passenger travel on the increase Jersey sees more than its fair share of visitors.
In 2017 Ports of Jersey (who operate the airport and ferry terminal) announced a progressive plan to create an integrated arrivals and departures terminal. The major works programme would see an extension to the existing departures terminal building with the construction of a mezzanine floor to create a new central security search area and airside departures lounge.It was a raft of changes that could potentially have caused major passenger disruption and potential closure of some airside and landside businesses.
This hugely prestigious Channel Island contract would fall into the capable hands of local installer Flawless Flooring KD Blandin Ltd. Director Eddie Do Nascimento said, "Being in the business for over 25 years we specialise in large commercial projects with a knowledgeable team that are willing to overcome any challenging projects. We were contacted by Ports of Jersey for a recommended floor covering for the Jersey Elizabeth Terminal project"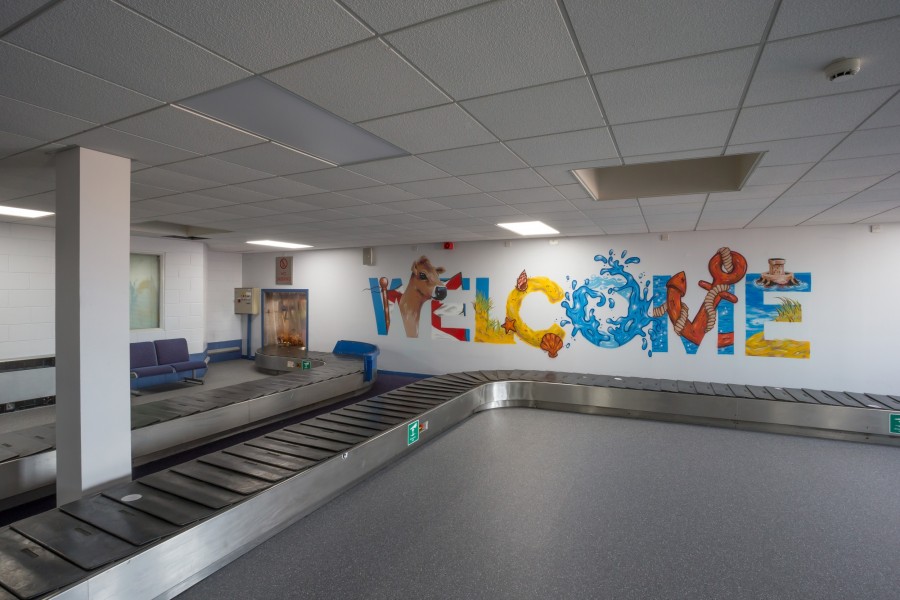 Happily, international flooring specialist Gerflor were on hand to supply them with a high-quality, fast track flooring for a 'test area' that would provide a quick and effective solution with no need for any shutdown of the airport operation.This would form the basis for a full-scale installation for the ferry terminal later in the year.
Eddie Do Nascimento went on to further add, "We specified Gerflor GTI looselay tiles as it's a fast track system needing minimal subfloor preparation works and it's very hard wearing, moisture tolerant and an investment reusable product for any future projects as we were told there would be a future replacement building for the harbour terminal."
Ports of Jersey required a flooring product to replace the ageing studded rubber flooring that was failing in numerous areas. The nature of the environment, which has very high foot and wheeled traffic needed a tough, durable fast-track flooring product that would not only perform but would also look stunning and be very quick to install. A trial area of approximately 70m2 of Gerflor's GTI Max was installed in the departures and arrivals corridor with a further 60m2 fitted in a disabled passenger waiting area directly over the existing terrazzo tiles, which is one of the real benefits of using the GTI Max fast track flooring solution.
Maria Le Tiec, Passenger Services Manager for Ports of Jersey said, "I was tasked with looking at undertaking a mini-refurbishment of the Elizabeth Terminal to enhance the passenger journey experience. Having installed a trial area at the Airport earlier this year, the GTI Max product looked great and received very positive feedback from both staff and travelling public. So, when it came to choose 1600m2 of flooring for the Elizabeth Terminal Gerflor's GTI Max flooring was the only way to go." She added, "It looks amazing, and has completely transformed the terminal. The area now looks smart, bright and very welcoming."
Gerflor's GTI Max range is ideally suited to a variety of airport and ferry terminal applications with high resistance for extreme traffic. It also offers easy installation and maintenance for less disruption to the daily operation of any building. It provides one of the best PVC heavy traffic flooring solutions in the marketplace and offers a truly fit for purpose product that delivers an easy, long-lasting renovation resolution for specifiers and contractors alike.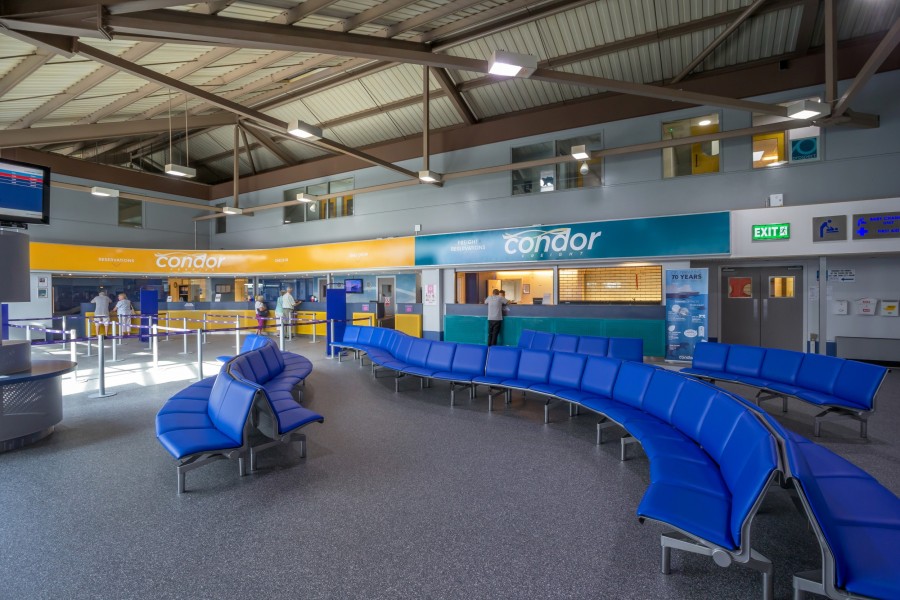 On the final outcome of the project Eddie Do Nascimento commented, "We are very pleased with the final results because this fast tracking Gerflor GTI Max system has proven to be very efficient to this particular project which we completed ahead of schedule. The project was undertaken at a busy time of year for the harbour with most of the works undertaken whilst in operation with thousands of passengers passing through".
Maria Le Tiec went on further to add, "Gerflor's GTI Max looks very smart, it's very practical, particularly in areas of heavy footfall, it's very versatile and easy to maintain. We installed the flooring in the Customs area, which was a very dark and unwelcoming part of the terminal. The area has now been completely transformed; it feels so much bigger and brighter due to the amount of light that reflects off the floor. We even saved money on installing new lighting."
The GTI Max wear layer is reinforced by specific oblong fillers that offer outstanding resistance to traffic and is reinforced with 2 glass fibre grids on either side of an intermediate pressed homogeneous layer. GTI's backing is a 4mm thick black pressed homogeneous sheet and its surface is a coloured homogeneous sheet 2 mm thick. GTI Max is 100% recyclable and is also made with up to 80% recycled content. The range provides a speedy renovation solution and can be installed over many different types of existing floorcoverings with minimal subfloor preparation, no adhesives are required and most importantly… no disruption or need to close the terminal or retailing areas. It comes with the polyurethane surface treatment PUR+ for ease of maintenance and specifiers and designers can also benefit from mixing and matching colours to create corners and walkways using its modular tile format in 23 stunning colour choices. GTI Max is also 100% REACH compliant, Floorscore® certified, free of formaldehyde, free of heavy metals and solvents and manufactured in an ISO 14001 and ISO 50001 certified site. It delivers TVOC emissions 10 times better than normal requirements (TVOC < 100 μg/m3 after 28 days).
Maria Le Tiec concluded, "we have now installed Gerflor in three different areas at Jersey Airport and a large proportion of the Elizabeth Terminal, each area had a slightly different requirement, all of which we have been able to achieve with Gerflor flooring."
Eddie Do Nascimento ended by saying, "We would definitely offer Gerflor products to our clients as we have worked closely together over the past years gaining huge confidence with Gerflor products and their team."
Learn more about Gerflor solutions, ask for a free sample or contact us to speak to a specialist today by calling 01926 622 600, emailing contractuk@gerflor.com, or visiting gerflor.co.uk for the latest innovations.