Leading commercial washroom designer and manufacturer, Washroom Washroom, has delivered a complete turnkey washroom refurbishment project for a vibrant London market.
Camden Market is London's largest and most diverse market. Open every day from 10am until late, it welcomes more than 28 million visitors every year to sample its eclectic mix of food, fashion and craft from more than 1,000 independent traders
Washroom Washroom worked in partnership with refurbishment and maintenance contractor, PDC Construction, to refurbish the public toilet facilities at Camden's Stables Market. Together the two companies provided a complete turnkey solution - seeing the whole project through from the initial design stage to completion in just six weeks.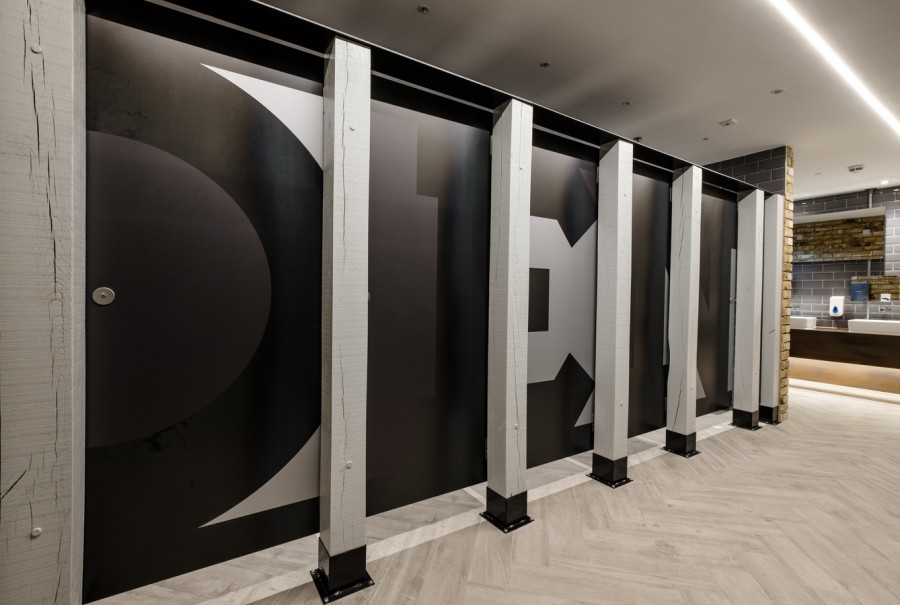 The bespoke new washroom space not only had to be in-keeping with the hip Camden Market vibe, but it was also essential for it to be highly durable, easy-to-clean and DDA compliant. The result - a fresh contemporary washroom facility which takes influence from vintage Victorian design and combines with modern materials to provide the best of both worlds.
The striking new design features Washroom's solid grade laminate Senza toilet cubicles with footplates set back to create a floating appearance. Manufactured with black solid grade laminate partitions as well as rough sawn, whitewashed oak pilasters plus blackened mild steel headrail and floor plates, the toilet cubicles were faced with a unique rusted metal effect mild steel finish.
The cubicle doors were completed with the addition of bespoke vinyl graphic lettering, spelling out the word CAMDEN to anchor the washrooms within their surroundings and was a key part of the unique washroom design.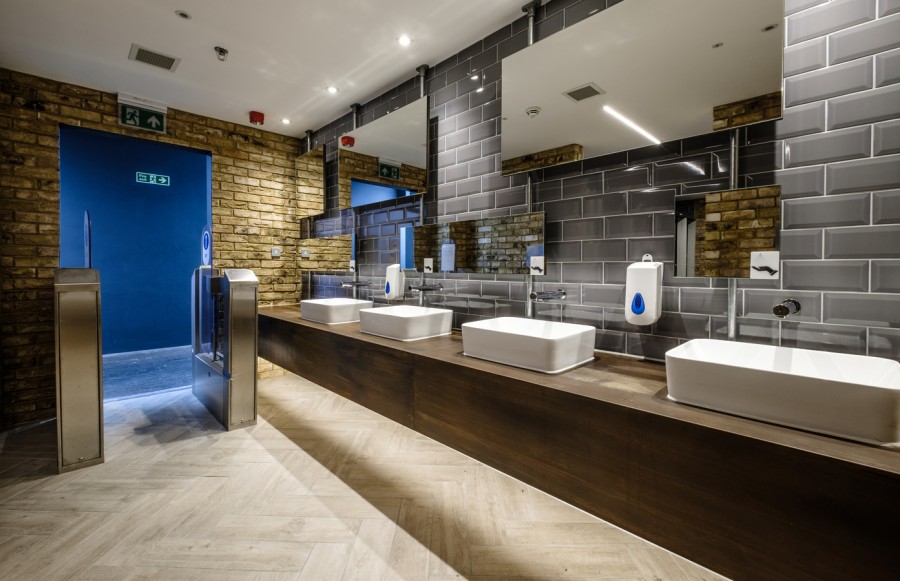 The vanity units, manufactured with the same rusted effect mild steel solid grade laminate as the toilet cubicle doors, feature countertop sinks, wall-mounted sensor-operated taps and bespoke mirrors with supporting frames created from pipework. Exposed brick and metro tiles complete the industrial chic style required.
A spokesperson from Camden Market said: "It was very important for the new washroom facilities to fit seamlessly with the style of the market as a whole. While we didn't want them to look like traditional public toilet facilities, they still needed to be extremely hardwearing and easy-to-clean. PDC and Washroom have certainly delivered on both counts. We're really pleased with the end result - the new washrooms are the perfect fit for Camden Market."
Trevor Bowers, director at Washroom Washroom added: "The collaboration between ourselves and PDC ensured that the client received a full service provision for all stages of the supply and installation, which was completed on time and on budget. The finished result is truly stand-out and I hope that visitors to the market enjoy the newly refreshed washroom design."
For more information on the range of services and products offered by Washroom Washroom, please visit www.washroom.co.uk, call 0800 999 8888 or email sales@washroom.co.uk.