Known for its unique style, vibrant interiors and eye-catching patterns, supplying tiles to Nando's Sydenham required particular attention to detail from the CTD Architectural Tiles specification team. Working closely with the architects and contractors, CTD Architectural delivered a bespoke fabricated tile design, resulting in a distinctive look for the restaurant.
Following the architect's brief to provide something unique in design, CTD Architectural Tiles created a bespoke offering from the popular Kursaal range. Creating a statement entrance, a mixture of two colours from the range were used, Kursaal Slate and Kursaal Raven, supplied in specific cuts all fabricated especially for this project.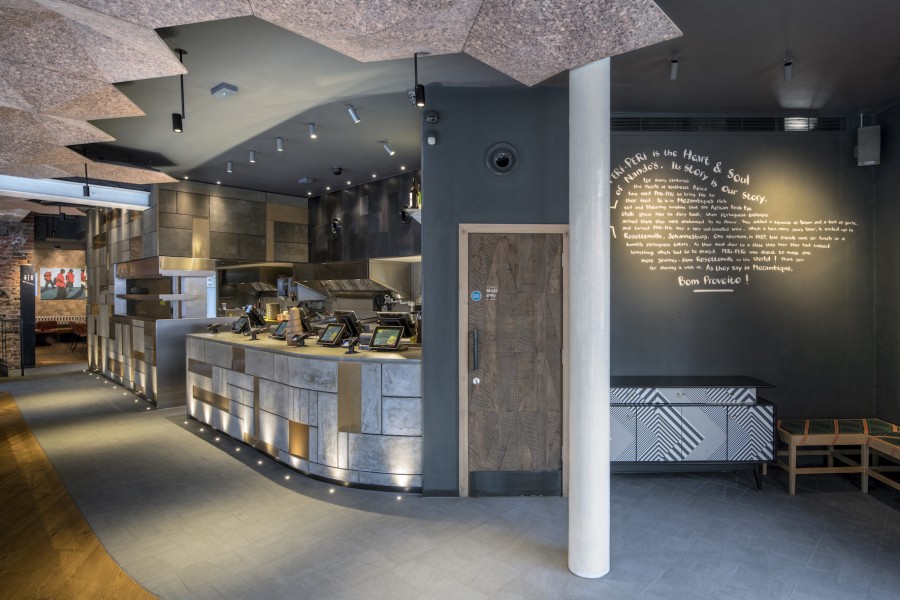 With an understanding for how requirements vary for each project, the experienced team at CTD Architectural Tiles prides itself on fulfilling any objective, no matter how unique. Working alongside Fusion DNA Architects, I-am WOW Contractors and tiling Contractors C & J Metcalf, the specification team is proud to unveil this bespoke Nando's project.
-
Part of the Saint-Gobain family, CTD Architectural Tiles specialises in the supply of high quality ceramic tile finishes and tiling solutions across all sectors in the UK commercial specification market. With clients in a variety of sectors including the leisure, retail, hospitality industries, CTD Architectural Tiles is committed to bringing customers the latest innovations in product and in service.
CTD Architectural Tiles
www.ctdarchitecturaltiles.co.uk
0800 021 4835