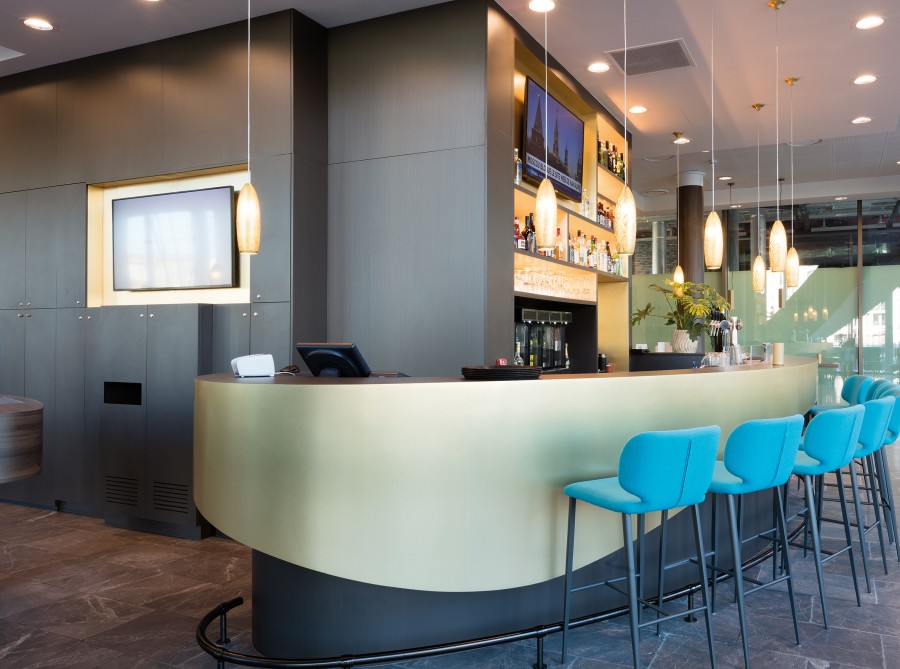 UNILIN, division panels, brings creative freedom to modern hospitality interiors though its UNILIN Evola decorative panels and ClicWall wallcovering system.
With a development process driven from original materials; walls and panels from UNILIN, division panels, provide true-to-life surfaces that are technically superior with scratch-resistance, durability and easy maintenance. UNILIN panels and walls are the ideal way to create a natural aesthetic in hotel and leisure interiors, while providing a surface that stays looking good, even under heavy use.
Available in 168 decors, ranging from reclaimed wood and stripped pine, through to concrete, brushed precious metals and trending colours; Evola is a formidable collection of HPL and melamine-faced chipboard. Representing a serious alternative to natural materials, it brings an authenticity that makes it almost imperceptible from the natural material. Ideal as a finish in public areas, lounges, restaurants, guest rooms, conference areas and entertainment suites, Evola delivers a natural aesthetic with the afforded by the latest in material innovation.
For ClicWall, a rapid click-together MDF wall panel system, UNILIN has taken 108 true-to-life decors from Evola to provide perfect coordination. Using a patented Uniclic locking profile and easy slide strip, ClicWall is one of the fastest wall panel systems available today. Available in a fire-retardant specification (ClicWall FR), as well as ClicWall Deco ready to accept a final paint, fabric, or wallpaper finish; the system delivers impressive low-lustre for better realism.
Jurgen Plas, marketing manager, UNILIN, division panels:

"With class-leading texture and a design process that is extraordinarily detailed, as well as great performance for commercial interiors, Evola and ClicWall let interior designers explore the aesthetic impact of natural materials without worrying about real world usability. Natural, unfinished wood maybe a great look, but it's not the best at fending off scratches or stains. Our HPL and melamine-faced panels overcome this hurdle, bringing the look with a product that is scratch-resistant, impact-resistant, stain-resistant, tough and easy to look after."
With guests and customers demanding high-quality, clean and welcoming environments at all times, walls and panels from UNILIN, division panels, are a low-risk way to create striking hospitality interiors that stand the test of time.
For more information; unilinpanels.com, info.panels@unilin.com