The World Green Building Council Report Health, Wellbeing and Productivity in Offices – The next chapter for green building (2014) identifies four drivers for green buildings that are conducive to healthy, productive occupiers:
Good design (such as passive solutions, shading, and natural ventilation where possible)
Good location (enabling low carbon commuting and easy access to services and amenities)
Good construction (new technologies, innovation, smart controls)
Good behaviour (appropriate clothing, adaptability and engagement with systems)
It is telling that in this global report on improving the internal environment in offices, the first driver identified is good design utilising passive solutions like shading. Considering we spend 90% of our time indoors and that research by the World Green Building Council shows that 80% of business costs are down to employee costs it makes sense to ensure office environments are productive and comfortable.
Issues associated with incorrect indoor thermal conditions include:
High indoor temperatures - increasing the prevalence of sick building syndrome,
symptoms of which include sensory irritations of eyes, nose and throat; neurotoxic and
general health problems.
High temperatures in classrooms - harmful to performance of school work. In a controlled Danish study the performance of school tasks was found to be better at 20C than 25C and declines as the temperature rises.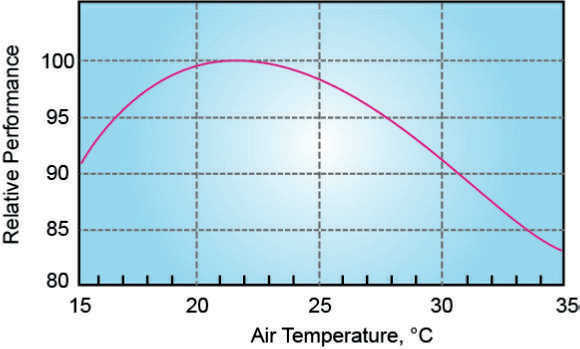 Seppänen O., Fisk W. and Lei Q.H. 2006 Room temperature and productivity in office work.
This image shows the optimum temperature range for productivity for office-based work. The ideal range is between 20-24C. Below, and particularly above this range there is a sharp drop in productivity as people become uncomfortable and find it difficult to concentrate.
It should be noted that it is almost impossible to cool down a person subjected to overheating by direct sunlight by just mechanical ventilation alone as the thermal comfort depends on the ambient temperature and the temperature of surrounding surfaces.
Productivity drops by more than 1% for every degree that the temperature is outside of the optimum range. The impact of this fall in productivity will be significant to the organisation. The cost of an effective solar shading system to provide a comfortable internal environment for a fraction of the lost productivity cost.
This data offers a different perspective on the capital cost of external shading for building control coupled with internal shading for user control. However, the capital payback is quick and the ongoing running costs for artificial cooling will typically be significantly reduced. Where internal shading is the only option the payback on the additional investment in the most effective shading solution instead of a basic option is quickly recovered. The added value of a comfortable workforce is a welcome bonus.
More information is available at www.shadeit.org.uk