George Fischer Piping Systems has declared its involvement at the recent Data Centre World Show as a major success after evaluating the sales leads and wider enquiries it received from contractors, consultants and other potential customers visiting its stand with the COOL-FIT 2.0 range being of special interest to many.
Air conditioning and refrigerant pipework has been an important market sector for GF Piping Systems over many years, but the boom in the building of data centres during the past decade has boosted sales dramatically.
The manufacturer has in fact become a key supplier to projects involving leading players in the digital revolution, as well as the contractors specialising in the construction of data facilities.
For its part, the COOL-FIT 2.0 system offers specifiers speed and reliability for the circulation of chilled water or other low temperature liquids. In fact the COOL-FIT 2.0 pipe, insulation and jacket combination can carry saline, glycol or alcohol – as alternatives to pure water – at temperatures down to freezing point.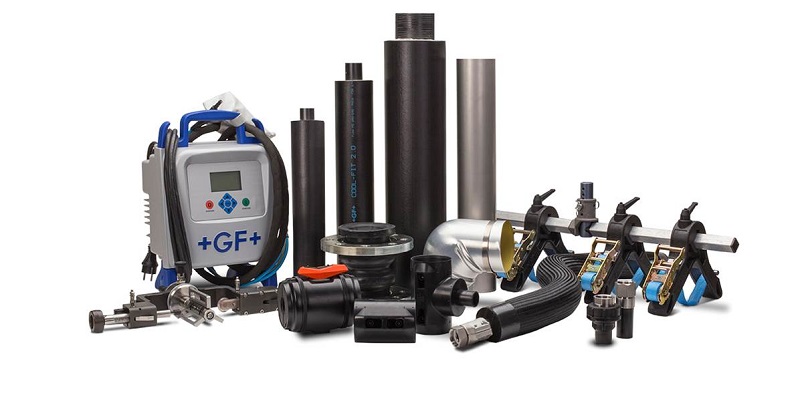 The system also offers excellent energy conservation characteristics, as well as ease of installation and total corrosion resistance. Pipe sizes range from 32 to 140 mm in diameter and are tested to 16 bar. Furthermore, the installed weight is as little as one sixth that of metal alternatives. The benefits extend from 25% higher energy efficiency and 50% faster fitting as well as reduced maintenance implications.
Simon Alder, the Marketing Manager for George Fischer comments: "When we set up our prefabrication facility within the Coventry plant six years ago, the intention was to offer an improved service for bespoke fittings and large commercial developments: particularly in respect of the number of 'Tall Buildings' being planned across the UK. However, the boom in data centres, driven by the giant Internet companies and on-line retailers, has meant that supplying cooling systems for such facilities has become increasingly important to the business.
"Many of the visitors to our stand at Data Centre World were keen to know more about the capabilities of our widely specified COOL-FIT system and our capacity to supply pre-assembled racks and other components. We are building a very good relationship with some of the leading players in the field, and expect this area of our business to grow steeply in parallel with the demand for more data centre capacity – across Europe and beyond."
That growth in demand is due not just to the increased use of social media, on-line banking and other internet services, but also the shift in energy usage as electricity generation, transport and domestic heating become greener. In fact, the surge in data centre construction is set to see cooling loads account for a far higher percentage of total electricity usage: so cutting waste within such facilities will play a far more important role in combatting carbon emissions.
GF Piping Systems offers a full specification, design and delivery service covering its entire range of high performance product ranges as well as on-site support in terms of advice and training in the use of its pipe welding techniques.