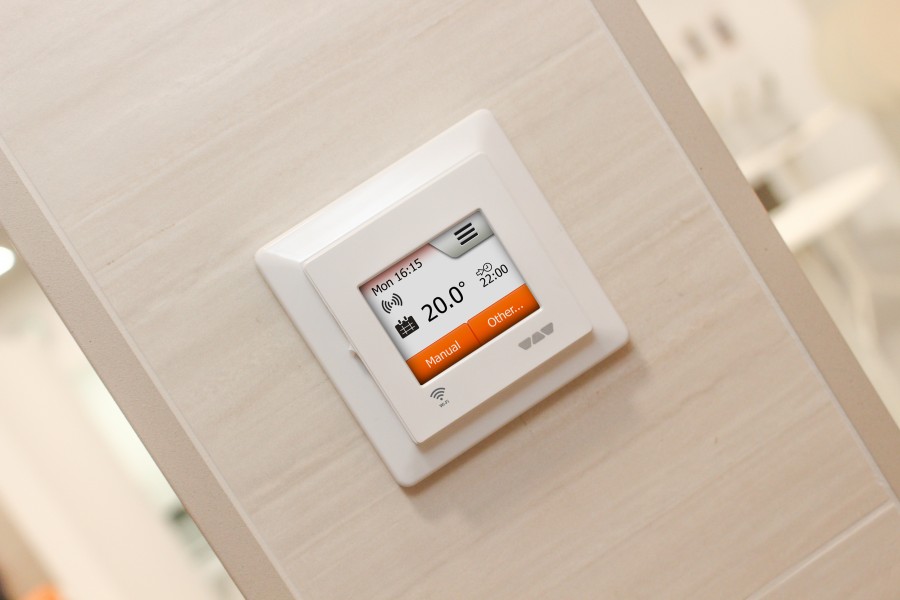 Schlüter-Systems Ltd is delighted to announce the arrival of a brand new smart thermostat, a highly anticipated enhancement to its electric underfloor heating system, Schlüter®-DITRA-HEAT-E.
Based on Schlüter's existing 2" thermostat, the new WiFi-enabled introduction allows for more closely customised operation of the award-winning system. The discreet thermostat offers minimal visual impact within a room and connects directly to a chosen wireless network. In addition, an easy set-up wizard and capacity to schedule up to six events per day results in ultimate flexibility for end users.
Free app allows for customised control
Alongside the new thermostat is a dedicated app; Schlüter-HEAT-CONTROL is free for both Android and Apple iOS devices and boasts an intuitive interface for easy control of the system. Via the app, users can control each thermostat individually or group multiple thermostats together to form heating zones of their choice. Multiple devices can use the app and multiple users can control the system, remotely adapting settings to their individual requirements.
Smart features help to make optimal use of the system
Remote setting of the system via the app (on/off) - ideal in order to be greeted by a warm floor on arrival
Adaptive function – optimises when heating is turned on/off to ensure desired temperature is achieved in the most energy efficient manner
Open Window function – shuts off the heating for 30 minutes if a rapid drop in temperature (usually the result of an open window or external door) is detected
Six default modes – Manual, Eco, Comfort, Boost, Frost Protection and Holiday – which can be called upon as desired
Track energy consumption and cost
A unique system that blends with modern living
In conjunction with the unique Schlüter®-DITRA-HEAT-DUO matting, with its fast reacting heating and acoustic reduction fleece, this new announcement installs Schlüter's electric underfloor heating solution as an unrivalled system. The smart thermostat brings the controls for the system in-line with users' expectations and allows it to function even more effectively in tandem with a busy life.
For more information, call 01530 813396, email pr@schluter.co.uk or visit www.ditraheat.co.uk.