Granorte's award-winning Vita Décor collection, continues to push cork as a serious design proposition outside of its unusual natural aesthetic.
Using direct digital print technology to place wood and tile effects directly onto the face of natural cork, Vita Décor delivers a distinct look that brings the universal familiarity and adaptability of these materials with a subtle cork texture beneath.
In the Retile patchwork tile pattern, designers can use subtle tonal grey combinations or powerful contrasts to create floors bold in approach, while a huge array of wood looks from 3D cubes and chevrons to obtuse oblongs and classic parquet layouts ensure style beyond ordinary plank effects.
No matter what the design, All Vita Décor floors share the same performance, harnessing cork's unique attributes to ensure great sound absorption, underfoot comfort and thermal insulation. Equipped with WEARTOP® for a durable and easy to maintain surface, as well as Uniclic® for rapid installation and Microban® for antibacterial protection; Vita Décor is a floor packed with innovation.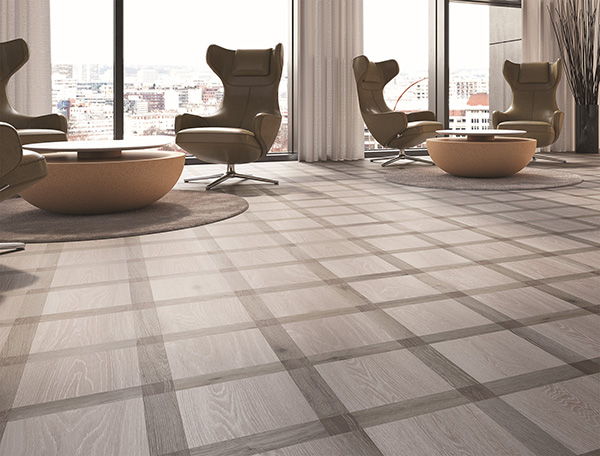 Paulo Rocha, product and R&D manager, explains: "Not every interior can take-on cork's aesthetic, but that shouldn't stop it harnessing its performance benefits and its role as one of the most sustainable and renewable flooring materials available today. The direct digital print technology used in creating Vita Décor eliminates printed paper layers and helps to deliver cork in a near-pure form to maximise its great credentials."
Available in a hugely impressive 28 different looks, Vita Décor achieves a Class 32 Light Commercial rating, making it suitable for light-traffic retail, hospitality and commercial duties; natural hunting ground for floors of this aesthetic integrity. Made in Portugal, Vita Décor received a German Design Award in 2018 and an Interior Innovation classification in the Iconic Awards 2017. The 10.5mm thick floor comes in a versatile 910 x 300mm format ideal for retro-fit and new build projects.
For further information visit granorte.co.uk, or call 01785 711131