You can now view some of Washroom Washroom's most popular products on display at the new Saneux London showroom.
Conveniently located on Broad Yard, just a few minutes' walk from Farringdon Station in the heart of Clerkenwell, the brand new Saneux showroom is set over two floors and features products from Washroom's extensive range as part of its commercial display.
Washroom worked with Saneux to create a number of commercial room sets, each carefully designed to provide the perfect backdrop for the Saneux products on display. The detailed and realistic room sets will be refreshed regularly, offering architects and clients the perfect opportunity to visualise exactly how they may look as part of a completed washroom design.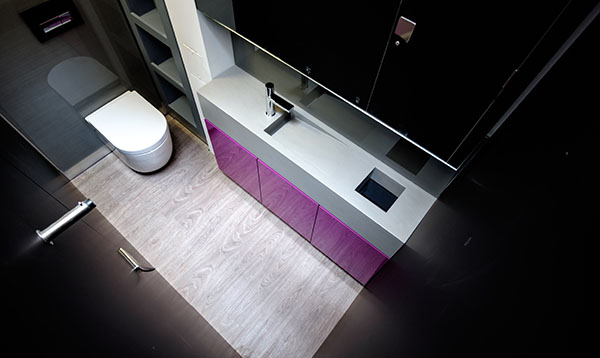 Currently on display at the new showroom is Washroom's Concerto integrated duct panel system, faced with toughened glass with a metal interlayer, its full height flush front Alto Laminate toilet cubicles with digital locks plus bespoke Corian trough-style vanity units complete with its Tego hinged mirror system.
Washroom's partner company, Cre8 Joinery Solutions, has also designed and manufactured some of the additional bespoke units within the domestic bathroom area.
The showroom is located at 66 Turnmill Street, London, EC1N 5RR and is open Monday to Friday from 10am to 5pm. For more information or to book an appointment with the Washroom or Cre8 team in advance, please call 0800 999 8888, email
info@washroom.co.uk
or visit
https://www.washroom.co.uk/showroom/
.