Q-railing, the supplier of high-grade balustrade products, is excited to announce the release of its brand-new product catalogue.
This year's edition is very special, explains Sales & Marketing Director Andre van Uitert: "It includes our Easy Glass Smart glass balustrade, which can be mounted in record time thanks to the new Q-disc System in its base shoe. It is unlike anything else out there. Truly unique."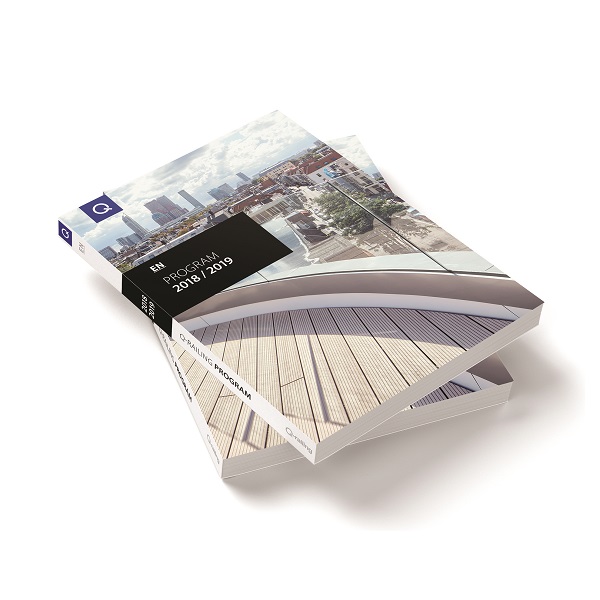 In total, there are more than 150 new items among the range of around 2,400 balustrade products in the Q-railing catalogue.
Easy Glass Smart is a cost-effective frameless glass balustrade is the first product to incorporate Q-railing's revolutionary Q-disc System. Inserted into the balustrade's base shoe during mounting, the
Q-disc component lets you secure glass panels quicker than ever before. The base shoe itself is also extremely easy to install – something that Q-railing's customers have come to expect.
Easy Glass Wall is an all-glass, floor-to-ceiling partition that safely encloses staircases without hiding them away. In addition to showing off your staircase design, the glass allows natural light to flood in. For added safety, the partition also provides a balustrade. There are four different mounting options to choose from – all super easy to install.
For floor-to-ceiling windows that can be opened, a safety barrier is a must. Q-railing created the Easy Glass View Juliet balcony system to provide maximum fall protection with a minimal structure. Consisting mainly of glass, it makes a discreet addition to the exterior of buildings. From inside, it presents no barrier to daylight and views. There are three mounting options: onto the facade, between reveals and onto the window frame.
Easy Glass Up by Q-railing is designed for just this situation. The top-mounted base shoe has a slim profile and is only 80 mm high. It can nevertheless hold glass panels absolutely securely. The result is a safe and sheltered environment with uninterrupted views.